Melon with Prosciutto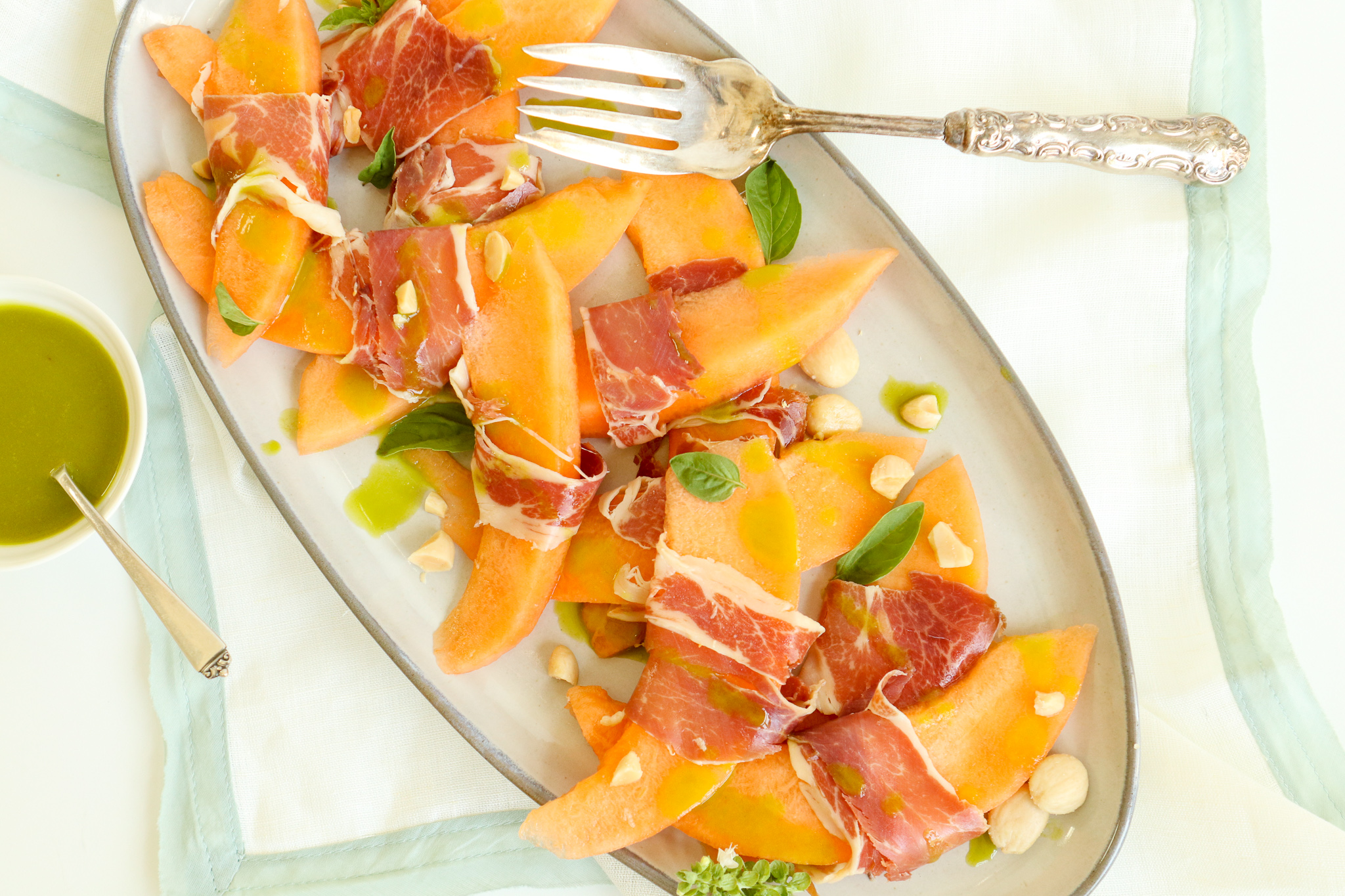 The weather is warm, actually hot…what first course comes to mind?  Certainly something that doesn't require the oven.  One that can be made ahead so that you can focus on other parts of the meal.  A dish that takes advantage of the beautiful summer melons.  Here it is!
I featured this recipe with cantaloupe, but it's equally delicious with honeydew or any other ripe melon.  I draped the melon with proscuitto but it works so well with Serrano ham if you can happen upon it.
The basil oil is a welcome addition, so take the few minutes it requires and make it.  Sprinkle on some Marcona almonds and you have a delicious warm-weather starter to any meal!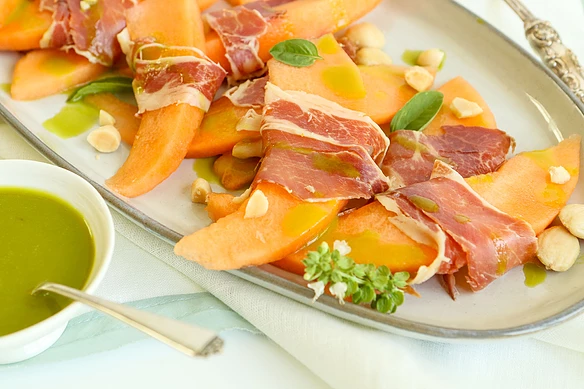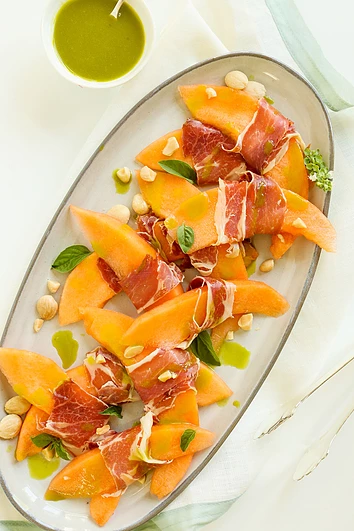 Lastly, if you make Melon with Prosciutto, be sure to leave a comment and/or give this recipe a rating! Above all, I love to hear from you and always do my best to respond to each and every comment. And of course, if you do make this recipe, don't forget to tag me on 
Instagram
! Looking through the photos of recipes you all have made is one of my favorite things to do!
Makes: 4 servings
Prep Time: 10 minutes
Cook Time: 1 minute
Total Time: 11 minutes
Ingredients
1/2 cup (packed) fresh basil leaves

1/2 cup extra-virgin olive oil plus additional for drizzling

1/4 cup fresh lemon juice

1 tsp sea salt

1 medium cantaloupe or honeydew melon, halved, peeled, seeded, thinly sliced

1/2 pound thinly sliced proscuitto or Serrano ham

1/4 cup Marcona almonds, coarsely chopped

1/4 cup chopped fresh basil leaves
Instructions
Blanch basil leaves in small saucepan of boiling water until just wilted, about 10 seconds. Transfer blanched basil leaves to bowl of ice water to cool. Drain; using hands, squeeze out excess water. Puree basil leaves, 1/2 cup oil, lemon juice, and 1 teaspoon sea salt in blender until smooth. Set aside.
Divide melon among 4 large plates. Drizzle with basil oil. Arrange ham over melon. Sprinkle almonds and parsley over. Lightly drizzle additional extra-virgin olive oil over. Serve immediately.