Fig and Bacon Grilled Cheese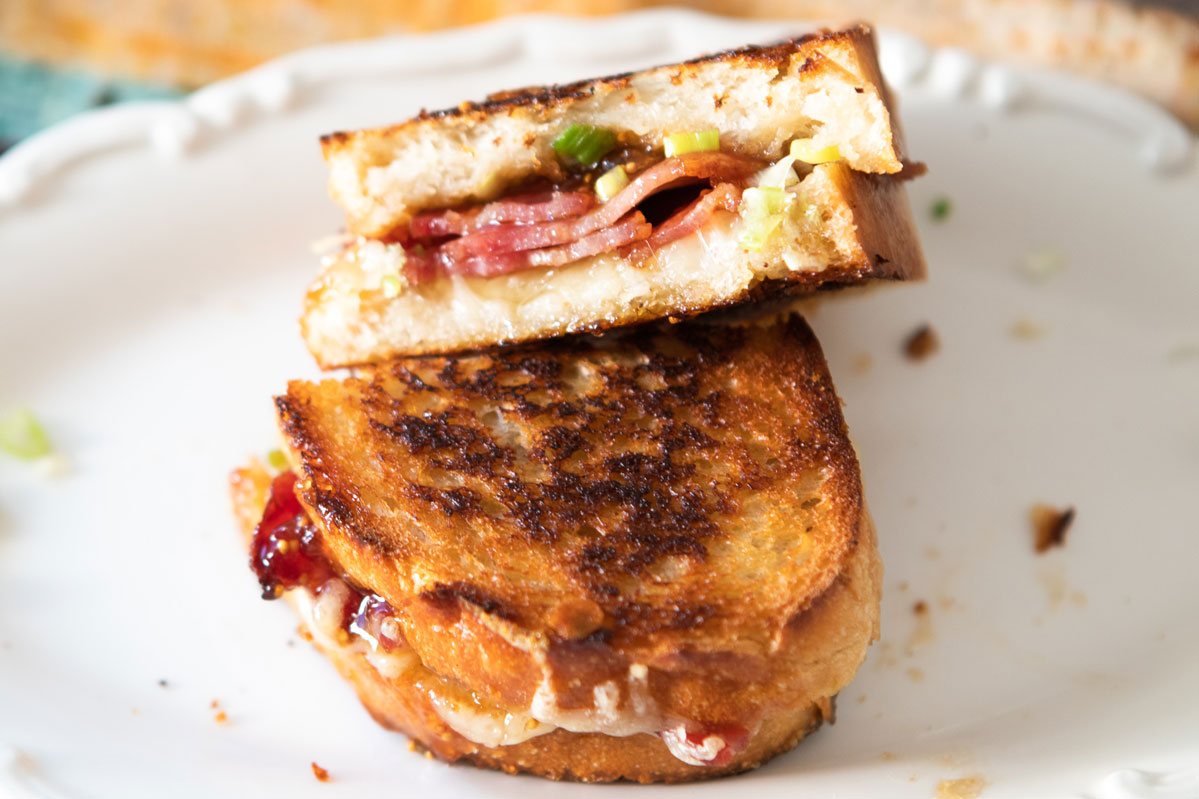 Fig and Bacon Grilled Cheese is an adult version of your classic grilled cheese.  I say adult, because I was asked by a reader and friend, Karen, to come up with some more grown-up grilled cheese recipes.  This fit the bill…
It's a delicious grilled sandwich filled with smoky bacon, sweet fig jam and Comté cheese.  Throw in some sliced scallions for good measure, and you have a delicious very-grown up grilled cheese!
Begin these tasty sandwiches by cooking the bacon on a wire rack set over a sheet pan.  Cook the bacon until it's crispy and then set it aside.
Spread the fig jam on buttered bread, layer it with scallions (if using), bacon and Comté cheese.  I like using Comté as it's a bit earthier than other cheeses and melts beautifully.
Heat a skillet over medium heat and place the buttered bread with all of the toppings in the pan.  Top it with another buttered slice of bread, with the buttered side up.  Cook the sammie for a few minutes until the cheese starts to melt and then flip it.  Cook a few more minutes until it's golden brown and serve it up!
Easy peasy!
Share Your Thoughts…
Lastly, if you make Fig and Bacon Grilled Cheese, be sure to leave a comment and/or give this recipe a rating! Above all, I love to hear from you and always do my best to respond to each and every comment. And of course, if you do make this recipe, don't forget to tag me on Instagram! Looking through the photos of recipes you all have made is one of my favorite things to do!
Fig and Bacon Grilled Cheese
Makes: 2 sandwiches
Prep Time: 5 minutes
Cook Time: 30 minutes
Total Time: 35 minutes
Ingredients
4

pieces bacon, cooked (preferably thick cut)

2 pieces sourdough or peasant bread

1 tbsp (heaped) fig jam

1 tbsp scallions, thinly sliced, optional

2 1/2 ounces Comté, grated

1 tsp unsalted butter
Instructions
Preheat oven to 375˚F. On a wire rack over a baking sheet, bake the bacon for 15 to 25 minutes, depending on thickness. Set aside. Note: If you don't have a wire rack, you can cover the baking sheet with parchment paper or foil instead.
Place a small skillet over medium heat. While waiting for the skillet to heat up, lightly butter both slices of sourdough and put them back to back, butter sides touching, before placing them on a cutting board. Spread the top slice of sourdough with fig jam, sprinkle with scallions, cover with bacon, and top with Comté.
Place the top slice, with all the ingredients on it, on the skillet, buttered side down. Top it with the second slice, buttered side up. Cook for 3 to 6 minutes, until cheese starts to melt. Flip and let cook 1 to 2 more minutes on the other side, until golden brown. Enjoy immediately!
Recipe from Food52
Fig and Bacon Grilled Cheese