Mexican Chopped Salad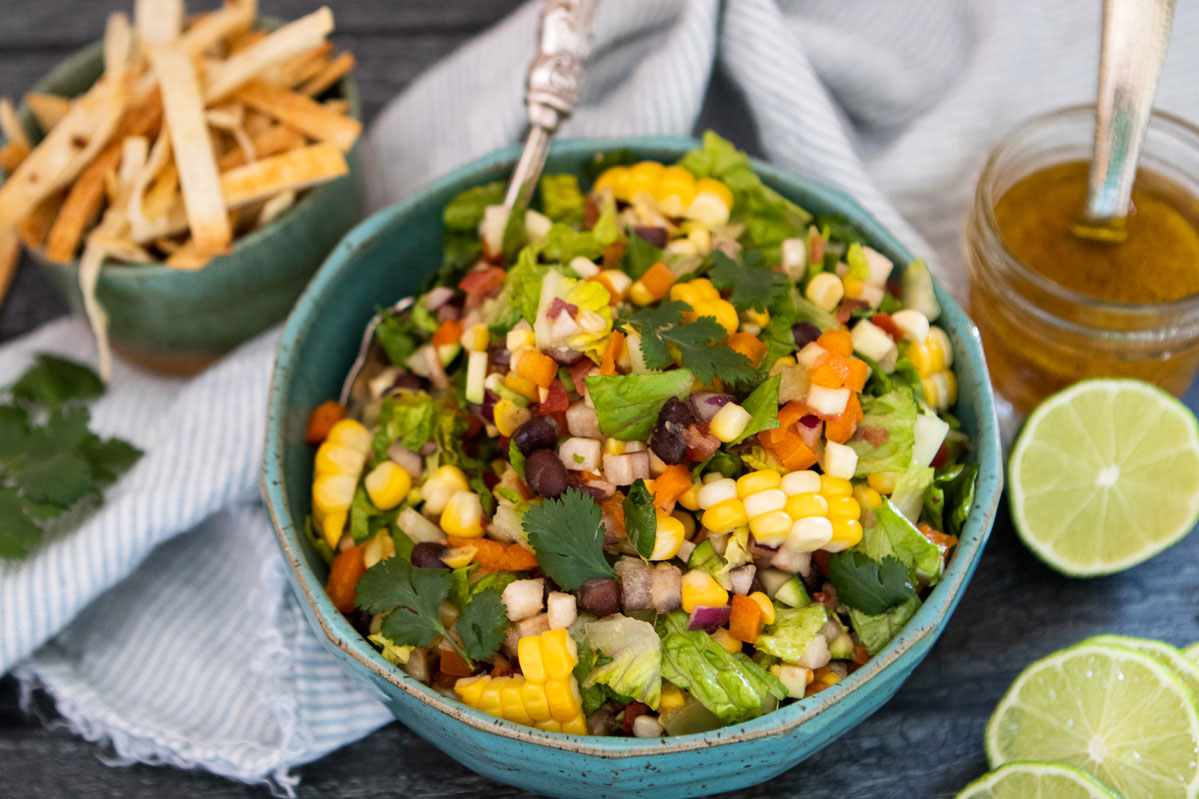 This Mexican Chopped Salad is a wonderful combination of veggies, romaine lettuce, crispy tortilla strips and a sweet, citrusy salad dressing.  It comes together easily, can be prepared in advance and is a lovely addition to  any picnic or barbecue. 
If you're anything like me, you enjoy trips to  the market and picking up whatever is seasonal and fresh!  So, if you happen to pick up some fresh corn, red onions, romaine, zucchini and maybe jicama, you are in store for a wonderful salad!
Maybe you are unfamiliar with jicama (pronounced hi-ka-ma)…it is a tuber that grows underground like a potato.  It has a crunchy texture like an  uncooked potato, but it is sweet.  It doesn't need to be cooked and is wonderful sliced into large sticks and dipped into hummus or feta dip.  It has virtually no calories, so it's my go-to when I get in a healthy mood!  It is also lovely in this salad.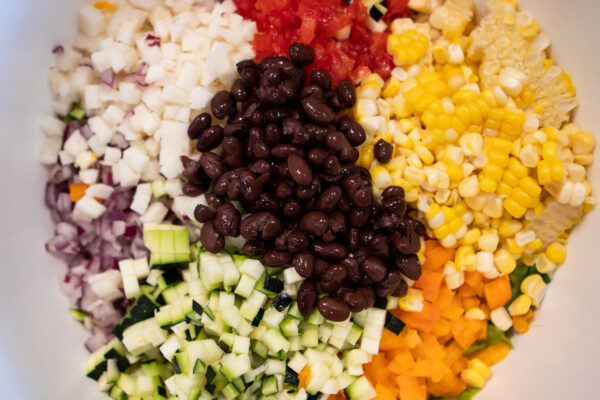 I like to dice up all of the ingredients into small 1/4-inch pieces.  I used the Vidalia Chop Wizard to get these tiny diced pieces, but it's fine to chop them yourselves.  The Wizard just does it quicker.
The salad dressing is simply delicious!  The combination of fresh lime juice, honey, cumin, and garlic along with olive oil makes a bright, citrus-forward dressing that works beautifully with the salad ingredients.
Don't pass on the tortilla strips.  It doesn't take long to make them but if you run out of time, you can buy them at most grocery stores.  To   make them, just slice corn or flour tortillas into strips, drizzle them with oil and  sprinkle salt over.  Bake them on a sheet, tossing every so often until they are browned and crisp.  They will crisp up further as they cool.  I suggest making extra as they are hard to  resist snacking on!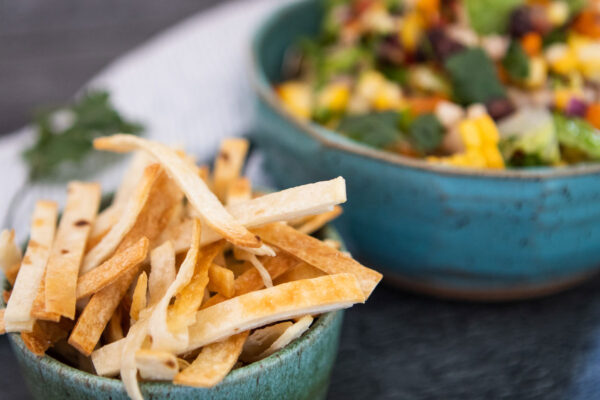 To  assemble the salad, toss all of the ingredients together, then add the dressing and lightly combine.  Top the salad with tortilla strips or pass separately.
The salad will keep for a few days if you don't add the dressing.
Enjoy this refreshing tasty salad!
Lastly, if you make Mexican Chopped Salad, be sure to leave a review down below at the bottom of this page (stars are also appreciated)! Above all, I love to hear from you and always do my best to respond to each and every review. And of course, if you do make this recipe, don't forget to tag me on 
Instagram
! Looking through the photos of recipes you all have made is one of my favorite things to do!
Makes: 8 servings
Prep Time: 25 minutes
Cook Time: 25 minutes
Total Time: 50 minutes
Ingredients
Dressing:
1/4 cup fresh lime juice

2 tbsp honey

1/2 tsp cumin

1 clove garlic, finely minced

1/2 tsp salt

2 tbsp canola oil

2 tbsp extra-virgin olive oil

freshly ground black pepper

taste and add salt if needed
Tortilla Strips:
6 (6-inch) corn tortillas or 3 (8-inch) flour tortillas

1 & 1/2 tbsp canola oil

1/2 tsp sea salt
Salad:
1 medium head romaine lettuce, chopped in approximately ½ inch pieces

1 medium bell pepper, diced in ¼-inch pieces, any color (I used orange)

1/2 medium red onion, diced in ¼-inch pieces

1/2 medium jicama, peeled and diced in ¼-inch pieces

1 medium zucchini, diced in ¼-inch dice

4 medium tomatoes, seeded and diced into ¼-inch dice

4 ears corn (if fresh corn is not in season, substitute 1 & 1/2 cups of sweet, tiny frozen corn)

1 & 1/2 cups canned black beans drained and rinsed

1/2 cup finely chopped cilantro plus whole cilantro leaves for garnish, if desired
Instructions
For the dressing, combine lime juice, honey, cumin garlic and salt. In a slow, steady stream, add the oils, stirring continuously with a fork or small whisk. Taste and add more salt and pepper, if needed. Set aside.
For the corn tortilla strips, preheat oven to 400˚F. Stack corn tortillas on a cutting board. Cut in half. Cut each stack of halves into thin strips, widthwise, about ¼-inch thick. Transfer tortilla strips to a sheet pan. Drizzle with oil. Sprinkle with salt and toss to coat. Bake for 15-20 minutes, stirring every 5 minutes, or until light golden brown and crisp. Set aside to cool.
For the salad, place corn, two ears at a time, in the microwave and cook for 3 & 1/2 minutes. Remove from microwave with a hot pad and allow to cool for 5 minutes. After cooling, cut bottom end of corn off, about 1 & 1/2 inches from end. Pull back husk and silks (almost all of the silk should easily pull away). Cut kernels from husks and set aside.
Combine corn and other salad ingredients in a large bowl. Stir to combine. Add dressing and stir to coat all ingredients. Garnish with cilantro leaves, if desired.
Serve with tortilla strips on top or place a bowl on the side and let guests help themselves.
Recipe by The Cafe Sucre Farine