Rotisserie Chicken Salad with Charred Scallion Dressing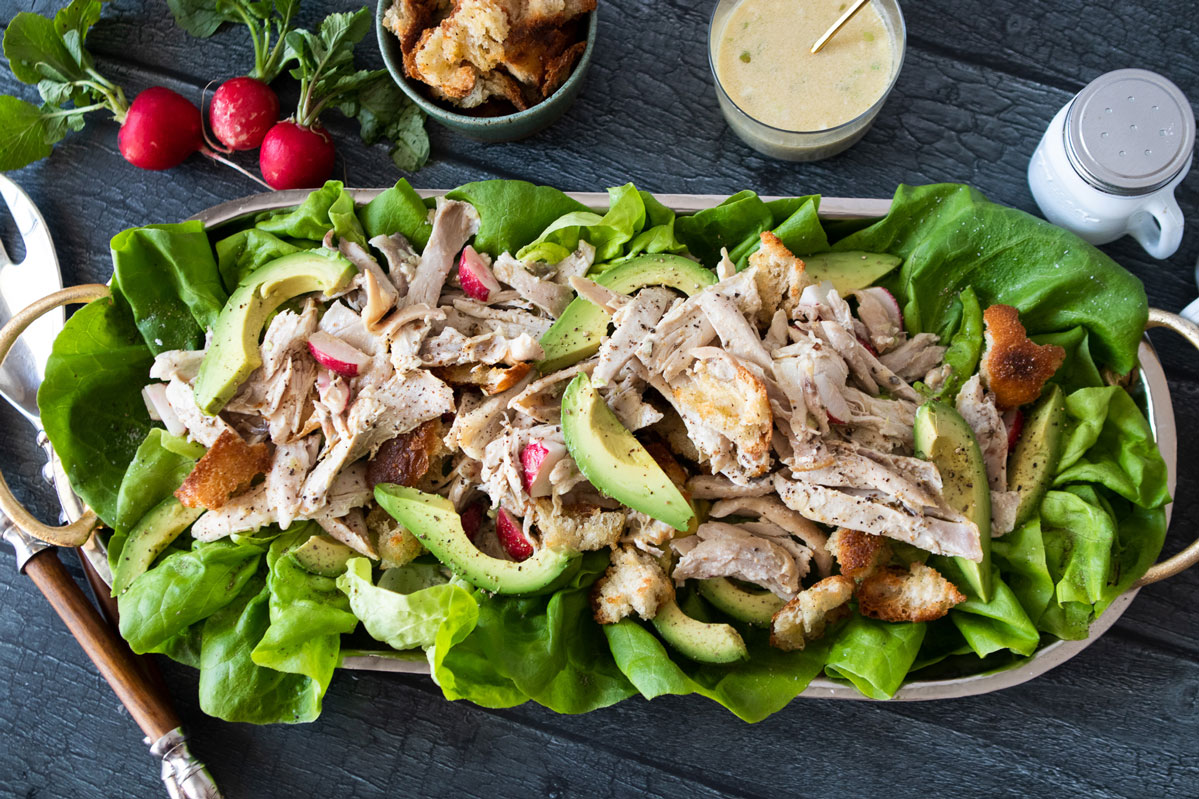 For an easy dinner salad, try Rotisserie Chicken Salad with Charred Scallion Dressing.  It doesn't take much to put this beautiful salad on the table and within 30 minutes you will be feasting on this delicious healthy salad!
Pick up a rotisserie chicken (or even better, buy the chicken already picked off the bones), some crusty bread, fresh Bibb lettuce and a few other ingredients and you are well on your way to serving this mouth-watering salad!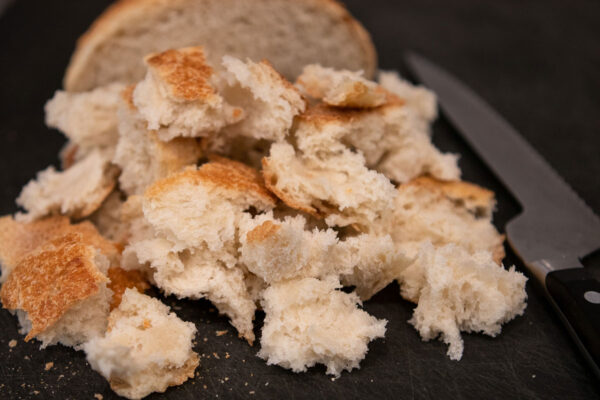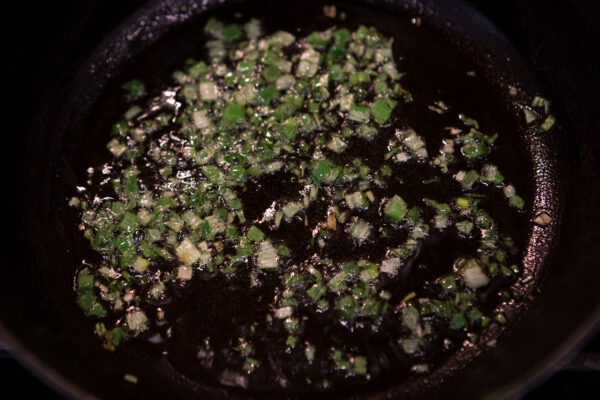 To begin this recipe, make the croutons.  In my opinion, this is the most important component of this recipe.  These croutons are made from pieces of torn country-style bread that have been tossed in olive oil and seasoned with salt and pepper.  Bake them in a hot oven until they are golden and crisp around the edges.  Let them cool and you will end up with crunchy but soft-in-the-middle croutons that give some texture to the salad.  They are so delicious that you might want to make extra just for snacking!
Next comes the dressing.  Separate the whites from the green parts of the scallions.  Chop each part separately in a very fine dice and then sauté the green parts in olive oil until they are nicely charred.
Scrape the charred green scallions into a bowl with the white scallions, lemon juice, rice vinegar, Dijon mustard and mayonnaise.  Finally whisk in olive oil.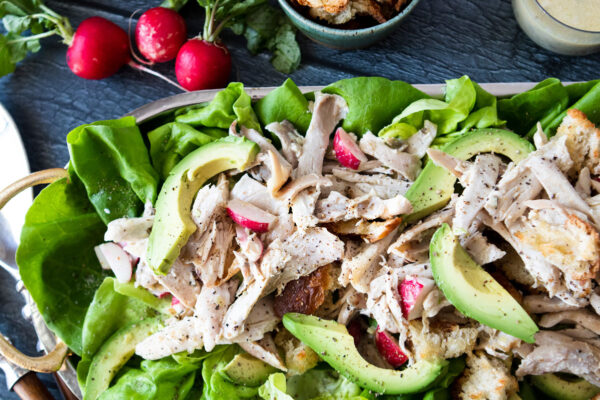 In a large bowl, toss the rotisserie chicken with radishes and croutons and half of the dressing.
Arrange the Bibb lettuce leaves and half of the avocado on a serving platter or bowl.  Drizzle a little dressing over and then top with the chicken mixture.  Tuck the remaining avocado around the salad, season it with salt and pepper and drizzle with more dressing.
As I said, it doesn't take a lot to make a wonderful, healthy main course salad.  No excuses not to make this one!
Lastly, if you make Rotisserie Chicken Salad with Charred Scallion Dressing, be sure to leave a review down below at the bottom of this page (stars are also appreciated)! Above all, I love to hear from you and always do my best to respond to each and every review. And of course, if you do make this recipe, don't forget to tag me on 
Instagram
! Looking through the photos of recipes you all have made is one of my favorite things to do!
Rotisserie Chicken Salad with Charred Scallion Dressing
Makes: 4 servings
Prep Time: 15 minutes
Cook Time: 15 minutes
Total Time: 30 minutes
Ingredients
5 ounces country-style bread, torn into 1-inch pieces

10 tbsp extra-virgin olive oil, divided

2 scallions

Kosher salt, freshly ground pepper

2 tbsp fresh lemon juice

2 tbsp unseasoned rice vinegar

1 tbsp Dijon mustard

1 tbsp mayonnaise, preferably Hellmann's (Best Foods)

1 small rotisserie chicken, meat pulled from bones and shredded

6 radishes, trimmed, cut into wedges

1 head of Bibb lettuce, leaves separated

1 avocado, sliced, divided
Instructions
Preheat oven to 450°F. Toss bread and 3 tablespoons oil on a rimmed baking sheet; season with salt and pepper. Bake until golden and crisp around the edges, 8–12 minutes; let croutons cool.
Meanwhile, separate scallion whites from greens. Finely chop whites; place in a large bowl. Finely chop greens. Heat 1 tablespoon oil in a small skillet over medium. Cook greens, stirring often, until blackened around edges and crisp, about 3 minutes. Scrape into bowl with whites, then whisk in lemon juice, vinegar, mustard, and mayonnaise; season with salt and pepper. Gradually whisk in remaining 6 tablespoons oil.
Pour half of dressing into a small bowl; set aside. Add chicken, radishes, and croutons to bowl with remaining dressing and toss to coat.
Arrange lettuce and half of avocado on a platter; season with salt and pepper. Drizzle with 3 tablespoons reserved dressing; top with chicken salad. Tuck remaining avocado around; season with salt and pepper. Drizzle with remaining dressing.
Recipe by Bon Appetit
Rotisserie Chicken Salad with Charred Scallion Dressing