Nectarine Prosciutto and Ricotta Flatbreads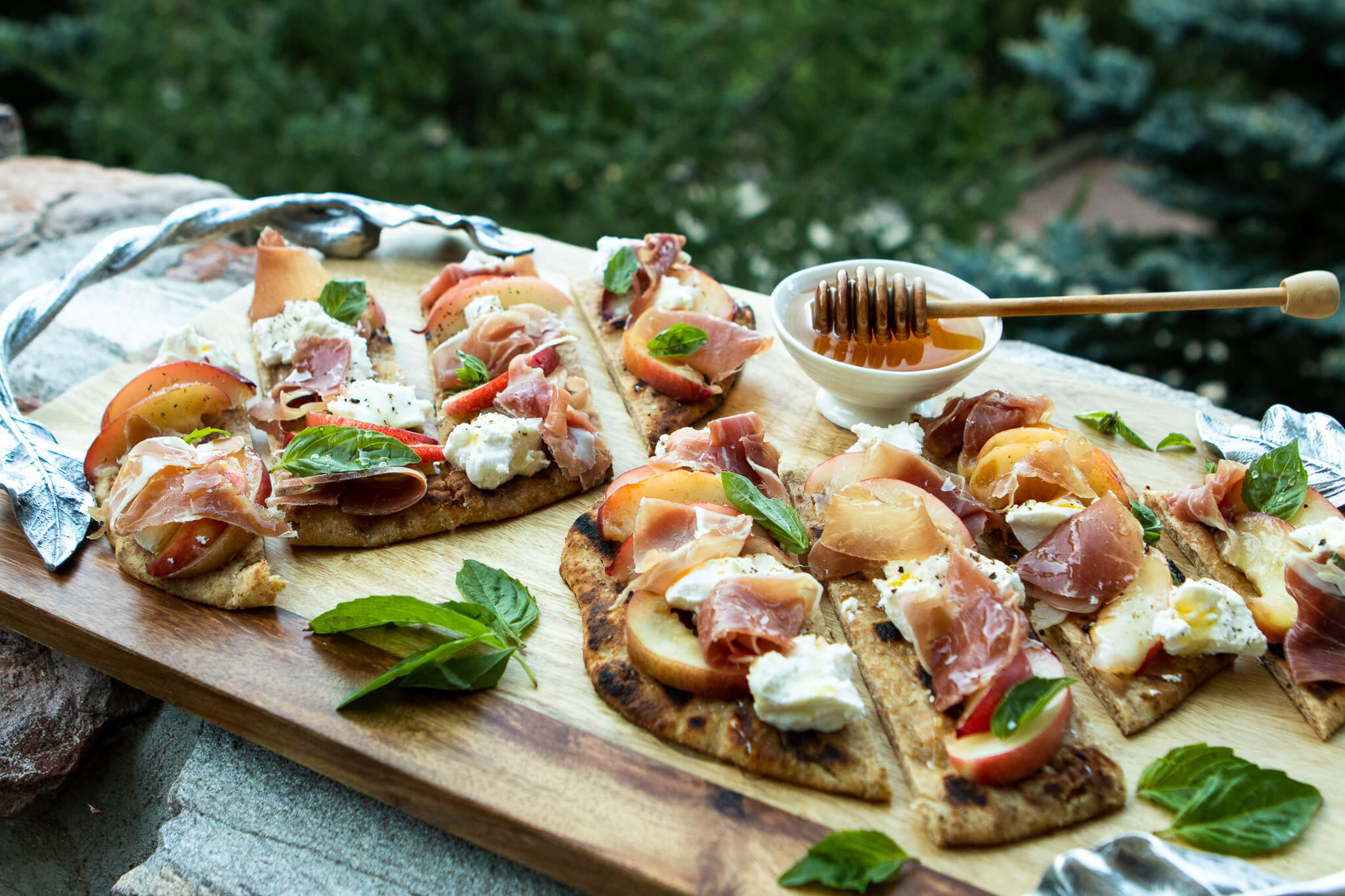 Ok, quick…friends are stopping over in a few, what to give them to munch on???  This Nectarine Prosciutto and Ricotta Flatbreads recipe is easy, healthy, flexible, seasonal & delicious! ​ Grill up some flatbreads (any kind…naan, pita, lavosh) and top them with nectarines (or peaches, plums, apples), ricotta cheese (or burrata, mozzarella, brie) and proscuitto.  Add a drizzle of honey and ta-da!!  You're ready for company!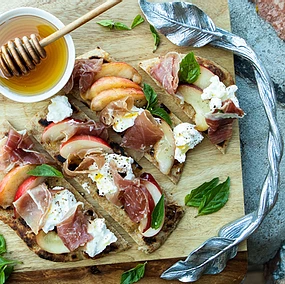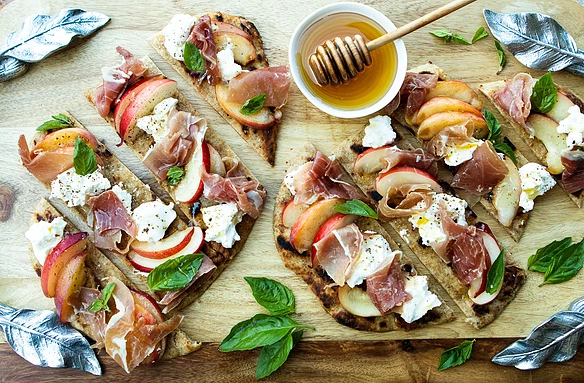 Lastly, if you make Nectarine Prosciutto and Ricotta Flatbreads, be sure to leave a comment and/or give this recipe a rating! Above all, I love to hear from you and always do my best to respond to each and every comment. And of course, if you do make this recipe, don't forget to tag me on 
Instagram
! Looking through the photos of recipes you all have made is one of my favorite things to do!
Nectarine Prosciutto and Ricotta Flatbreads
Makes: 6 servings
Prep Time: 10 minutes
Bake Time: 5 minutes
Total Time: 20 minutes
Ingredients
3 Naan or pita breads

Olive oil, for brushing and drizzling

Kosher salt, for sprinkling to taste

2 ripe nectarines or peaches, sliced in thin wedges

3 thin slices of proscuitto, torn (about 2 ounces)

1/2 cup whole-milk Ricotta or 4 ounces Burrata cheese

Freshly ground pepper, for sprinkling to taste

1/4 cup small basil leaves, for garnish

1/4 cup honey, for drizzling
Instructions
Preheat grill to medium high heat. While preheating, brush olive oil over one side of naan bread; sprinkle with Kosher salt. When grill is hot, place bread on grill, oiled side down, for two minutes, watching carefully so that it doesn't burn. Flip over for another minute or so, until grill marks are starting to show. Let cool for at least 5 minutes (but can be longer if you want to make these ahead of time). Cut into 4 pieces.
Top the flatbread with nectarine wedges, dollops of ricotta cheese (or torn chunks of burrata cheese), and proscuitto. Drizzle cheese with olive oil and sprinkle with Kosher salt and pepper. Garnish with basil leaves and drizzle with honey. Serve extra honey along side, if desired.
Download PDF
Nectarine Prosciutto and Ricotta Flatbreads