Honey Whipped Ricotta and Prosciutto Crackers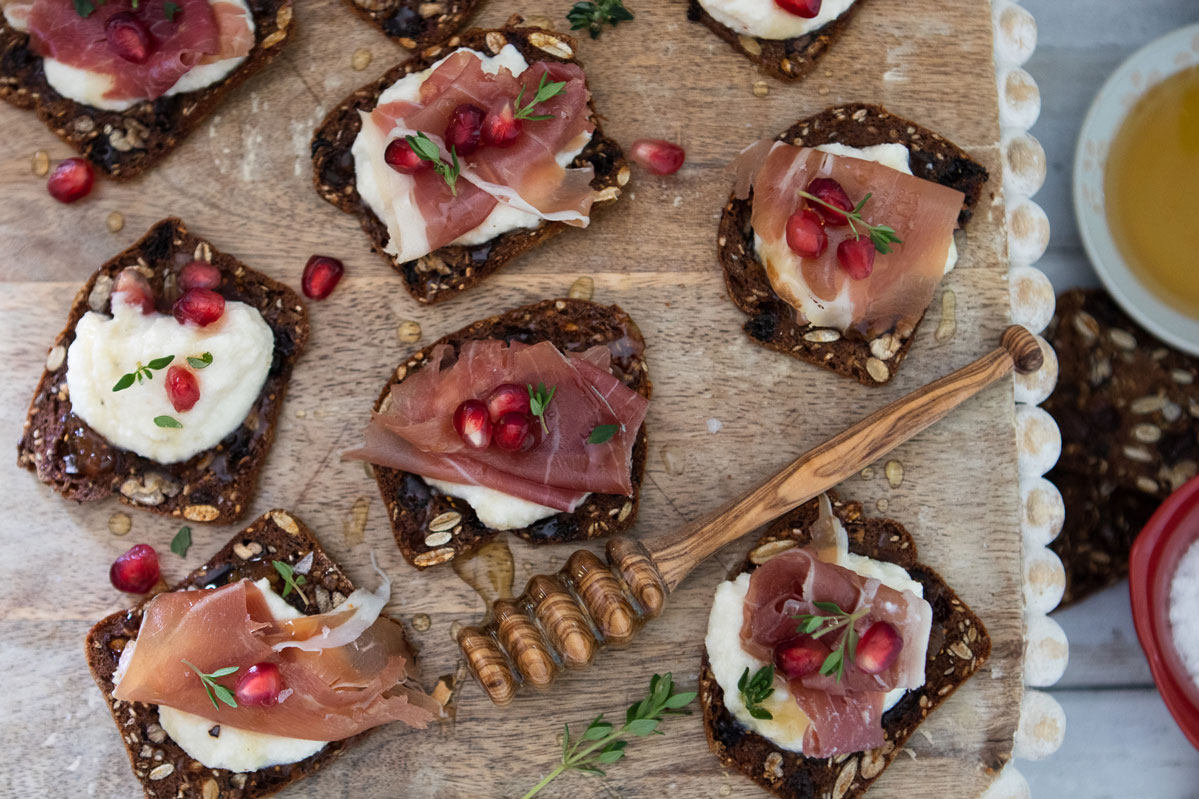 For the perfect appetizer for your next gathering or just a tasty snack to indulge in, try whipping up some honey whipped ricotta and prosciutto crackers! This dish offers a perfect balance of salty and sweet flavors that will please everyone's taste buds.
Not only is this dish easy to make, but it is also a healthier alternative to some of the heavier appetizers out there. Ricotta is lower in fat than many other cheeses, while prosciutto is a great source of protein. And who doesn't love a touch of sweetness from honey?
Overall, this dish is sure to impress your guests or simply satisfy your own craving. Plus, it's a breeze to whip up for any occasion. So give honey whipped ricotta and prosciutto crackers a try and enjoy the delicious flavors it has to offer!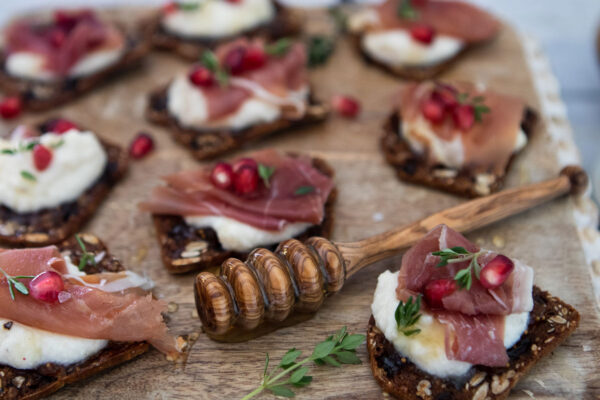 It takes next to nothing to make the whipped ricotta.  Simply place the ricotta, honey, sea salt and pepper into a food processor or blender and whip it together.  If you don't feel like bothering with an appliance, you can also whip it by hand.
Let's talk about crackers…any cracker will work but the ones that I love the most for this appetizer are the Raincoast Crisps.  They are crispy and flavorful and will hold up well to the toppings.
Schmear some whipped ricotta on each cracker, top it with torn prosciutto and sprinkle with pomegranate seeds and thyme leaves.
Drizzle with additional honey and sprinkle some sea salt and you're ready to serve these yummy bites!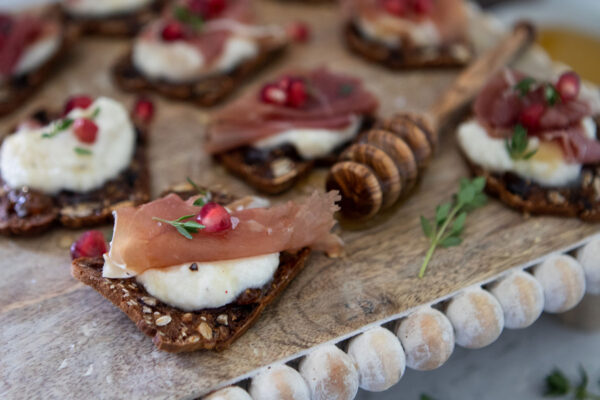 Lastly, if you make Honey Whipped Ricotta and Prosciutto Crackers, be sure to leave a review down below at the bottom of this page (stars are also appreciated)! Above all, I love to hear from you and always do my best to respond to each and every review. And of course, if you do make this recipe, don't forget to tag me on 
Instagram
! Looking through the photos of recipes you all have made is one of my favorite things to do!
Honey Whipped Ricotta and Prosciutto Crackers
Makes: 8 servings
Prep Time: 15 minutes
Total Time: 15 minutes
Ingredients
1 cup whole milk ricotta cheese

2 tbsp

honey, plus more for drizzling

flaky sea salt and black pepper

1

box crackers (I like Raincoast Crisps)

18-22 teaspoons fig preserves/jam (optional)

3 ounces prosciutto, torn

1 cup pomegranate arils

Fresh thyme, for serving
Instructions
In the bowl of a food processor or blender, pulse together the ricotta and honey until smooth and creamy. Season with salt and pepper.
Arrange the crackers on a serving plate. Spread each with a small amount of fig preserves (if using). Add a dollop of the whipped ricotta, then top each with a piece of torn prosciutto. Sprinkle the pomegranate arils and thyme over the prosciutto. Serve, drizzled with additional honey and sea salt.
To Make Ahead: The crackers can be assembled a few hours ahead of time and kept in the fridge. Bring to room temperature before serving.
Recipe from Half Baked Harvest
Honey Whipped Ricotta and Prosciutto Crackers