No-Churn Coffee Ice Cream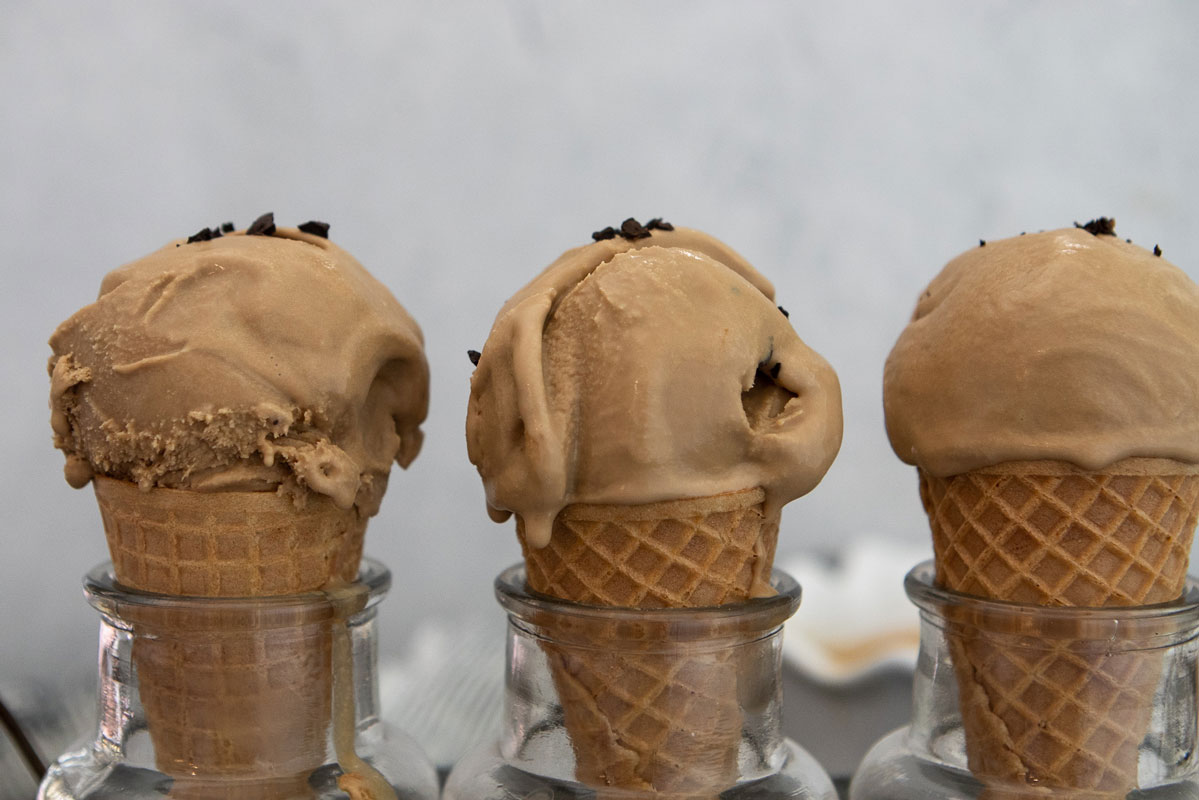 Coffee ice cream is an all-time favorite but how about homemade No-Churn Coffee Ice Cream?  Can it get any better?
You all know I'm a huge fan of no-churn ice creams.  I recently posted No-Churn Churro Ice Cream, and before that Dulce de Leche Brownie Ice Cream and No-Churn Lemon Ice Cream.  I've got a bunch more so check out the recipe category Frozen Treats to see them all!  
The point is that no-churn ice cream is the bomb!  I love how easily it comes together, especially without an ice cream maker.  I don't own one and I see no need after I discovered how easy no-churn ice creams are!
This ice cream has a deep flavor of espresso.  That's thanks to the instant espresso powder and the generous shot of Kahlúa.  It's a rich, creamy frozen treat which reminds me of Haagen Dazs' Coffee Ice Cream.
Combine the heavy cream, sweetened condensed milk, espresso powder and Kahlúa together in a bowl and whisk it until it begins to thicken and you have a beautiful caffe-latte color.
Did you notice that there are only 4 ingredients!  Woo hoo!  Love that!
After whisking, pour the mixture into a loaf pan or two pint containers and freeze until firm, usually overnight will do it.
I confess that I love my ice cream soft. I have been known to microwave my ice cream, just for a few seconds, to get it to the consistency I love.  If this comes out of the freezer a little firmer than you like, try my trick or leave it on the counter for a few minutes to soften up.
Sprinkle some crushed coffee beans over the top and enjoy the heck out of this!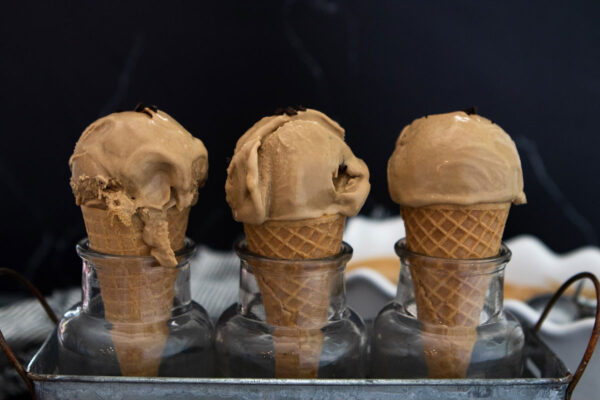 Lastly, if you make No-Churn Coffee Ice Cream, be sure to leave a comment and/or give this recipe a rating! Above all, I love to hear from you and always do my best to respond to each and every comment. And of course, if you do make this recipe, don't forget to tag me on 
Instagram
! Looking through the photos of recipes you all have made is one of my favorite things to do!
No-Churn Coffee Ice Cream
Makes: 2 pints
Prep Time: 5 minutes
Total Time: 6 hours
Ingredients
1 & 3/4 cup + 2 tbsp heavy cream, well-chilled

1 14-oz can sweetened condensed milk

3 tbsp instant espresso powder

3 tbsp espresso liqueur such as Kahluá
Instructions
Whisk all the ingredients together just until the whisk leaves trails of soft peaks in the bowl, about 2 minutes, and you have a gorgeous, caffe-latte-colored airy mixture.
Fill two 1-pint airtight containers or a loaf pan with cream mixture, and freeze for 6 hours or overnight. Serve straight from the freezer.
No-Churn Coffee Ice Cream