No-Churn Lemon Ice Cream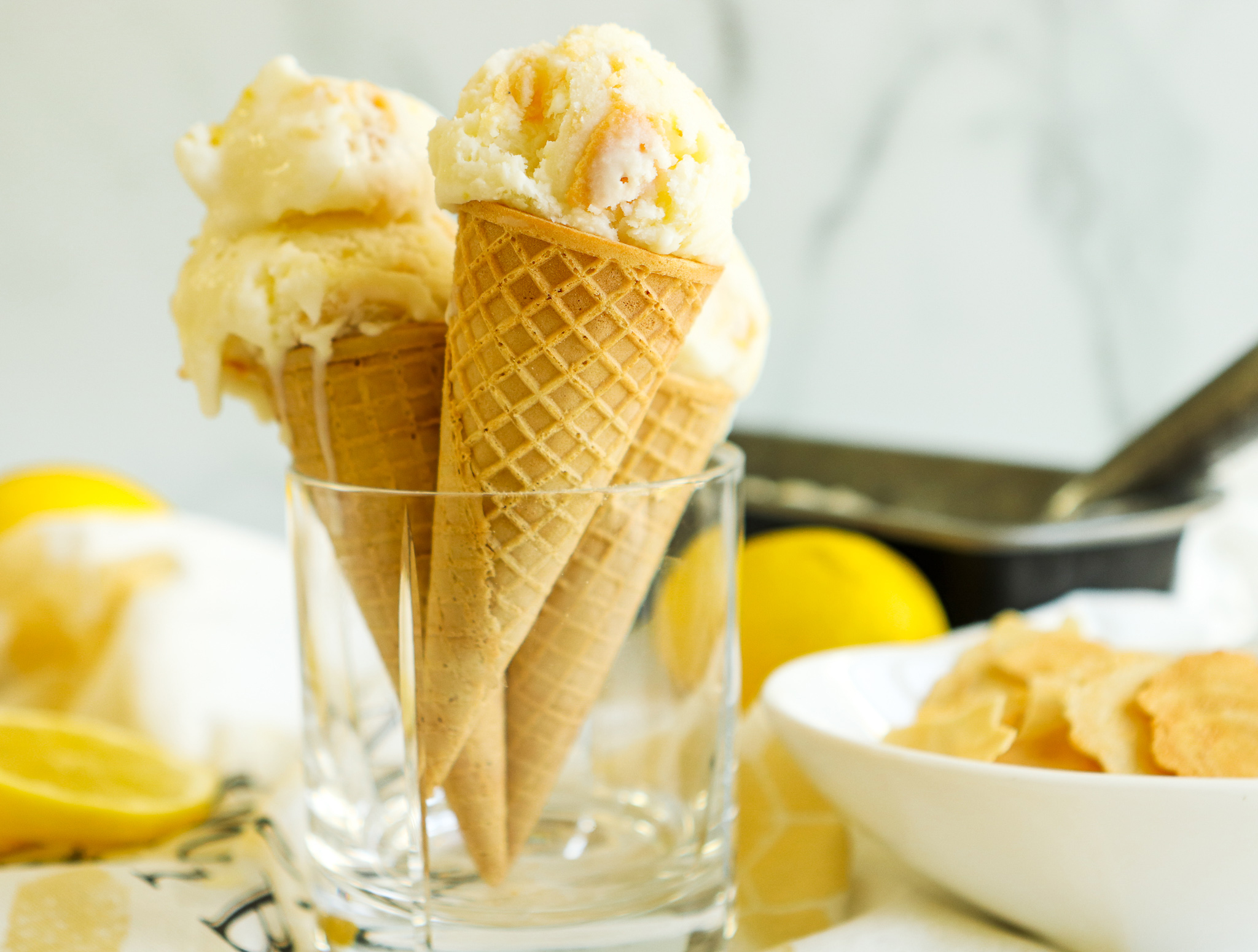 Any time of the year is perfect for No-Churn Lemon Ice Cream, especially if the weather is heating up!  In Arizona, we've already experienced the high 90's (thankfully only for a few days) but we know what's coming!  So, best be prepared by having some of this light & bright lemon ice cream in the freezer!
I love no-churn ice creams.  That's probably because I don't own an ice cream maker. But they are just so simple to make! Mix a few ingredients (and I mean a few), pour it into a pan, and pop it in the freezer.  Once frozen, you have a wonderful treat that you can definitely call your own!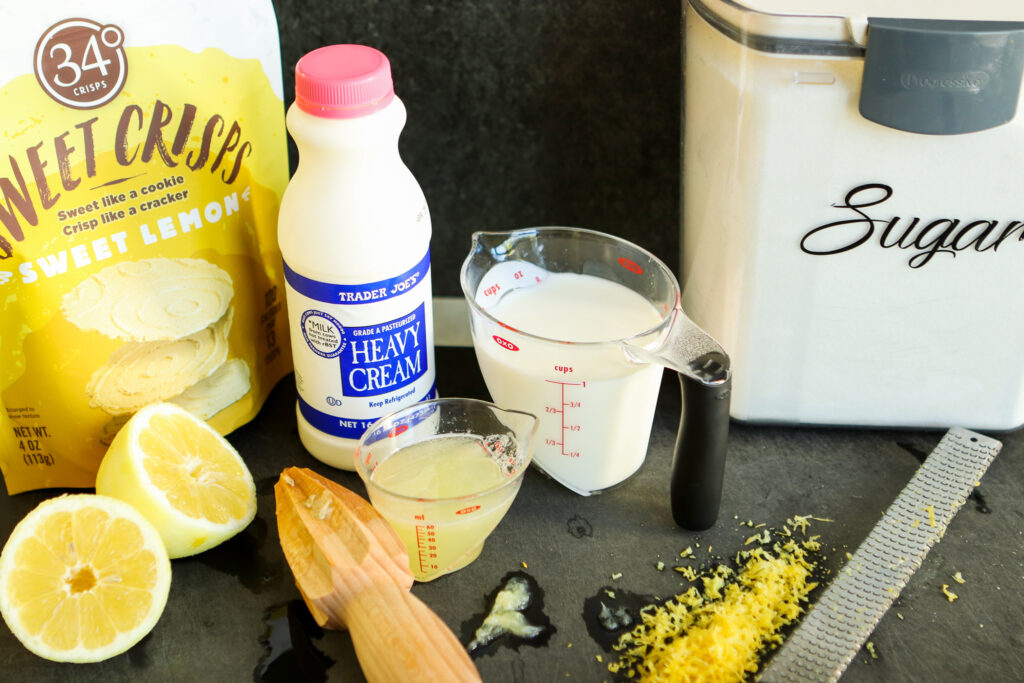 This recipe is all about the lemons:  get the freshest lemons you can and get zesting and squeezing.  We need both the juice and the zest to create this sweet/sour experience!  To the lemon, add sugar and salt, then heavy cream and whole milk.  Once the sugar is dissolved into the milk/cream, you are ready to pop this into the freezer.
There are recipes for no-churn ice creams that call for whipping the cream to a stiff peak first but I really don't care for the texture.  It's almost like a frozen mousse instead of a creamy, melty ice cream.  If you check out my other No-Churn ice cream recipes (No-Churn Peppermint Ice Cream, No-Churn Oreo Cookie Ice Cream, and No-Churn Mixed Berry Soft Serve), you will see that none of them whip the cream to a medium or stiff peak.  Feel free to try those other versions out to see which one suits you best.  Or just trust me!! Haha!
As an added bonus, I folded in some lemon wafer cookies after a couple of hours of freezer time, thinking I would get a little extra texture.  If that's your thing, add some or try Estela's Candied Sesame Seeds!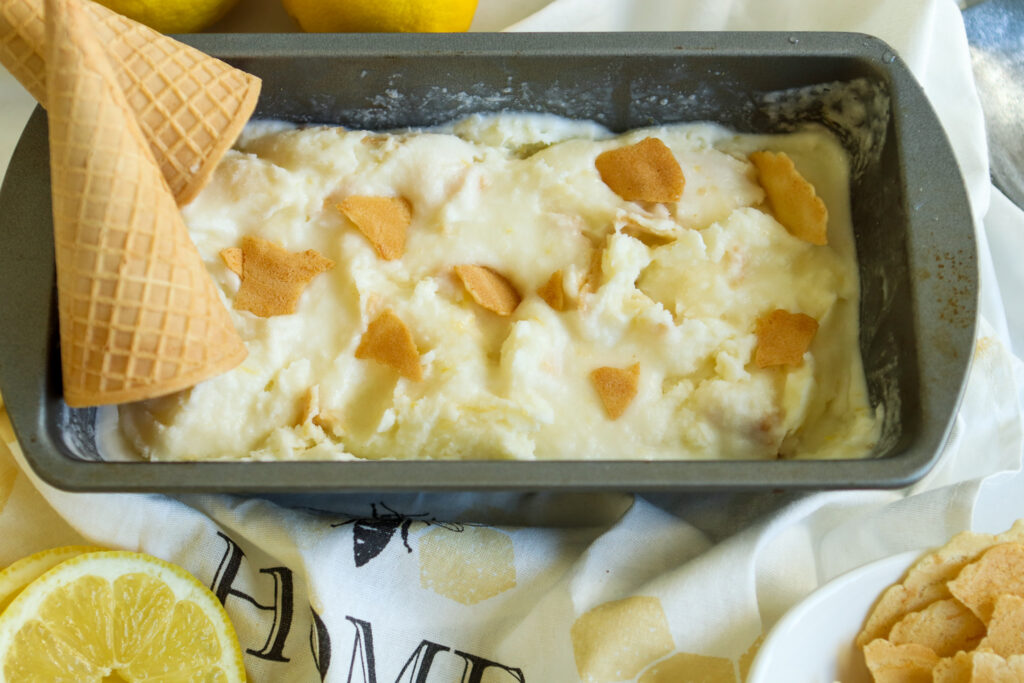 Lastly, if you make No-Churn Lemon Ice Cream, be sure to leave a comment and/or give this recipe a rating! Above all, I love to hear from you and always do my best to respond to each and every comment. And of course, if you do make this recipe, don't forget to tag me on 
Instagram
! Looking through the photos of recipes you all have made is one of my favorite things to do!
Makes: 3 cups
Prep Time: 10 minutes
Total Time: 3 hours
Ingredients
1 tbsp finely grated lemon zest

1/4 cup freshly squeezed lemon juice (from about 2 lemons)

1 cup sugar

1/8 tsp fine sea salt

1 cup heavy cream

1 cup whole milk

Thin lemon cookies, optional
Instructions
Whisk together the lemon zest and juice, the sugar, and salt in a large bowl.
Whisk together the cream and milk in a measuring cup and gradually pour into the lemon and sugar mixture, whisking constantly. Continue to whisk until the sugar dissolves—you won't hear or feel it scraping against the bottom of the bowl anymore, about 2 minutes.
Pour the mixture into an 8-inch square metal baking pan or a metal loaf pan. Cover tightly with aluminum foil and freeze until the mixture is solid around the edges and mushy in the middle, 2 to 3 hours. Stir well, cover again with foil, and continue to freeze until completely firm, about an hour more. Once firm, scoop into chilled bowls to serve.
Chef's Note:
I added lemon wafer cookies to my mixture after the mixture was in the freezer for 2 hours. I crumbled the cookies up and then stirred them into the ice cream.
Recipe from Food 52/Dori Sanders