Parmesan-Roasted Broccoli
I am one of those people that love cruciferous veggies…not all, but definitely broccoli, cauliflower, and brussel sprouts.  So, I'm always looking for new ways to prepare them.  Roasting these veggies is my favorite way.  It brings out a nutty flavor and I just love the crispiness that the caramelization gives them.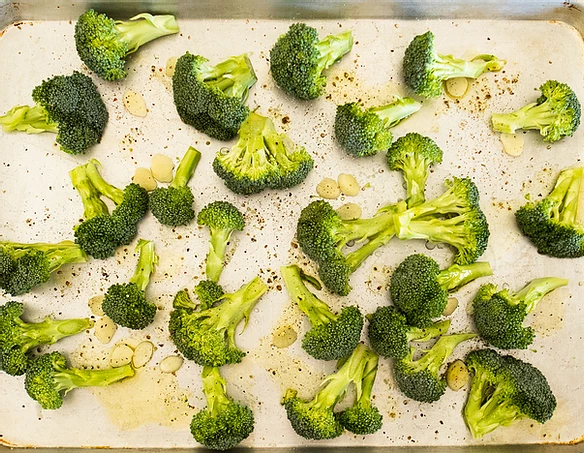 I especially love this recipe…it's very simple, it goes in the oven while the rest of the meal is prepared, and it's light and fresh!
Give it a whirl…I think it will become a favorite of yours, too!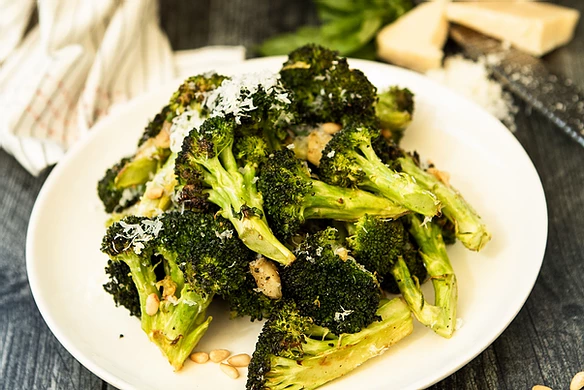 Lastly, if you make Parmesan-Roasted Broccoli, be sure to leave a comment and/or give this recipe a rating! Above all, I love to hear from you and always do my best to respond to each and every comment. And of course, if you do make this recipe, don't forget to tag me on 
Instagram
! Looking through the photos of recipes you all have made is one of my favorite things to do!
Parmesan-Roasted Broccoli
Makes: 6 servings
Prep Time: 10 minutes
Bake Time: 25 minutes
Total Time: 35 minutes
Ingredients
4 pounds broccoli

4 garlic cloves, peeled and thinly sliced Good olive oil

1 1/2 tsp Kosher salt

1/2 tsp freshly ground black pepper

2 tsp grated lemon zest

2 tbsp freshly squeezed lemon juice

3 tbsp pine nuts, toasted

1/3 cup freshly grated Parmesan cheese

2 tbsp julienned fresh basil leaves (about 12 leaves)
Instructions
Preheat the oven to 425°F. Cut the broccoli florets from the thick stalks, leaving an inch or two of stalk attached to the florets, discarding the rest of the stalks. Cut the larger pieces through the base of the head with a small knife, pulling the florets apart.
You should have about 8 cups of florets. Place the broccoli florets on a sheet pan large enough to hold them in a single layer. Toss the garlic on the broccoli and drizzle with 5 tablespoons olive oil. Sprinkle with the salt and pepper. Roast for 20 to 25 minutes, until crisp-tender and the tips of some of the florets are browned.
Remove the broccoli from the oven and immediately toss with 1 1/2 tablespoons olive oil, the lemon zest, lemon juice, pine nuts, Parmesan, and basil. Serve hot.
Recipe from Ina Garten
Download PDF
Parmesan-Roasted Broccoli