Roasted Balsamic Brussels Sprouts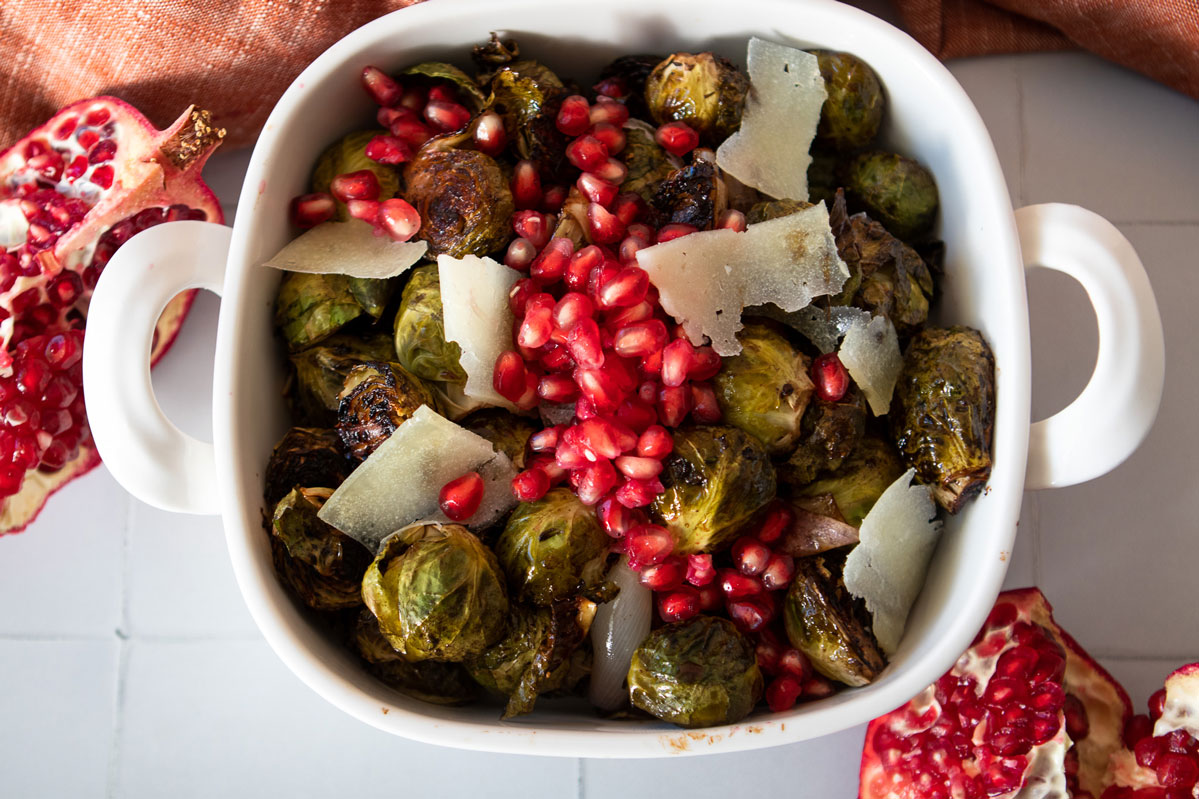 An easy and wonderful Thanksgiving side dish is Roasted Balsamic Brussels Sprouts.  Roasting brussels sprouts in a tangy balsamic sauce and topping them with nutty Manchego or Parmesan cheese makes these babies addictive!  Pop some color and crunch on top with pomegranate seeds and you've got a winner winner!
Make a dressing of balsamic vinegar, fig preserves, garlic, thyme and olive oil and toss the brussels sprouts and shallots with the dressing.
Roast the mixture until the sprouts are nicely browned and caramelized.
Toss the roasted vegetables with cheese (either Manchego or Parmesan) and pile them on a serving dish, topped with pomegranate seeds.
Serve extra dressing on the side.  There you have it…easy, simple and delicious!
Lastly, if you make Roasted Balsamic Brussels Sprouts, be sure to leave a comment and/or give this recipe a rating! Above all, I love to hear from you and always do my best to respond to each and every comment. And of course, if you do make this recipe, don't forget to tag me on 
Instagram
! Looking through the photos of recipes you all have made is one of my favorite things to do!
Roasted Balsamic Brussels Sprouts
Makes: 6 servings
Prep Time: 15 minutes
Bake Time: 25 minutes
Total Time: 40 minutes
Ingredients
1/3 cup

extra virgin olive oil

1/4 cup

balsamic vinegar

1 tbsp

fig preserves

2 cloves

garlic, chopped

2 tbsp

fresh thyme
kosher salt and black pepper
chili flakes

1 & 1/2 pounds

brussels sprouts, halved

2-3 small

shallots, halved

1/2 cup

shaved Manchego or parmesan cheese

1-2 cups pomegranate arils
Instructions
Position the oven rack in the lower 1/3 of the oven. Preheat the oven to 425° F.
Make the dressing. In a bowl or glass jar, whisk together the olive oil, balsamic, fig preserves, garlic, thyme, salt, pepper, and chili flakes.
On a rimmed baking sheet, toss together the halved brussels sprouts and shallots. Pour 2/3 of the dressing over the sprouts. Lay the brussels sprouts cut side down. Bake on the lower oven rack until deeply browned, 20 to 25 minutes.
Remove the brussels sprouts from the oven and toss with the cheese. Arrange the roasted brussels sprouts on a plate and top with pomegranates. Spoon over the remaining dressing, if desired.
Recipe by Half Baked Harvest
Roasted Balsamic Brussels Sprouts