Savory Cheese Puffs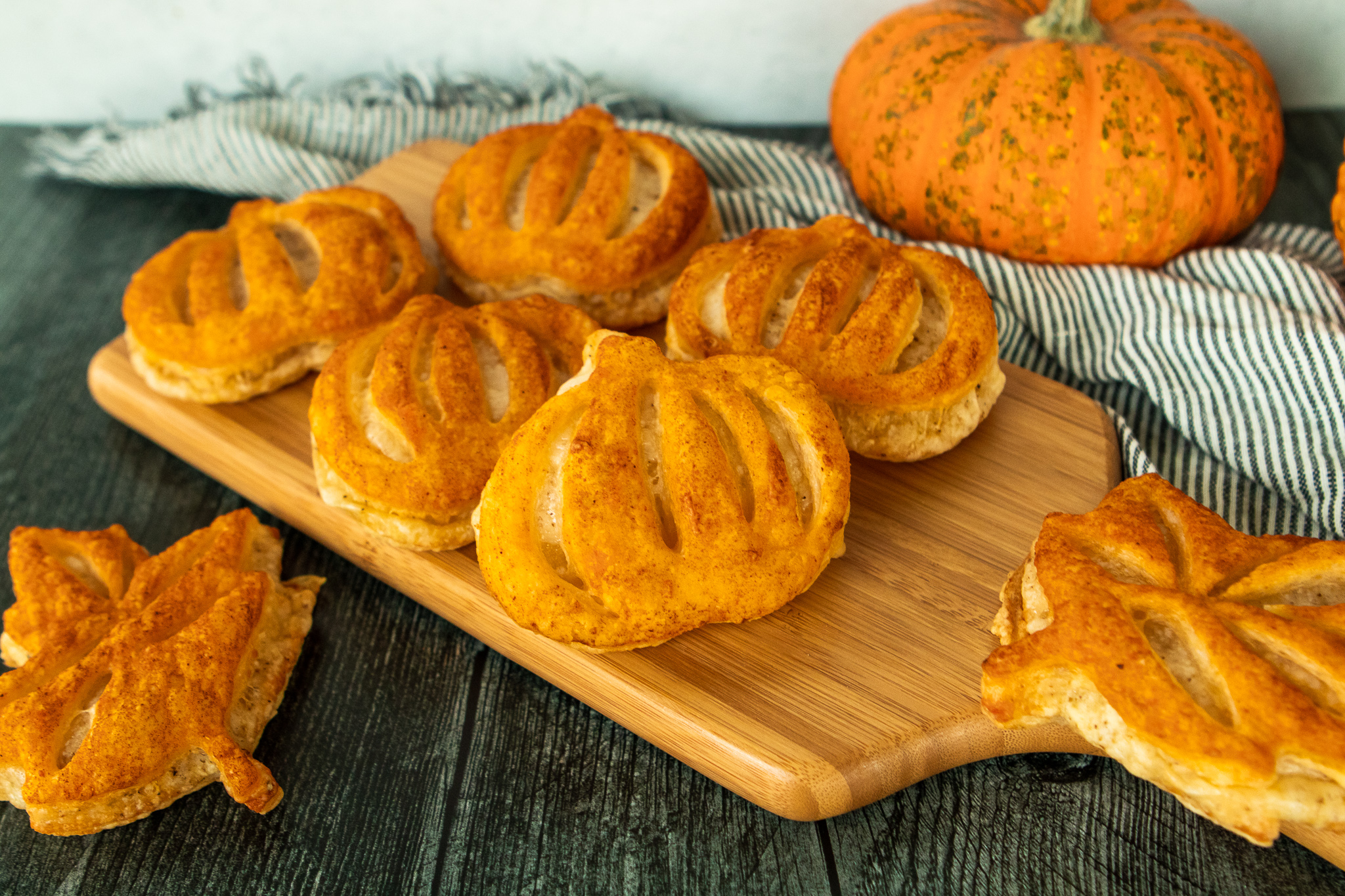 At a recent socially-distanced gathering of extremely close, wild girlfriends & sisters, our hostess, Yvette, served these completely delicious and adorable appetizers. Her house was so beautifully appointed with everything Thanksgiving-ish (you should see Christmas at Yvette's house) that I almost didn't realize these treats weren't decorations! Beautifully shaped as pumpkins and leaves, I was delighted when I took a bite to find a combination of Gruyére and Parmesan Cheeses along with honey mustard inside these cute puffs.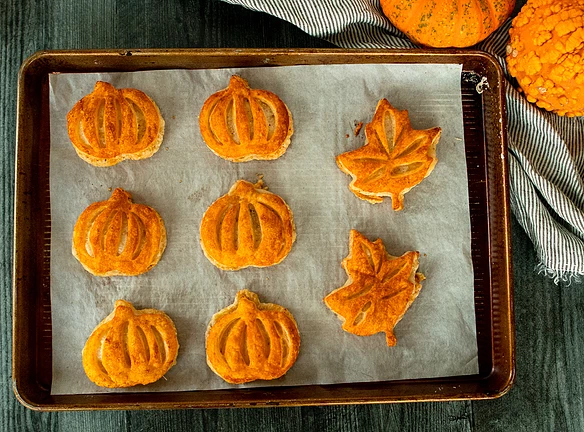 And, after having a convo with the girl gang about the fact that none of them can stand pumpkin pie, I renamed these so that the word "pumpkin" didn't appear in the title lest I discourage them from making these! You can cut these into any shape for any holiday, but I happen to think these shapes are so fun!
This recipe begins with puff pastry sheets that are rolled into a rectangle. One sheet gets topped with honey mustard and the cheeses. The second sheet is placed on top of the first one and rolled until the layers are sealed. Then a melted butter/paprika baste gets brushed on the top of the puff pastry.
Shapes get cut out, lines get scored on the pumpkins and into the oven they go. So delicious! Have fun with these!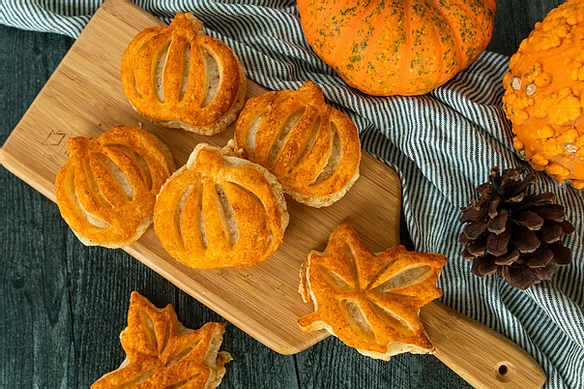 Lastly, if you make Savory Cheese Puffs, be sure to leave a review down below at the bottom of this page (stars are also appreciated)! Above all, I love to hear from you and always do my best to respond to each and every review. And of course, if you do make this recipe, don't forget to tag me on 
Instagram
! Looking through the photos of recipes you all have made is one of my favorite things to do!
Makes: 12-18 servings
Prep Time: 15 minutes
Bake Time: 20 minutes
Total Time: 35 minutes plus chill time 45 minutes
Ingredients
All-purpose flour, for parchment

1 package (17.3 ounces) frozen puff pastry, thawed

1 & 1/2 tsp paprika

1/4 cup unsalted butter, melted

2 & 1/2 tbsp honey mustard

1 & 1/2 cups finely grated Gruyere cheese

1 cup finely grated Parmesan cheese

Freshly ground pepper
Instructions
Preheat oven to 375°F. Generously flour two pieces of parchment paper; on each, roll out an unfolded pastry sheet to form a 15-by-13-inch rectangle, about 1/16 inch thick. Refrigerate until firm, about 15 minutes. Meanwhile, stir the paprika into the melted butter.
Remove pastry from the refrigerator, and brush off excess flour. Spread a rectangle of pastry with mustard; sprinkle with both cheeses. Season with pepper. Lay a second pastry rectangle on top.
Place a sheet of parchment on top of the stacked pastry; using a rolling pin, roll until smooth and pastry layers are sealed together. Remove parchment, and brush top of pastry with butter mixture. Chill until firm, about 30 minutes.
With a pumpkin-shaped cookie cutter, cut into 12 to 18 shapes. Immediately place the shapes on a parchment-lined baking sheet. Using a sharp paring knife, score each shape four or five times to make pumpkin ridges. Bake until golden, 15 to 20 minutes. Transfer puffs to a wire rack; let cool slightly before serving.
Recipe adapted from Martha Stewart & Yvette Sfire
Download PDF