Roasted Beet Hummus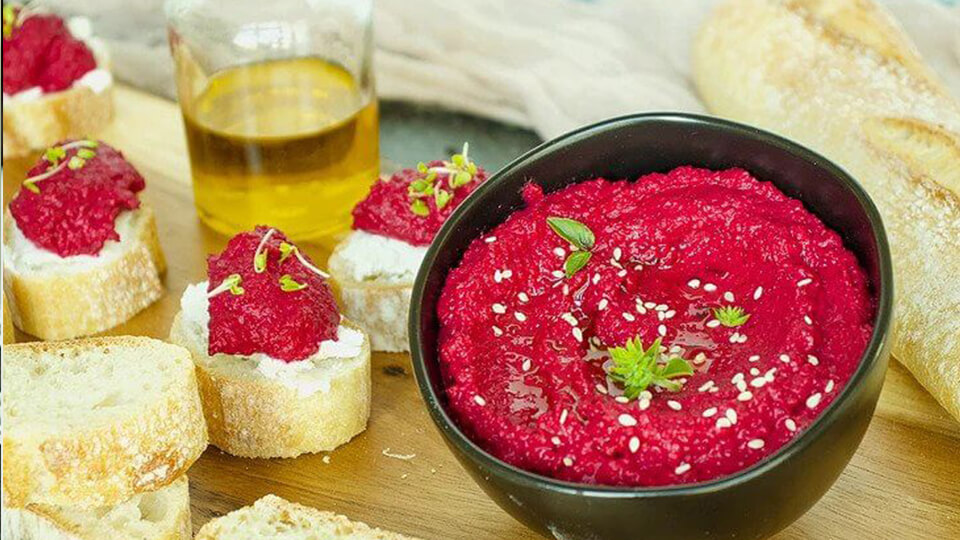 How about a bright, gorgeous Roasted Beet Hummus to make your party festive!  This hummus is reminiscent of a beet borscht (that I refused to even try when I was a child and my Bubbe would serve it!) in color and has all the wonderful flavors of hummus:  tahini, garlic, lemon, and cumin.
Give it a try!  This pretty little dish can't help but be noticed!! 
Lastly, if you make Roasted Beet Hummus, be sure to leave a comment and/or give this recipe a rating! Above all, I love to hear from you and always do my best to respond to each and every comment. And of course, if you do make this recipe, don't forget to tag me on 
Instagram
! Looking through the photos of recipes you all have made is one of my favorite things to do!
Makes: 1 & 1/2 cups
Prep Time: 20 minutes
Cook Time: 50 minutes
Total Time: 1 Hour & 15 minutes
Ingredients
For the Roasted Beets: 
3 medium-size red beets 

2 tbsp olive oil 

1/2 tsp Kosher salt 
For the Beet Hummus: 
1 cup cooked chickpeas 

2 cloves of garlic, peeled and minced 

2 tbsp lemon juice, freshly squeezed 

1/2 tsp ground cumin 

3/4 tsp Kosher salt 

1/4 tsp black pepper

2

tbsp tahini (sesame paste) 

1/4 cup olive oil 

For garnishing: handful of sprouted greens

Olive oil for drizzle
Instructions
To Roast the Beets: 
Pre-heat oven to 400°F. Remove and discard greens from fresh beets and rinse under running cold water. Place beets on a sheet of aluminum foil, drizzle with olive oil, and sprinkle with salt and pepper. Wrap loosely and roast for 40-50 minutes. Peel under running cold water when it is cool enough to handle. 
To Make the Hummus: 
Place all ingredients in the bowl of a food processor and process until smooth, scraping the sides of the bowl a few times to ensure even mixing. Drizzle with olive oil and garnish with sprouts.  Serve.
Recipe from Farmhouse Pottery
Download PDF