Parmesan-Roasted Cauliflower
When I'm not eating sweets (which is rare), I'm going for healthy foods and this Parmesan-Roasted Cauliflower is one of my new favorites.  I generally will pick cauliflower or broccoli when I want a side dish…something about those cruciferous veggies that really speak to me!  And, this simple cauliflower dish, with its roasted onions, thyme, garlic and Parmegiano Reggiano makes me very, very happy!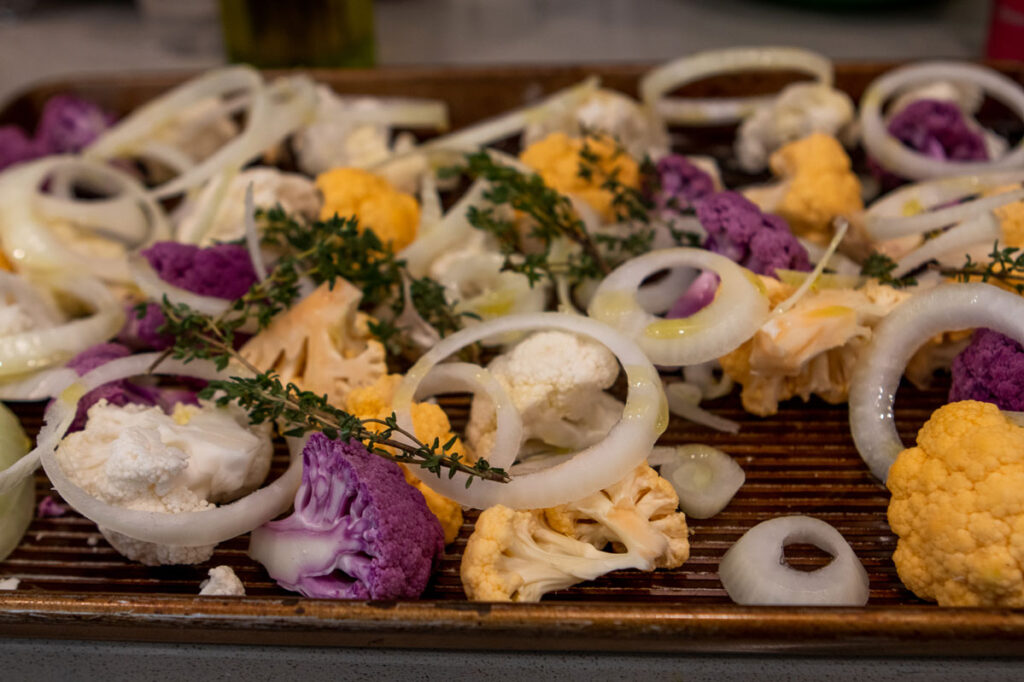 This is not a complicated dish at all, but the finished product will feel like it was an amazing undertaking!
It's simple…all you do is roast cauliflower florets with sliced onion, thyme sprigs, garlic and olive oil until they are almost tender.  At that point, sprinkle the Parmesan cheese over the cauliflower, give it a toss, and continue to roast until the cauliflower is tender and golden, another 10 minutes or so.
You can see in my pics that I have used three different colors of cauliflower.  I do that because it looks awesome!  You will only need about 1/3 of each head of cauliflower.  If you don't have another use for the remaining cauliflower, triple the recipe (use two sheet pans).  The leftovers of this recipe are so good, you will be happy that you tripled this dish!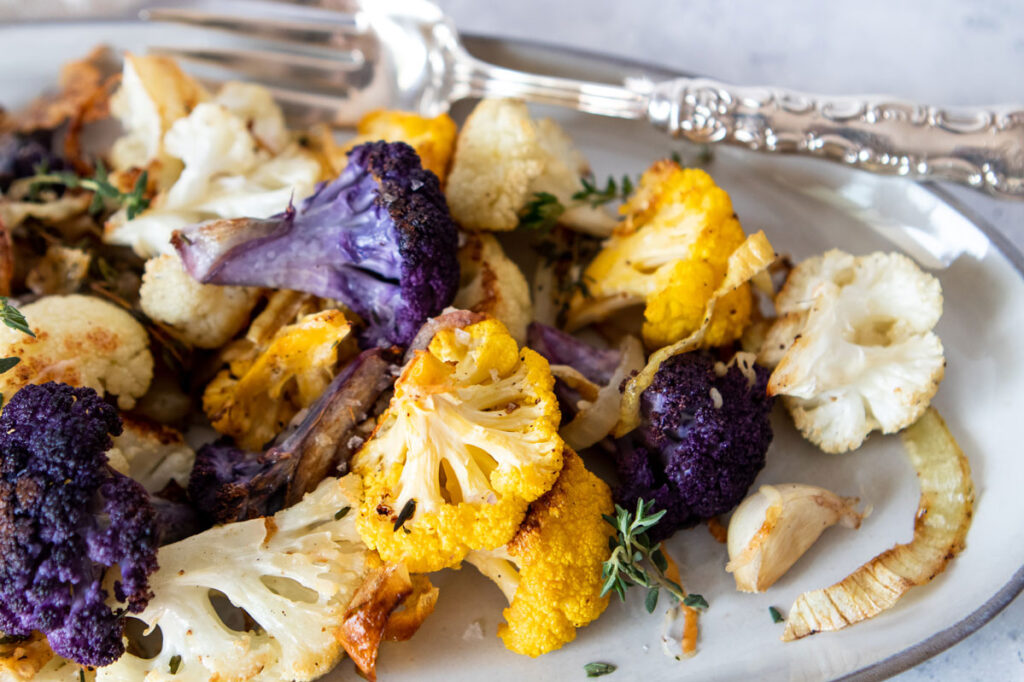 Lastly, if you make Parmesan-Roasted Cauliflower, be sure to leave a comment and/or give this recipe a rating! Above all, I love to hear from you and always do my best to respond to each and every comment. And of course, if you do make this recipe, don't forget to tag me on 
Instagram
! Looking through the photos of recipes you all have made is one of my favorite things to do!
Parmesan-Roasted Cauliflower
Makes: 4 servings
Prep Time: 10 minutes
Bake Time: 45 minutes
Total Time: 55 minutes
Ingredients
1 head cauliflower, cut into florets (See Chef's Note)

1 medium onion, sliced

4 sprigs thyme

4-6 garlic cloves, unpeeled

3 to 4 tbsp olive oil

Kosher salt and freshly ground black pepper

½ cup grated Parmigiano Reggiano
Instructions
Preheat oven to 425°F. Toss cauliflower florets on a large rimmed baking sheet with onion, thyme, garlic, and oil; season with salt and pepper. Roast, tossing occasionally, until almost tender, 35-40 minutes—check after 30 minutes.
Sprinkle with Parmesan, toss to combine, and roast until cauliflower is tender and golden, about 10 minutes.
Chef's Note:
I love the look of multi-colored cauliflower so if you decide to do that, you will only need about 1/3 of white, orange and purple cauliflower. Or, you could use two sheet pans and make all of it at the same time (triple the other ingredients). This is so delicious as leftovers!
Parmesan-Roasted Cauliflower