Baked Egg Nests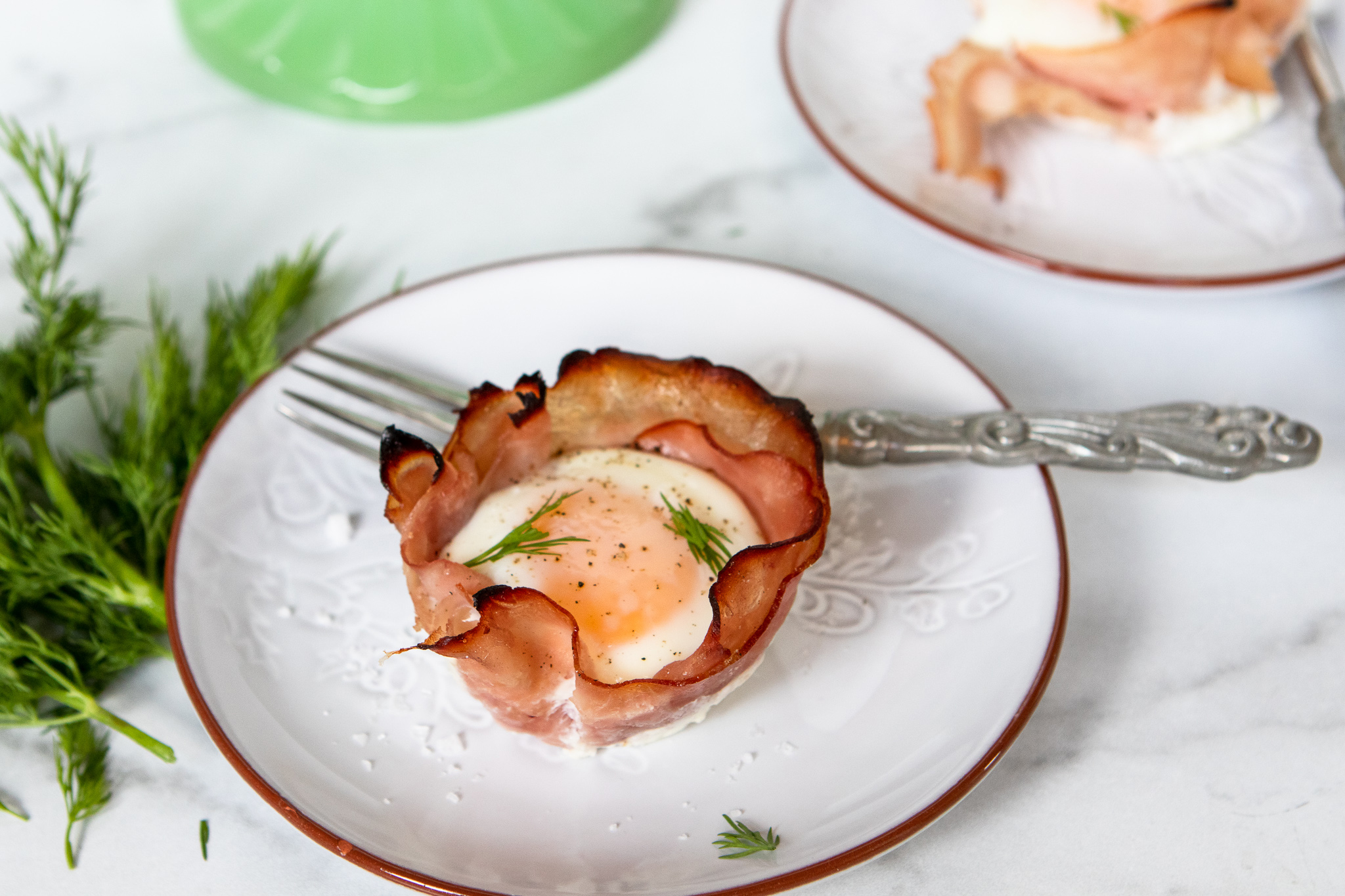 If you love breakfast or brunch and love easy and quick recipes, then Baked Egg Nests are for you!  I am a breakfast girl…I know many people aren't breakfast lovers, but I am.  I'm kind of boring when it comes to this starter meal for the day:  I've gone for years eating cut up melons & berries with cottage cheese and sliced almonds.  Then I decided to switch to eggs with a Jerusalem-type salad every morning.  What can I say?  Easy and nutritious!
Sometimes, however, I want to change it up, and when I do, this easy recipe comes to mind.  It's healthy and so easy. And, these are perfect for a crowd…say Mother's Day!  Which mom wouldn't love to see these on the menu (especially when someone else is cooking)?
Begin by lining a cupcake pan with thin slices of baked ham or smoked turkey.  I love a sweeter taste to this so I use a brown-sugar baked ham and a honey turkey.  That's entirely up to you…mesquite smoked turkey or black forest ham will work very well.
Crack the eggs into the cup and bake until they reach your desired degree of done.  I like them a little firm, so I bake them for 20 minutes.  The photo with the cut nest was after I baked this for 20 minutes.  Based on whether you like them firmer or softer, you can adjust the timing accordingly.
Lastly, if you make Baked Egg Nests, be sure to leave a comment and/or give this recipe a rating! Above all, I love to hear from you and always do my best to respond to each and every comment. And of course, if you do make this recipe, don't forget to tag me on 
Instagram
! Looking through the photos of recipes you all have made is one of my favorite things to do!
Makes: 6 servings
Prep Time: 10 minutes
Bake Time: 20 minutes
Total Time: 30 minutes
Ingredients
24 thin slices of deli ham, smoked honey turkey or combination (see Chef's note)

12 eggs

4 tbsp avocado oil

1 & 1/2 tsp paprika

1 tsp Kosher salt

3/4 tsp freshly ground pepper
Instructions
Preheat oven to 375°F. Grease muffin tin with avocado oil. 
Line each muffin cup with two overlapping pieces of ham or turkey. Crack an egg into the center of each ham-lined cup. Season with paprika, salt & pepper.
Bake in the oven for 20 minutes or until egg is set. Remove from oven and serve 2 nests per plate.
Chef's Note:
I like to use brown sugar or maple ham. If using turkey, I like honey turkey. I often make a combination: some turkey, some ham.