Rocky Road Ice Cream Pie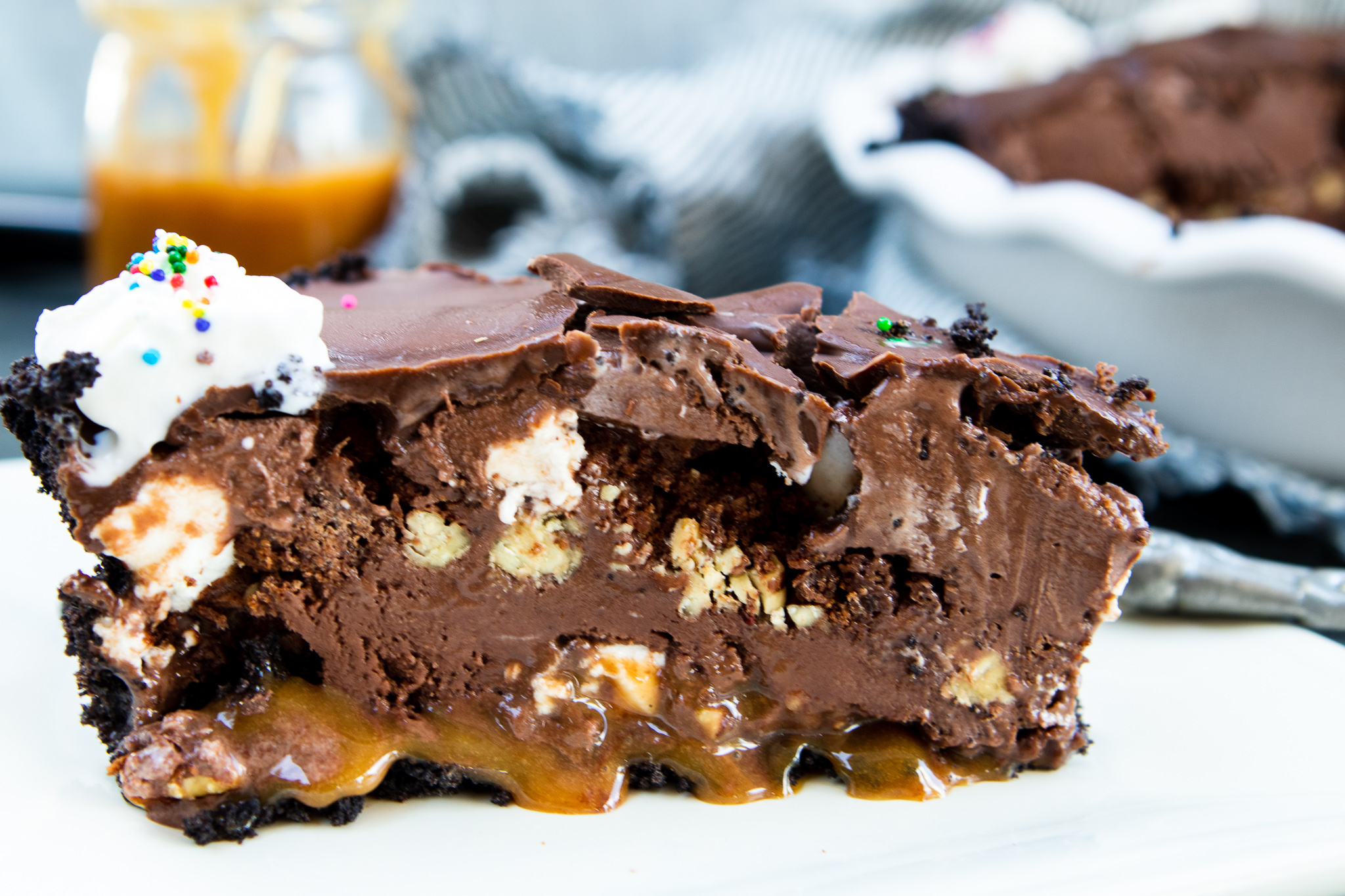 If you're contemplating a 5-star dessert for a summer party such as Father's Day, you must consider Rocky Road Ice Cream Pie.  It is an elevated take on Rocky Road ice cream and one that I can't stop eating!
You all know that I love salted caramel, but did you know that I love Rocky Road ice cream?  When you love chocolate, marshmallows and toasted pecans, how can you not love it in ice cream?  Just combine the two favorite sweets, add a crust and some cake, and look out!  Not only am I happy, but you will be too!!!
Let's begin by making a chocolate rye tea cake.  Why rye?  Rye flour, unlike all-purpose flour, has a distinctly nutty taste to it.  It gives a malty flavor to the finished product which is perfect in this dessert because there are a lot of competing flavors.  You definitely want the cake's taste to stand out!  You only need half of this tea cake for this recipe, so enjoy the rest of it whenever you feel like a little snack.  It's really delish!
The next step is to crush up the chocolate wafer cookies (in a processor or by putting them in a bag and pounding with a mallet or rolling pin).  Combine the crumbs with browned butter and salt and press the crust into a pie tin.  I decided to make some individual ones in a muffin tin which turned out equally as good!
Once the crust is prepared, add your caramel sauce and flaky salt to the bottom of the crust.  Pop it in the freezer to harden up.  
Meanwhile, toast and chop some pecans.
Now the fun begins:  layer ice cream, chopped pecans, crumbled tea cake and marshmallows over the caramel sauce.  Repeat until you have 3 layers and finish it off with Magic Shell.  The whole shebang gets frozen until you are ready to eat it.
Let it sit out for 10 minutes before slicing it.  You will think you've died and gone to heaven!!
Lastly, if you make Rocky Road Ice Cream Pie, be sure to leave a comment and/or give this recipe a rating! Above all, I love to hear from you and always do my best to respond to each and every comment. And of course, if you do make this recipe, don't forget to tag me on 
Instagram
! Looking through the photos of recipes you all have made is one of my favorite things to do!
Makes: 8 servings
Prep Time: 30 minutes
Bake Time: 30 minutes
Total Time: 1 hour plus freezer time
Ingredients
Chocolate Rye Tea Cake:
1/2 cup (1 stick) unsalted butter, room temperature, plus more for pan

3 ounces dark chocolate wafers, chips or chopped(about ½ cup)

3 ounces milk chocolate wafers, chips or chopped (about ½ cup)

1/2 cups sugar

2 large eggs

1/3 cup rye flour

1/2 tsp kosher salt
Crust & Assembly:
1 cup pecans

5 tbsp unsalted butter

6 ounces chocolate wafer cookies (about 26)

Kosher salt

1/2 cup store-bought caramel sauce, plus more for serving

Smoked or regular flaky sea salt

2 pints chocolate or vanilla ice cream

1 cup mini marshmallows, divided

2 (7.25-ounce) bottles

Magic Shell Chocolate Flavored Topping

Whipped cream (for serving)
Instructions
Chocolate Rye Tea Cake:
Place a rack in middle of oven; preheat to 325°F. Butter an 8×8″ baking dish. Heat dark chocolate and milk chocolate in a medium heatproof bowl set over a medium saucepan of barely simmering water (make sure water is not touching the bottom of the bowl), stirring occasionally, until melted and smooth. You can also microwave for 1 minute, stir and repeat until melted (it should take about 3 minutes total). Let cool 15 minutes.
Using an electric mixer on medium-high speed, beat remaining 1/2 cup butter in a large bowl until light and creamy, about 2 minutes. Reduce mixer speed to low and gradually add sugar. Increase speed to medium-high and beat until light and fluffy, about 5 minutes. Reduce speed to low and add eggs one at a time, beating until incorporated after each addition. Drizzle in chocolate and beat until combined. Add flour and salt mix until incorporated. Scrape batter into prepared pan and smooth top.
Bake tea cake until edges begin to pull away from sides of pan, 30–40 minutes. Let cool. Leave oven at 325° if you're making the rest of the pie.
Crumble half of tea cake into small pieces; set aside. Tightly wrap remaining tea cake and reserve for another use.
Do Ahead: Tea cake can be made 3 days ahead. Store tightly wrapped at room temperature.
Crust & Assembly:
Toast pecans on a rimmed baking sheet, tossing once, until browned and fragrant, 8–10 minutes. Let cool, then chop.
Meanwhile, heat butter in a small saucepan over medium, stirring often, until butter foams, then browns (be careful not to let it burn), about 5 minutes. Remove from heat.
Process cookies in a food processor until finely ground. (Alternatively, place cookies in a large resealable bag and crush to fine crumbs with a rolling pin or heavy pot.) Transfer to a medium bowl. Add brown butter and a pinch of kosher salt. Mix with a wooden spoon until well blended and texture resembles wet sand.
Transfer cookie mixture to pie dish and press evenly into bottom and up sides of dish with a straight-sided measuring cup (make sure the crust comes up all the way to the lip of the dish). Freeze 20 minutes.
Spread 1/2 cup caramel sauce over bottom of crust; sprinkle with sea salt. Freeze 15 minutes.
Meanwhile, place ice cream in a small bowl and let sit at room temperature until softened slightly, about 15 minutes.
Working quickly, spread 1/3 of ice cream over frozen caramel. Top with half of reserved pecans, half of reserved tea cake, and half of marshmallows. Repeat with half of remaining ice cream, then remaining pecans, tea cake, and marshmallows. If ice cream starts to melt, freeze 15 minutes, then continue to assemble. Top with remaining ice cream and cover completely with Magic Shell. Freeze until hard, at least 5 hours.
Let ice cream pie sit 10 minutes at room temperature before serving. Cut into slices and top with whipped cream and additional caramel sauce.
Do Ahead: Ice cream pie can be made 3 days ahead. Keep frozen.
Recipe by Bon Appetit