Salted Caramel Nuts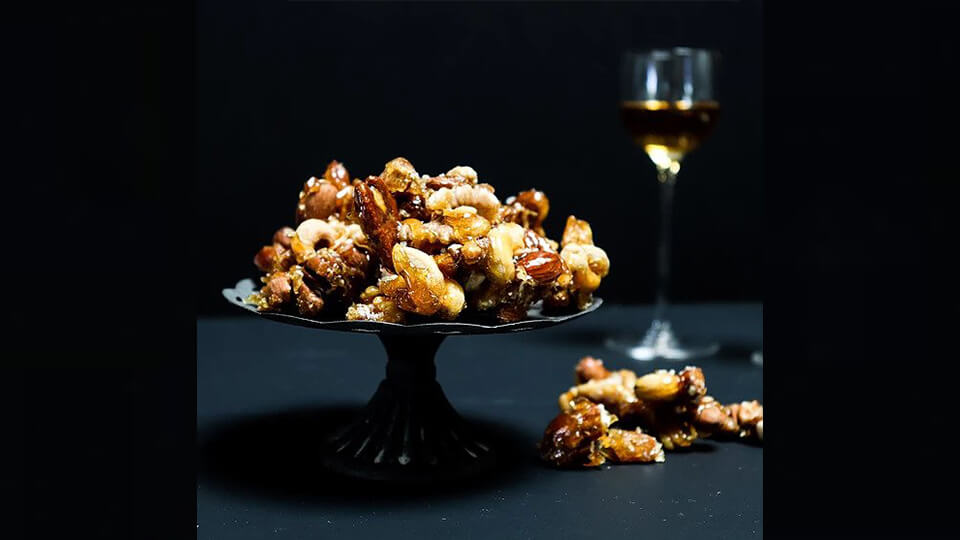 By now, you've all figured out that I'm a huge fan of Ina Garten.  She just makes food approachable.  Her recipes are fairly straightforward and they tend to be the ones that I make over and over again (thank you, Ina!).
​So, let's talk about these Salted Caramel Nuts.  First, salted caramel.  You have me right there.  I love caramel and salt, but put them together and I swoon.  Literally!  I am so happy!  
​Some people get nervous about making caramel, and while I admit that it does take a lot of attention, and a little finesse, it's not that difficult.  And, it's so worth it to master because then you get to make these nuts!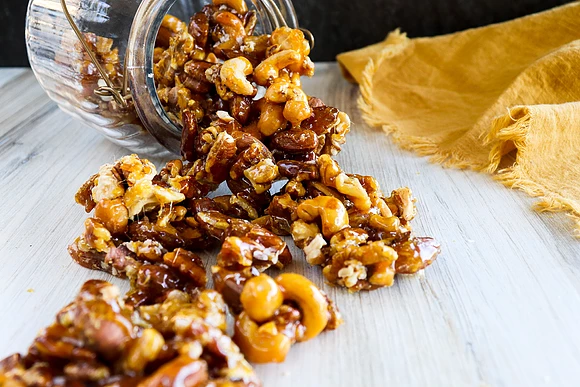 When making the caramel, you start off by combining the sugar and water and letting the sugar dissolve over heat.  It's important that you not disturb the sugar-water mixture, besides swirling it, because you don't want it to cling to the sides of the pan or the spoon.  But be sure that your heat isn't too high because you don't want it to turn to its caramel color until the sugar is fully dissolved.  
​And, it will get strange on you!  First it will look likes its melting, but then it will crystallize.  But it you have patience, it will start to change and dissolve.  Ultimately you want it to become thin, like a syrup, and a deep golden brown color.  That's when you know you are done!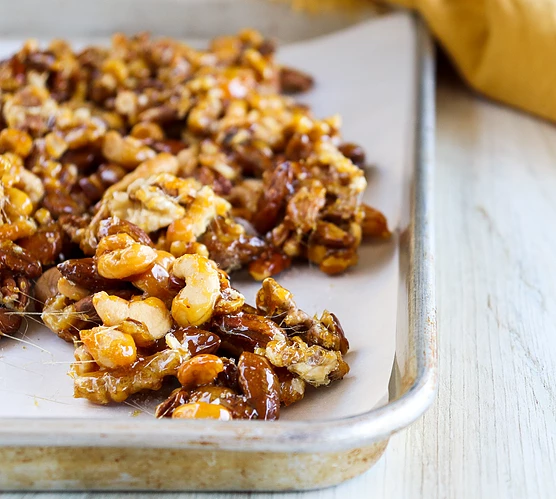 Stir the roasted nuts into the caramel, dump the entire mixture onto a sheet pan and let it cool.  Voila!  You have the most wonderful candied nuts!
​These nuts are amazing to serve at a cocktail party.  They are delicious chopped and thrown over a salad.  They stay beautifully in the freezer (you know me and the freezer…everything goes there so I don't eat it all at once!  Ha!) and can be taken out when you need a handful!  And, coming into holiday season, they can be packaged and given as a really thoughtful gift!
Enjoy!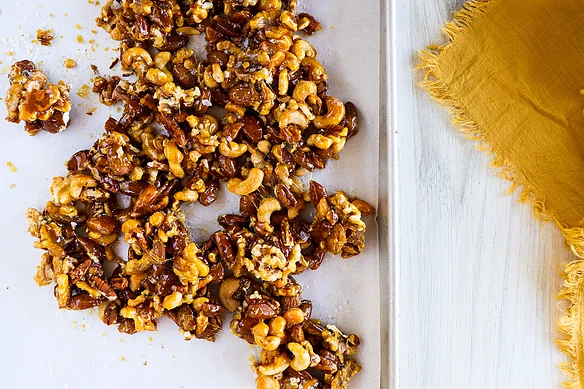 Lastly, if you make Salted Caramel Nuts, be sure to leave a comment and/or give this recipe a rating! Above all, I love to hear from you and always do my best to respond to each and every comment. And of course, if you do make this recipe, don't forget to tag me on 
Instagram
! Looking through the photos of recipes you all have made is one of my favorite things to do!
Makes: 8 cups
Prep Time: 13 minutes
Cook Time: 17 minutes
Total Time: 30 minute
Ingredients
1 cup each whole roasted salted cashews, whole large pecan halves, 

whole unsalted almonds and whole walnut halves (4 cups total)

 

1

& 1/2 cups sugar

 

2 tsp pure vanilla extract

 

2 tsp kosher salt

 

1 tsp fleur de sel

 
Instructions
Preheat the oven to 350°F.  Line a sheet pan with parchment.
Combine the nuts on a sheet pan, spread them out and roast them for 7 minutes, until they become fragrant. Set aside to cool. 
After the nuts are cooled, place the sugar and 1/4 cup of water in a medium (10-inch) sauté pan and mix with a fork until all of the sugar is moistened. Cook over medium-high heat until the sugar melts; from this point on, don't stir the caramel, swirl the pan! Don't worry, the mixture may look as though it's crystallizing. Continue to cook for 5 to 10 minutes, until the mixture becomes a clear golden brown, swirling the pan constantly at the end. (Careful, the caramel is very hot!)  
Off the heat, quickly add the vanilla (it will bubble up!) and swirl the pan to combine. Working quickly (the caramel will continue to cook in the pan), add the nuts and the kosher salt and toss with 2 large spoons until the nuts are completely coated. 
Pour the nuts and any extra caramel in the pan onto the prepared pan. Spread the nuts out in one layer, pulling them apart with two forks. Sprinkle with the fleur de sel and set aside to cool. When they're completely cooled, carefully break the nuts into large clusters with your hands, trying not to break the nuts too much.
Recipe from Ina Garten
Download PDF