Savory Cheese Biscotti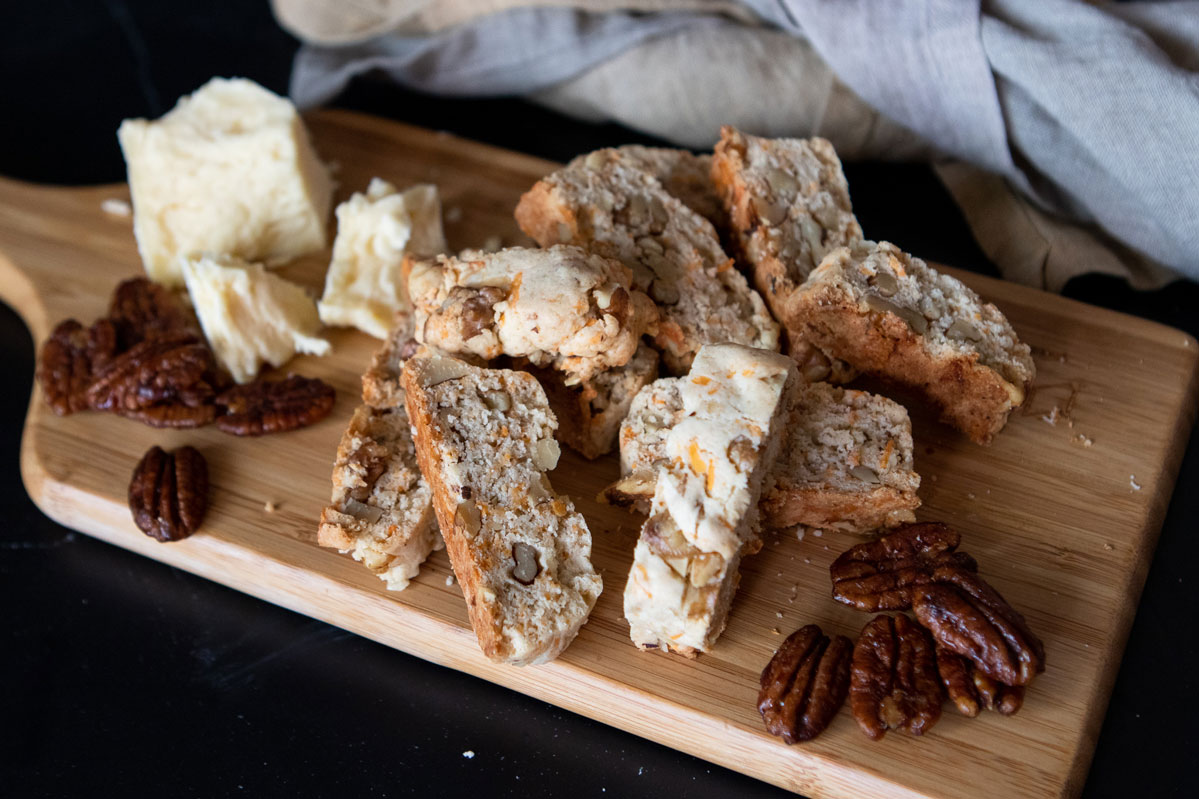 I get that a Savory Cheese Biscotti is unusual.  Typically, we're talking about sweet ones with bits of cranberry, chocolate, nuts strewn throughout.  Biscotti that you could dunk in coffee.  But, how about biscotti that you can dunk in wine?  I'm kind of kidding, but these little bites are fabulous to nibble with cocktails.  They work beautifully on a cheese board.
The surprising part about them is that they are still a little sweet.  Also, a little spicy.  And definitely cheesy!
For something unique, delicious and very addictive, try Savory Cheese Biscotti!
Start by sifting together flour, baking powder, salt and cayenne.  In the bowl of a mixer, combine butter with sugar until it's pale and fluffy.
Beat in the eggs, one at a time.  Add the flour mixture and then stir in the walnuts and cheese.  It's that simple!
Divide the dough in half and shape each portion into a log.  Place the logs on a prepared baking sheet and bake until they are golden, about 30 minutes  Remove them from the oven and let them sit for about 10 minutes, or until you can handle them.  Now, cut each log into 1/2-inch slices.
To firm up the interior of each biscotti, place a rack on a baking sheet and arrange the sliced biscotti on the rack.  Continue baking for another 20 or 30 minutes until they are very firm.
That's all there is to these.  They will be the surprise star of your next little soirée!
Lastly, if you make Savory Cheese Biscotti, be sure to leave a comment and/or give this recipe a rating! Above all, I love to hear from you and always do my best to respond to each and every comment. And of course, if you do make this recipe, don't forget to tag me on 
Instagram
! Looking through the photos of recipes you all have made is one of my favorite things to do!
Makes: 30-35 pieces
Prep Time: 10 minutes
Bake Time: 1 hour
Total Time: 1 hour & 10 minutes
Ingredients
2 & 1/4 cups all-purpose flour

3/4 tsp baking powder

1 & 1/2 tsp Kosher salt

1/4 to 1/2 tsp cayenne pepper

1/3 cup unsalted butter, room temperature

1/2 cup granulated sugar

2 eggs, room temperature

2 cups grated aged cheddar

2 cups chopped walnuts
Instructions
Preheat oven to 325°F. Line a large baking sheet with parchment.
Stir flour with baking powder, salt, and cayenne in a medium bowl.
Beat butter with sugar in a large bowl, using an electric mixer on medium-high, until pale and fluffy, about 3 minutes. Beat in eggs, one at a time. Stir in flour mixture until combined. Stir in cheddar and walnuts. Gather dough together and divide in half on prepared sheet. Shape each portion into a 2-inch wide and 3/4-inch high log. Place two logs 3 inches apart, as they will spread.
Bake in center of oven until tops are almost firm but still golden, 30-35 minutes. Remove from oven and let stand until logs are cool enough to touch, about 10 minutes. Cut each log into 1/2-inch slices.
Place a rack on baking sheet. Arrange sliced biscotti on rack, cut side down. Continue baking until very firm and golden brown, 20-30 minutes more.
Store in an airtight container up to one week or freeze up to one month.