Seasoned Crackers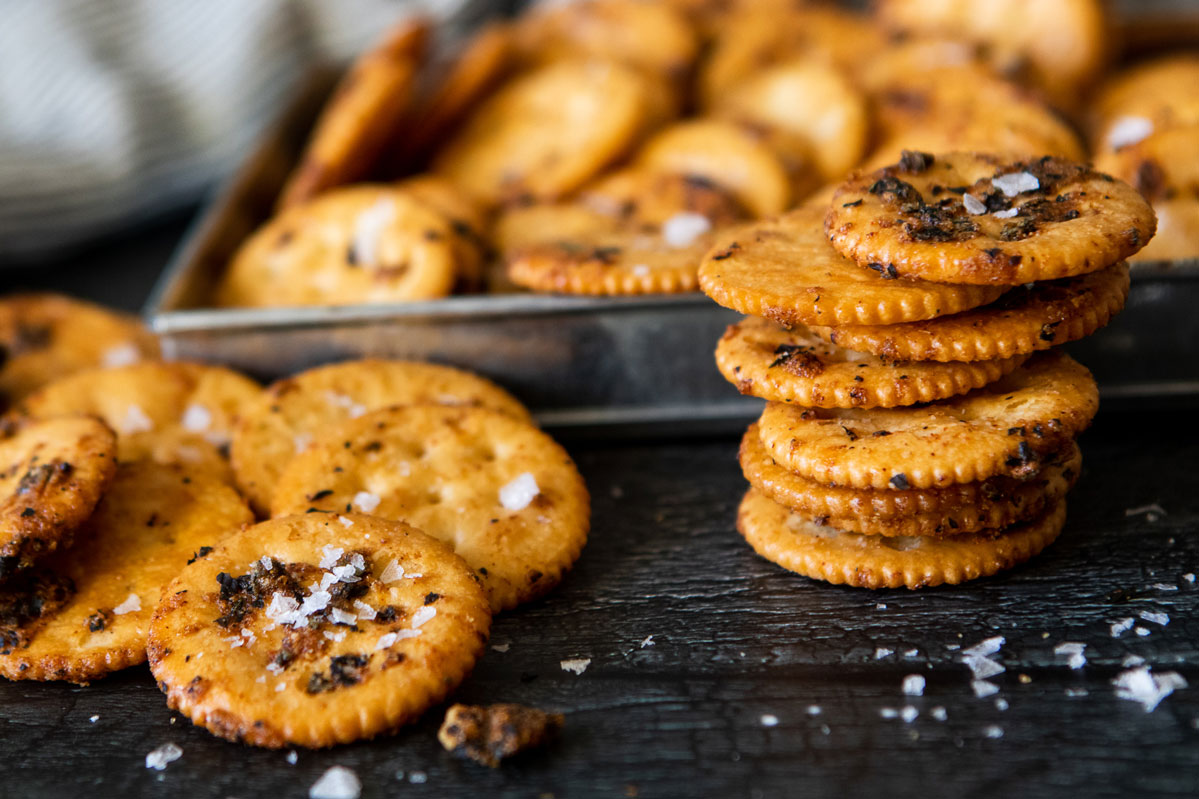 If you love Ritz crackers, then you need to make Seasoned Crackers with them.  I'll be honest…I didn't realize that I loved Ritz Crackers until I recently used them in a recipe as a topping over cheesy mashed potatoes (recipe to be featured shortly).  I didn't need the whole box, so I started nibbling on the remaining cracker.  In no time, they disappeared!  I loved the buttery, salty flavor and knew that we were going to have a a love affair going forward!
These seasoned crackers are so easy to make (I mean it this time!!).  Combine all the sauce ingredients together, toss the crackers in them, bake them, and let them cool.  Seriously, that's it.
I served them recently at a cocktail party and people were blown away!  At first, it was "Ritz Crackers?" and then it was "Yummm…Ritz Crackers"!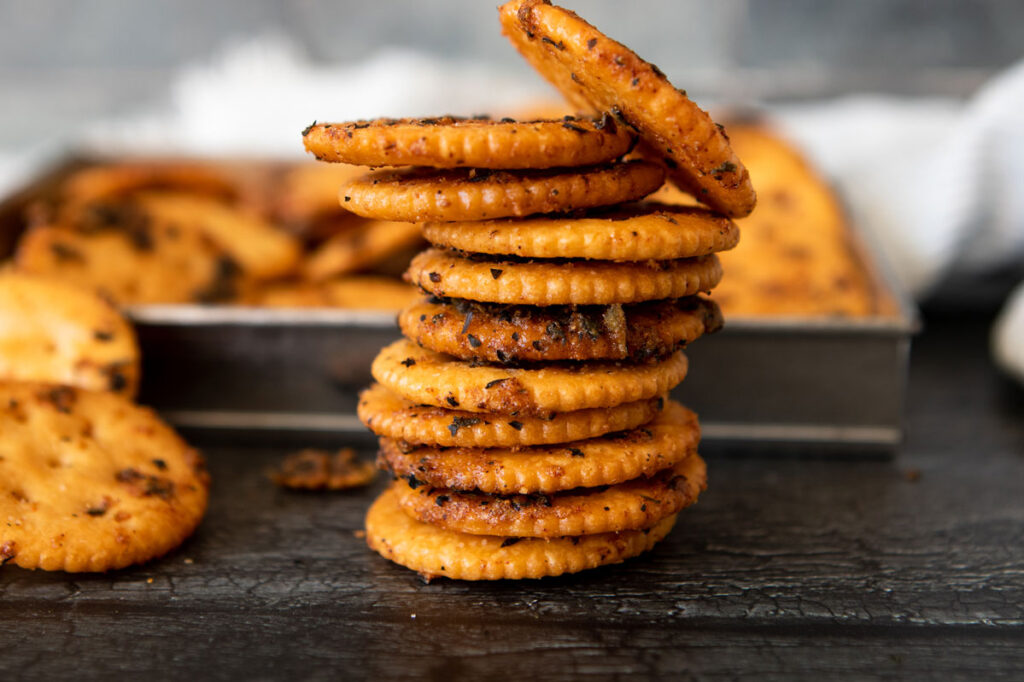 The sauce ingredients are staples in most kitchens:  Melted butter, brown sugar, garlic and onion powders, sage, oregano smoked paprika and cayenne.  The crackers get tossed in this mixture.  You want to make sure that you use your cute, clean fingers to coat each cracker with the sauce.  Ok, you can use a mixing spoon, but the fingers seem to spread the sauce better.
Spread the crackers on wire racks that have been placed atop two baking sheets.  Then bake then for 15-25 minutes, flipping over halfway through the cooking.  I prefer them to be a darker shade so I leave them in the oven for 25 minutes.
Once they are baked, you want them to cool before eating them.  That allows the sauce to crisp up and create a crunchy, sweet and savory taste to the original cracker.
You can store these for about two weeks, but there's no way they will last that long.  Trust me!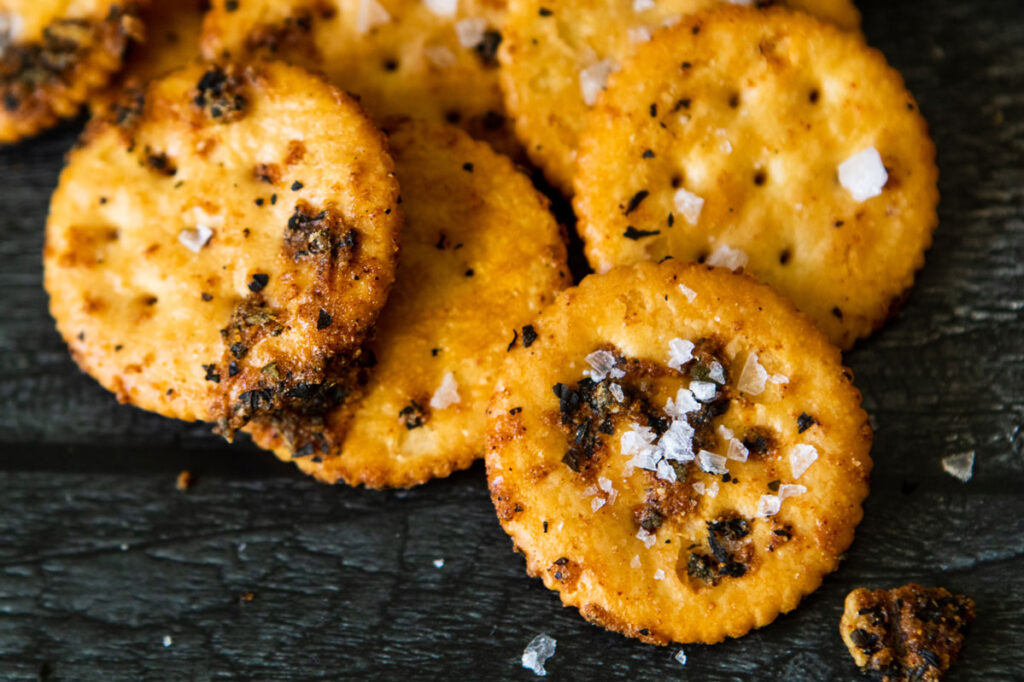 Lastly, if you make Seasoned Crackers, be sure to leave a comment and/or give this recipe a rating! Above all, I love to hear from you and always do my best to respond to each and every comment. And of course, if you do make this recipe, don't forget to tag me on 
Instagram
! Looking through the photos of recipes you all have made is one of my favorite things to do!
Makes: 12 servings
Prep Time: 10 minutes
Bake Time: 20 minutes
Total Time: 50 minutes
Ingredients
1 stick (8 tablespoons) unsalted butter, melted

2 tbsp

dark brown sugar

1 tsp

garlic powder

1 tsp

onion powder

1 tbsp chopped fresh sage

1 tbsp

dried oregano

1 tsp

smoked paprika

1/4-1 tsp

cayenne pepper, using to your taste

1 pinch

red pepper flakes

K

osher salt and black pepper

3 sleeves

Ritz crackers
Instructions
Preheat oven to 300°F. Place wire racks on top of two baking sheets.
In a large bowl, combine the butter, brown sugar, garlic powder, onion powder, sage, oregano, paprika, cayenne, and a pinch each of red pepper flakes, salt, and a generous pinch of pepper. Add the Ritz crackers and toss to combine, making sure all crackers are coated in butter.
Spread the Ritz out in an even layer on top of the racks. Bake for 15-25 minutes flipping them over halfway through cooking. You want the Ritz to be golden brown. Allow the Ritz to sit on the baking sheet until cooled and dry, about 20 minutes. Store the Ritz in an airtight container for up to 2 weeks.
Recipe from Half Baked Harvest