Sheet Pan Sausage and Vegetables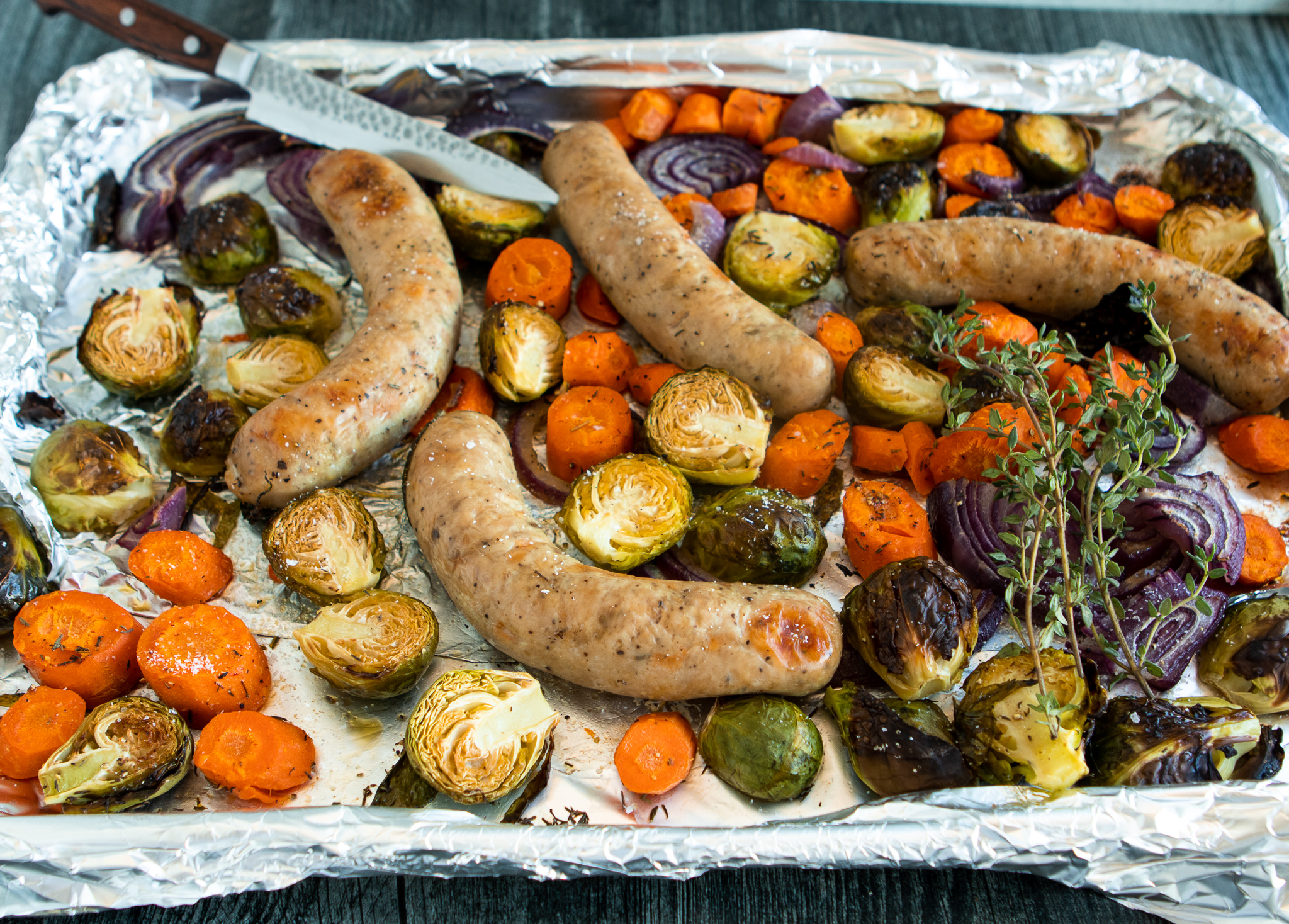 As the days grow shorter and darkness seems to envelope us around 4:00 pm, I am generally ready to snuggle in early. I want easy, simple recipes with easy, simple clean-ups so that I can ponder what incredible new book I'm going to read or what binge-worthy show is up next. The last thing I want is a complicated, time-intensive or challenging recipe. Do you feel me??
Enter this Sheet Pan Sausage & Vegetables recipe! It requires only one sheet pan (the title is for real!) and all the ingredients get thrown on at the same time (no pausing to add this or that). When you line the pan, there's hardly any clean up, just a "throw out"! Ha! Love it!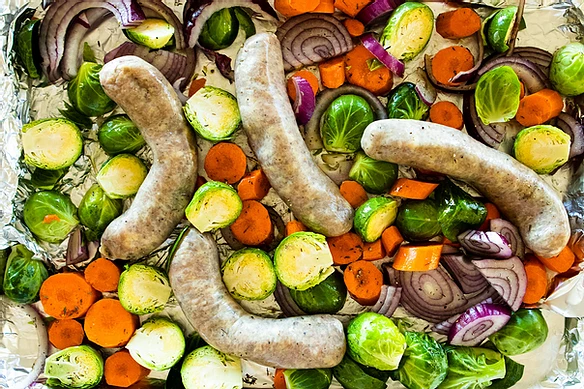 Just put your raw veggies on the pan, toss them in olive oil, a little thyme, and some salt & pepper. Push them aside so that you can fit the sausage in, and pop the entire pan into the oven. That's it!
So, talking about the sausage, this is the part that I love: use any type you like. While the recipe calls for sweet or spicy Italian sausage, you can choose chicken or pork sausage or any of the interesting varieties that are offered these days (Feta Spinach sausage comes to mind as a wonderful choice).
The vegetables are also up for adjustments. I made this the other day with quartered red potatoes, red onions, carrots and broccoli florets (my sweetie isn't a fan of Brussels) and it was fab!
Enjoy this one…easy, delicious, quick cleanup…what more could you ask for!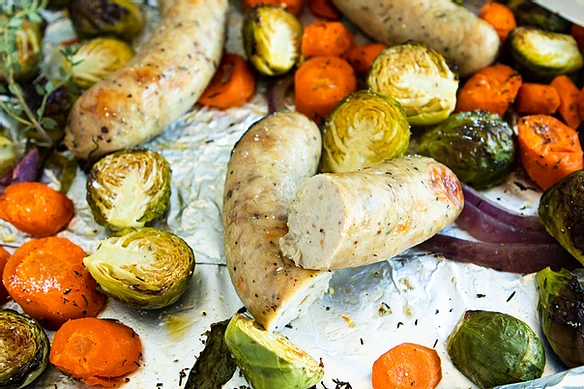 Lastly, if you make Sheet Pan Sausage and Vegetables, be sure to leave a review down below at the bottom of this page (stars are also appreciated)! Above all, I love to hear from you and always do my best to respond to each and every review. And of course, if you do make this recipe, don't forget to tag me on 
Instagram
! Looking through the photos of recipes you all have made is one of my favorite things to do!
Sheet Pan Sausage and Vegetables
Makes: 4 servings
Prep Time: 20 minutes
Cook Time: 25 minutes
Total Time: 45 minutes
Ingredients
1 large red onion, halved and sliced 1/4-inch thick

3 large carrots, sliced on an angle 1/2-inch thick

1 pound Brussels sprouts, stemmed and halved (if small, leave whole)

3 tbsps extra virgin olive oil

1 tsp salt

1/2 tsp freshly ground black pepper

1 tsp dried thyme

1 pound fresh hot (or sweet) Italian sausage links (bratwurst, chorizo, or any sausage that you like may be substituted)
Instructions
Preheat the oven to 425°F and set an oven rack in the middle position. Line a 13 x 18-inch baking sheet with heavy-duty aluminum foil for easy clean-up, if desired.
Directly on the baking sheet, toss the onion, carrots, and Brussels sprouts, oil, salt, pepper, and thyme until the vegetables are evenly coated. Place the sausages on the baking sheet, spacing them evenly around the pan, and arrange the vegetables as best you can in a single layer. Roast for 25 minutes, until the sausages are cooked through and the vegetables are caramelized and tender (no need to stir while cooking).
Chef's Note:
Feel free to substitute different vegetables, such as baby potatoes (halved), sweet potatoes (cut into 1-inch chunks), large broccoli or cauliflower florets, or even grapes. (If using potatoes, do not line the pan with foil, as they are prone to sticking.)
Recipe by Once Upon a Chef
Sheet Pan Sausage and Vegetables