Charred Eggplant with Burrata
Charred Eggplant with Burrata is a lovely addition to any meal.  Consider it a salad or a starter, or maybe a side dish.  However you think about it, be sure to add it to your meal plan!
Velvety eggplant is charred and combined with  a relish of toasted walnuts, pomegranate seeds and cilantro.  Top it all with creamy burrata and you have a colorful, mouthwatering dish to complement any meal!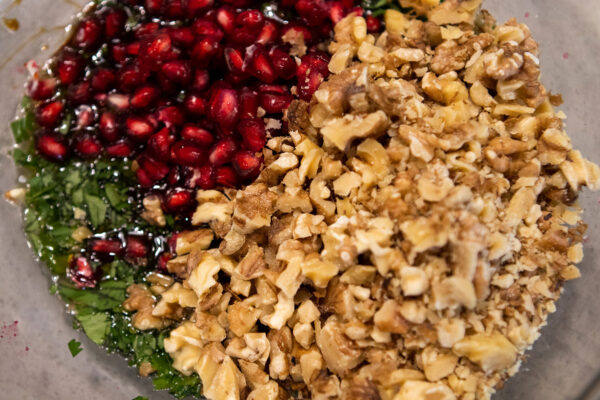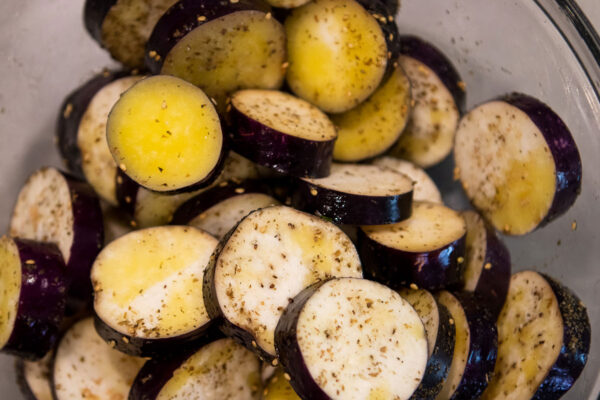 Toasting the walnuts for the relish brings out their nutty, slightly bitter flavor that pairs beautifully with the pomegranate seeds which provide fresh bites of juice and sweetness.
Once the walnuts are toasted and cooled, coarsely chop them and combine with pomegranate seeds, cilantro, pomegranate molasses, olive oil, garlic and sea salt.  Sounds delicious, right?
The eggplant are lightly coated with olive oil and sprinkled with za'atar and sea salt.  If you've never tried za'atar, you're in for a wonderful treat.  Za'atar is a Middle Eastern spice blend that typically includes dried oregano, thyme, marjoram along with sumac (which is tangy and acidic) and toasted sesame seeds.  Some za'atar blends include salt, dried orange zest, dried dill and the wild herb za'atar (also known as hyssop).  Some of these blends are closely guarded secrets! Za'atar can be found at Middle Eastern delis or online.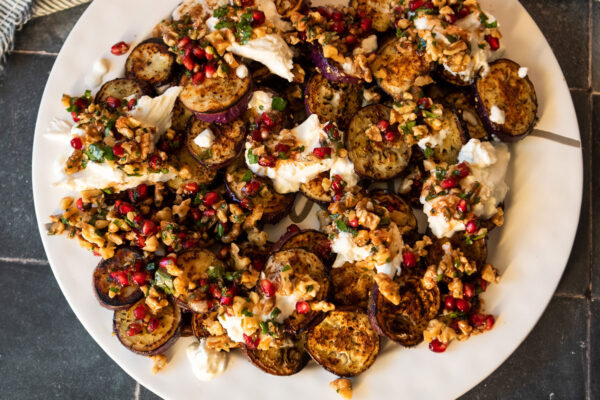 The eggplant is best cooked in a grill pan.  I'll admit that I didn't have one and ended up broiling my eggplant so I didn't get the traditional grill marks or char that I would have liked to.  It was raining on the day that I made this dish, so I couldn't use the barbecue.  That's also another wonderful option.  Any way that you cook these, they will still be wonderful!
It only takes a few minutes to char the eggplant slices.
To serve the dish, arrange the eggplant slices on a platter.  Then, break the burrata into large chunks over the top of the eggplant.  Finally, spoon the pomegranate relish over the eggplant and burrata and serve!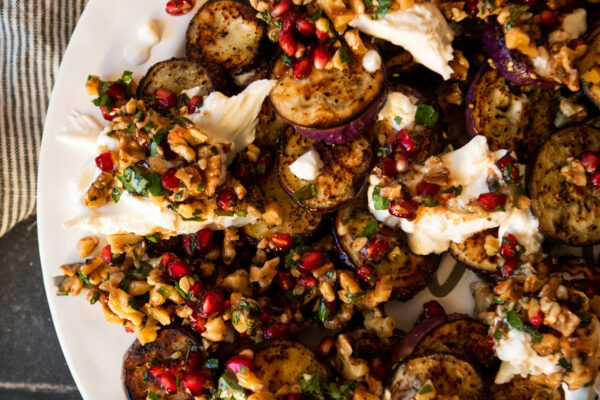 Lastly, if you make Charred Eggplant with Burrata, be sure to leave a review down below at the bottom of this page (stars are also appreciated)! Above all, I love to hear from you and always do my best to respond to each and every review. And of course, if you do make this recipe, don't forget to tag me on 
Instagram
! Looking through the photos of recipes you all have made is one of my favorite things to do!
Charred Eggplant with Burrata
Makes: 4 servings
Prep Time: 10 minutes
Cook Time: 18 minutes
Total Time: 30 minutes
Ingredients
Relish:
1 cup walnuts

1/2 cup pomegranate arils (from 1 pomegranate)

1/2 cup chopped cilantro

1 tbsp pomegranate molasses

1/4 cup extra-virgin olive oil

1/4 tsp fine sea salt

1 small garlic clove, finely minced

Ground black pepper
Charred Eggplant:
2 pounds Japanese eggplant, sliced into 1/2-inch-thick rounds

6 tbsp extra-virgin olive oil

2 tsp za'atar

Fine sea salt

Ground black pepper

9 ounces burrata
Instructions
Make the Relish:
Preheat oven to 300°F. Spread walnuts on a small baking tray, and toast in preheated oven 10 minutes. Set aside to cool. When cool, coarsely chop. Combine chopped walnuts, pomegranate arils, cilantro, pomegranate molasses, olive oil, garlic, and sea salt. Season with black pepper to taste, and stir to combine. Set aside.
Make the Charred Eggplant:
Coat eggplant slices in olive oil, and sprinkle all over with za'atar and sea salt. Heat a grill pan over high. When hot, add eggplant slices in a single layer. Reduce heat to medium-high, and grill until charred on one side, 2 to 4 minutes. Flip slices, and grill until charred and completely tender, 2 to 4 minutes. Season to taste with salt and pepper.
To serve, arrange grilled eggplant slices on a platter. Break burrata into large chunks, and place around eggplant. Season burrata with sea salt, and top with relish.
Recipe from Food & Wine
Charred Eggplant with Burrata