Sugar Steak with Bourbon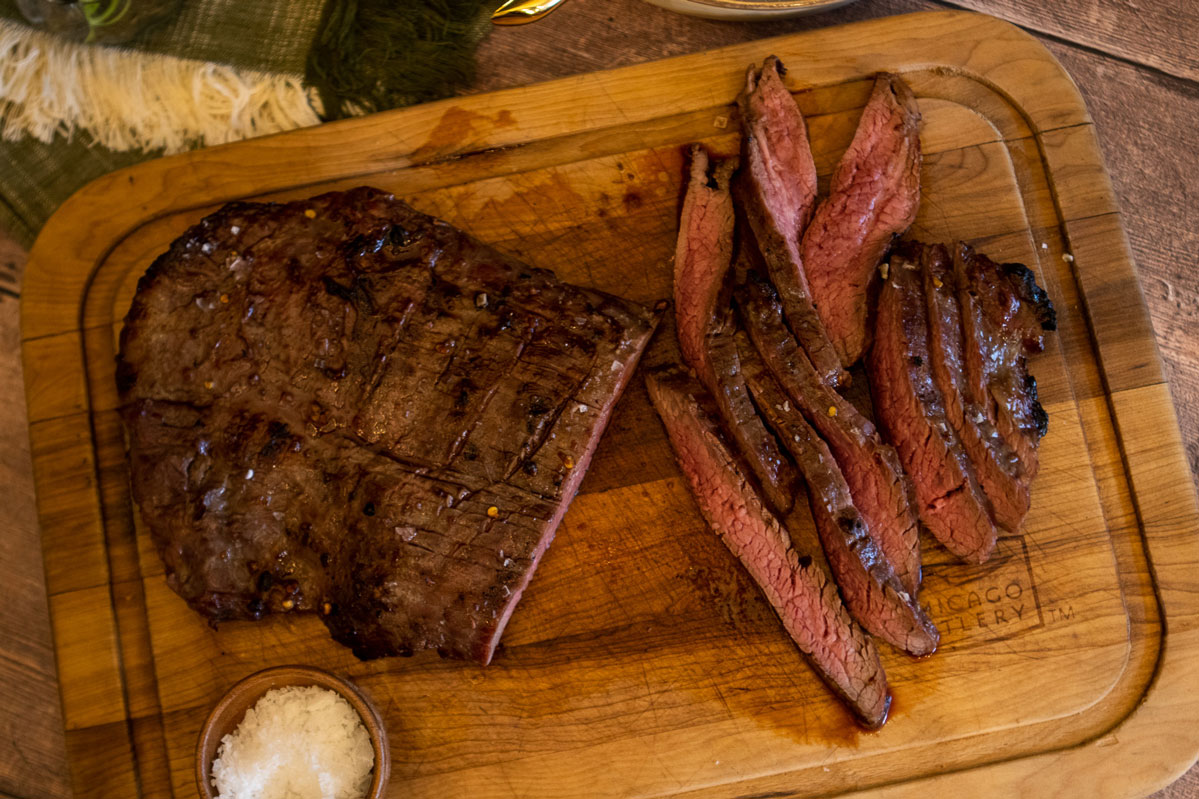 Sugar Steak with Bourbon is an easy and mouthwatering way to ring in the new year!  Packing a flank steak with brown sugar, bourbon and red pepper flakes makes an irresistible crust and adds a flavor that's divine!
While I love throwing it on the grill, at this time of year, the broiler will work wonders.
Finally, it's only a 4-ingredient recipe that has dinner on the table in under 45 minutes (30 minutes are marinating time)! 
Begin by layering a flank steak with light brown sugar, bourbon and red pepper flakes.  Rub it into the steak and place the steak and sugar mixture into a zip-lock plastic bag.  Let it rest for a minimum of 30 minutes.  The sugar will start to create a syrup.
Now, either broil or grill the steak.  It doesn't take long…about 9-10 minutes total.  Let the steak rest for a few minutes, thinly slice it and serve!
Lastly, if you make Sugar Steak with Bourbon, be sure to leave a review down below at the bottom of this page (stars are also appreciated)! Above all, I love to hear from you and always do my best to respond to each and every review. And of course, if you do make this recipe, don't forget to tag me on 
Instagram
! Looking through the photos of recipes you all have made is one of my favorite things to do!
Makes: 3-4 servings
Prep Time: 5 minutes
Cook Time: 9-10 minutes
Total Time: 15 minutes plus chill time 30 minutes
Ingredients
1 flank steak (about 1 & 1/2 pounds)

1/4 cup light brown sugar

1/4 cup bourbon

1/2 tsp red pepper flakes

Kosher salt
Instructions
Layer together the flank steak, sugar, bourbon, and red pepper flakes in a bowl. Rub the sugar and red pepper flakes into the steak. Put the steak in a 1-gallon plastic bag, add the remaining sugar mixture, seal the bag, and let it rest in the fridge for at least 30 minutes and up to 3 hours.
Heat the broiler (or grill) and lay the steak on a baking sheet (one that you're ok with warping under the broiler). Generously season the steak all over with salt. Place the steak under the broiler — it should be 4 to 6 inches from the flame — and broil for 3 minutes on each side for medium rare. Transfer the steak to a cutting board and let rest for 5 to 10 minutes, then cut into 1/4-inch slices. Serve with mashed potatoes and sautéed bitter greens.