Simple Goat Cheese Spread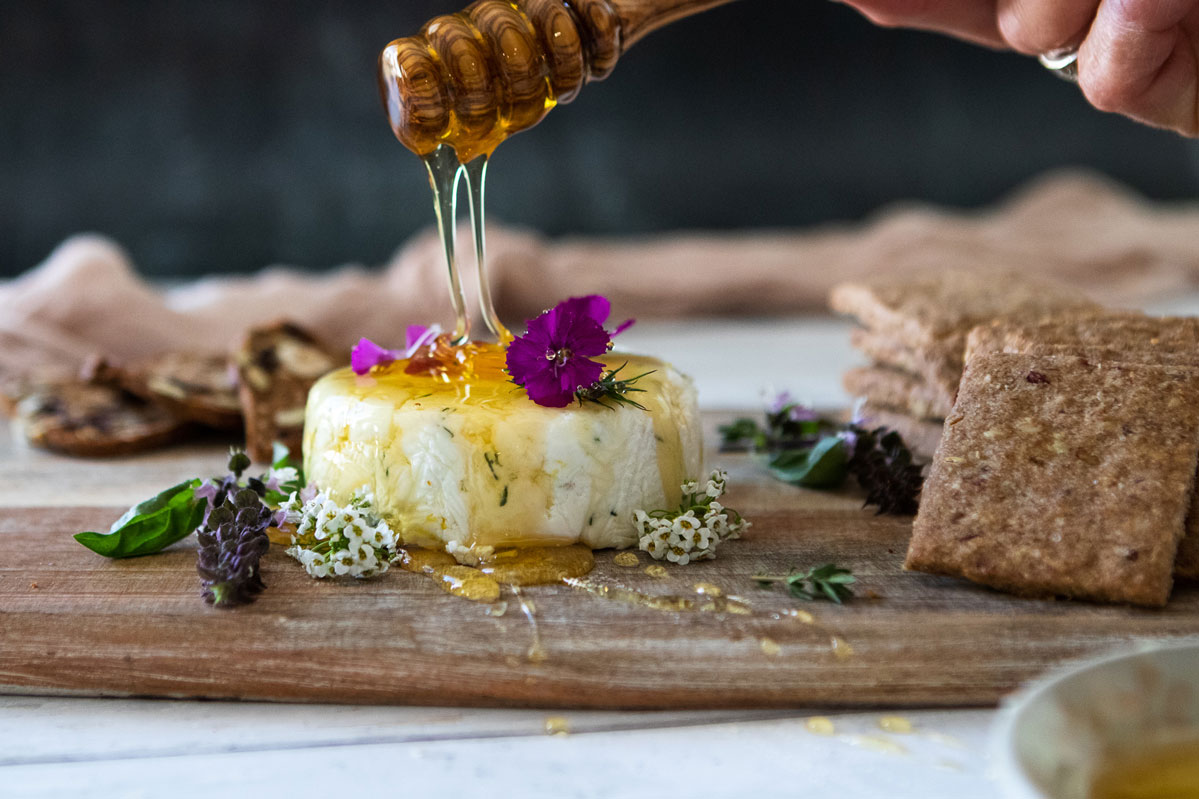 For an easy, delicious and very pretty starter, try Simple Goat Cheese Spread.  With summer entertaining well underway, a relaxed, do-ahead appetizer should always be in everyone's rotation!
The flavor is fresh and tangy, created by combining goat cheese with lemon zest and fresh thyme leaves.  What happens after that is anyone's guess.  Drizzle it with honey, serve it with fig jam, spice it up with pepper jelly.  Whatever you do with it is going to be a hit!
This really is an easy appetizer.  Simply line a small bowl or ramekin with plastic wrap.  Combine the spread ingredients and press into the ramekin.  Cover it and refrigerate for at least 30 minutes.  You can also freeze it for 10 minutes if you're in a hurry.
When you are ready to serve it, remove from the fridge and invert it onto a platter.  Pull the plastic wrap off.
Garnish it with edible flowers or the flowers from herbs such as basil or thyme.  
I love to serve Simple Goat Cheese Spread with rustic crackers and a drizzle of honey.
Share Your Thoughts…
Lastly, if you make Simple Goat Cheese Spread, be sure to leave a comment and/or give this recipe a rating! Above all, I love to hear from you and always do my best to respond to each and every comment. And of course, if you do make this recipe, don't forget to tag me on Instagram! Looking through the photos of recipes you all have made is one of my favorite things to do!
Simple Goat Cheese Spread
Makes: 8 servings
Prep Time: 10 minutes
Total Time: 10 minutes
Ingredients
4 ounces goat cheese, softened

Finely grated lemon zest from 1 medium-size lemon

2 tsp fresh thyme leaves

F

resh thyme leaves and sprigs for garnish

Edible flowers for garnish, optional

Honey for drizzling, optional

Crackers for serving
Line a small bowl or ramekin with plastic wrap. Try to have as few wrinkles as possible in the plastic wrap. Set aside.
Combine softened goat cheese, lemon zest and thyme leaves in a small bowl and stir to combine.
Add the goat cheese mixture to the prepared bowl and, using the back of a spoon, pack the mixture down to get rid of any air pockets. Pull excess plastic wrap over the cheese mixture and refrigerate for 30 minutes (or freeze for 5-10).
Remove from refrigerator and invert goat cheese mixture onto a serving place. Remove plastic wrap and garnish as desired with fresh thyme leaves and/or sprigs and/or edible flowers and petals. Serve with crackers and a small bowl of honey for drizzling.
Simple Goat Cheese Spread