Creamy Pumpkin Marinara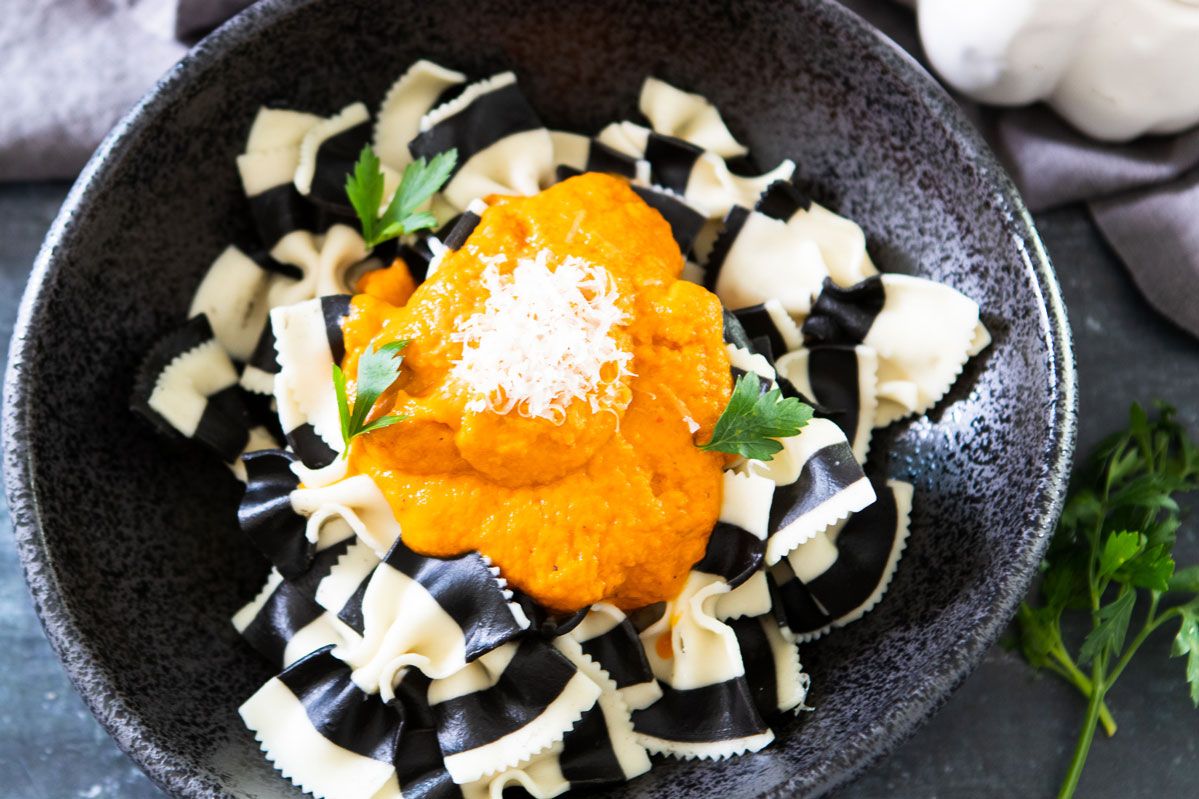 Halloween is right around the corner and what better way to celebrate than with a black, white and orange pasta dish covered in creamy Pumpkin Marinara?!  Don't you love these bow-ties?? So excited when I saw them.  All I needed for the perfect Halloween dinner was an orange sauce.
Say hello to this creamy, dreamy marinara sauce, anchored by pumpkin purée.  Pumpkin aficionados will delight in this, and those who turn their nose up to pumpkin, well, don't!  The pumpkin gives a creamy and earthy flavor to the sauce.  The sauce is also spiced up with a pinch of cinnamon to add warmth and depth.  I'm telling you, you gotta try it!
This sauce comes together easily:  Sauté onions and red bell peppers until nice and soft.  Add in the garlic and spices.
Next, add in the tomatoes, followed by the pumpkin purée and simmer for about 5 minutes.
Transfer the sauce to a blender, add some butter and balsamic vinegar for that extra jooj, and purée until the sauce is creamy and smooth.
Choose any pasta you like, but if you're going for the Halloween look, I found these black and white bow-ties as Cost Plus World Market.
Lastly, if you make Creamy Pumpkin Marinara, be sure to leave a comment and/or give this recipe a rating! Above all, I love to hear from you and always do my best to respond to each and every comment. And of course, if you do make this recipe, don't forget to tag me on 
Instagram
! Looking through the photos of recipes you all have made is one of my favorite things to do!
Makes: 4 servings
Prep Time: 10 minutes
Cook Time: 15 minutes
Total Time: 25 minutes
Ingredients
2 tbsp extra-virgin olive oil

1 yellow onion, chopped

1 red bell pepper, chopped

1/2 tsp kosher salt, divided

2 cloves garlic, pressed or minced

1/2 tsp dried oregano

1/4 tsp dried tarragon

1/4 tsp ground cinnamon

1 can (15 ounces) diced or crushed tomatoes

1 can (15 ounces) pumpkin purée

2 tbsp butter

2 tsp balsamic vinegar

Freshly ground black pepper

1 pound bowtie pasta (or whatever you prefer)

Finely grated Parmesan and chopped fresh parsley, for garnish (both optional)
Instructions
Warm the olive oil in a large skillet over medium heat. Once it's shimmering, add the onion, bell pepper and 1/4 teaspoon of the salt. Cook, stirring often, until the onions and pepper are very tender, 6 to 8 minutes.
Add the garlic, oregano, tarragon, and cinnamon. While stirring, cook until fragrant, about 1 minute. Add the tomatoes and cook for 1 minute, while stirring. Add the pumpkin purée and stir to combine. Continue simmering for 5 minutes, then remove it from the heat.
Carefully transfer the mixture to your blender. Add butter and vinegar. Blend until very smooth and creamy.
Season generously with freshly ground black pepper and additional 1/4 teaspoon salt, or more to taste. Blend to combine.
Boil a pot of salted water. Add pasta and cook until desired doneness. Drain.
Stir sauce into warm pasta. Serve with freshly grated Parmesan and chopped parsley on top.
Recipe from Cookie and Kate