Summer Toasts Your Way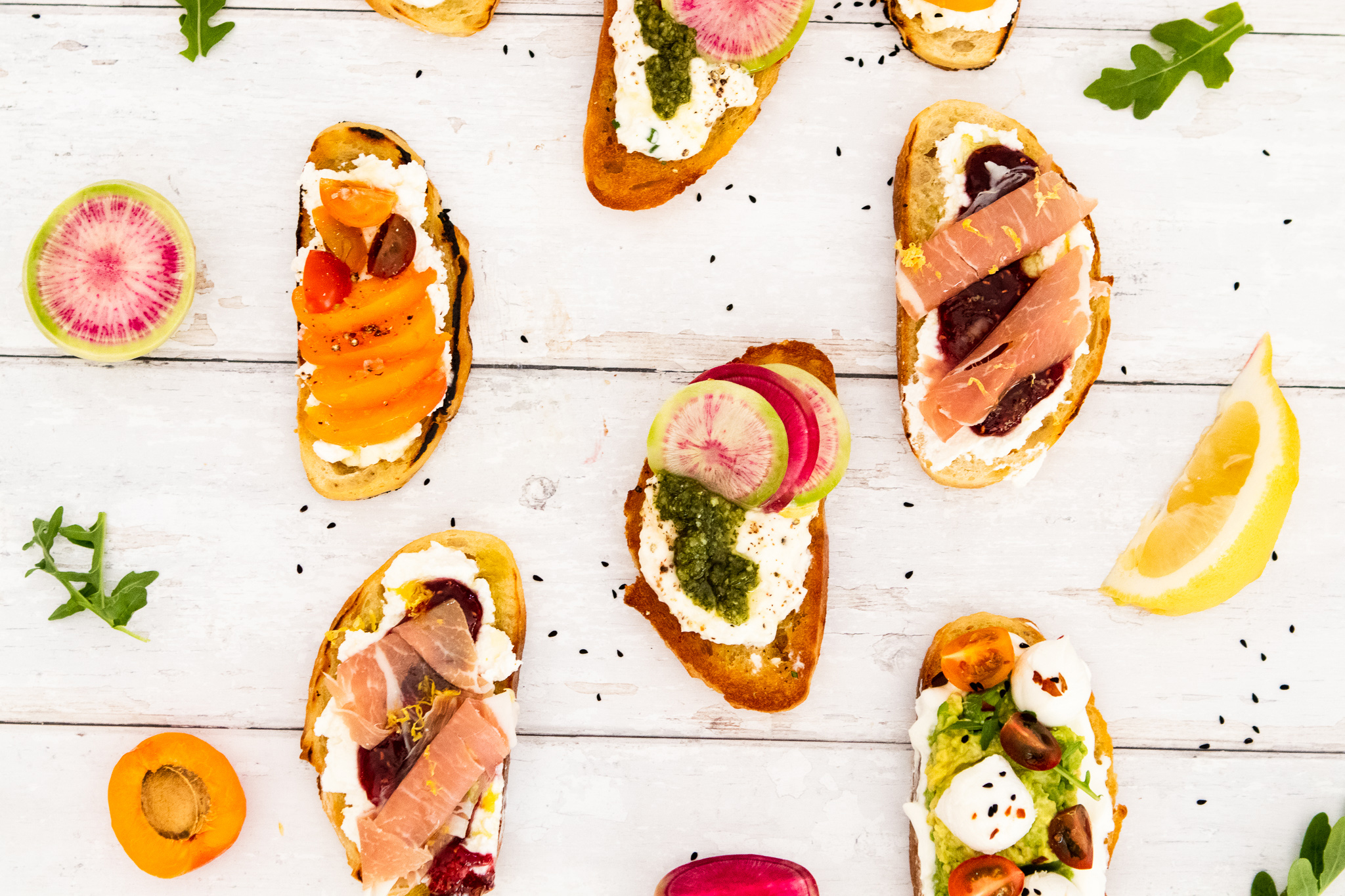 One of the most glorious characteristics about summer is that it's informal and relaxed.  People drop over, sometimes unexpectedly, sometimes pre-arranged.  But, either way, having a simple appetizer of Summer Toasts Your Way will kickoff any little gathering!
There are so many combinations of flavors and textures that can be utilized to create amazing toasts or bruschettas.  I've given you a few options, but let your inner chef go wild.  
I love to make charcuterie boards as well when I'm having impromptu gatherings so I always have on hand an assortment of cured meats, cheeses, jams, pesto, honey, and fruit.  If you have those, plus some tomatoes, avocados and radishes, you can put this toast platter together in a flash!
I've used the following combinations for these toasts:
Avocado, mozzarella and tomatoes over labneh with a drizzle of olive oil and a sprinkling of red pepper flakes, nigella seeds & sea salt.
Raspberry jam and prosciutto over a bed of whole-milk ricotta cheese, sprinkled with lemon zest & olive oil.
Sweet red apricots, cherry tomatoes over ricotta or mozzarella, with honey and sea salt.
Burrata cheese spread over the toasts with basil or arugula pesto, watermelon radishes and freshly cracked black pepper.
But remember, any combination will work as long as you've got some fairly common refrigerator ingredients.
Lastly, if you make Summer Toasts Your Way, be sure to leave a comment and/or give this recipe a rating! Above all, I love to hear from you and always do my best to respond to each and every comment. And of course, if you do make this recipe, don't forget to tag me on 
Instagram
! Looking through the photos of recipes you all have made is one of my favorite things to do!
Makes: 16 toasts
Prep Time: 15 minutes
Cook Time: 5 minutes
Total Time: 30 minutes
Ingredients
16 pieces crusty fresh bread (Italian, French, sourdough, etc)

Olive oil

Kosher salt
Avo-Mozz-Tomato Toasts:
1/2 cup labneh or Greek Yogurt

1 whole, ripe avocado, peeled, pitted and mashed

1/2 cup small Mozzarella balls

8 cherry tomatoes, quartered

Extra-virgin olive oil

1/4 tsp red pepper flakes

1/4 tsp sea salt flakes

1/4 tsp Nigella seeds
Raspberry Jam-Prosciutto Toasts:
1/2 cup whole milk ricotta cheese

1/2 cup raspberry jam

2 ounces thinly sliced prosciutto

1/2 tsp lemon zest

Olive oil for drizzling
Apricot-Tomato Toasts:
1/2 cup fresh mozzarella cheese or ricotta cheese

4 apricots, thinly sliced into wedges (can use peaches or nectarines)

8 cherry tomatoes, halved

Flaky sea salt

Honey, for drizzling
Pesto-Burrata-Radish Toasts:
1 ball burrata cheese

Freshly cracked black pepper

2 watermelon radishes, thinly sliced

2 tbsp basil or arugula pesto
Instructions
Heat a large skillet over medium heat. Add enough oil to generously coat the bottom of the skillet. Once hot, add the bread slices in batches, and toast until lightly browned, about 1 minute. Flip and brown the other side. Remove from skillet, set aside, and finish toasting the remaining bread slices. Watch closely so that bread doesn't burn. Transfer toast to a baking sheet or platter.
Avo-Mozz-Tomato Toasts:
Spread 2 generous tablespoons of labneh over each of 4 toasts. Top the labneh with 1/4 of the mashed avocoado, mozzarella balls and cherry tomatoes. Drizzle with olive oil, red pepper flakes, flaky sea salt and Nigella seeds.
Raspberry Jam-Prosciutto Toasts:
Spread 1/4 of the ricotta cheese onto each of 4 toasts. Dollop raspberry jam over and then place pieces of prosciutto over the jam. Sprinkle the lemon zest over and then drizzle with olive oil.
Apricot-Tomato Toasts:
Spread 1/4 of the mozzarella over each of 4 toasts. lay apricot slices and cherry tomatoes over the top of the mozzarella. Drizzle with honey and sprinkle flaky sea salt on top.
Pesto-Burrata-Radish Toasts:
Spread burrata cheese over 4 toasts and sprinkle with cracked pepper. Dollop with pesto, arrange radish slices over the pesto and serve!