Seared Tuna with Citrus Sauce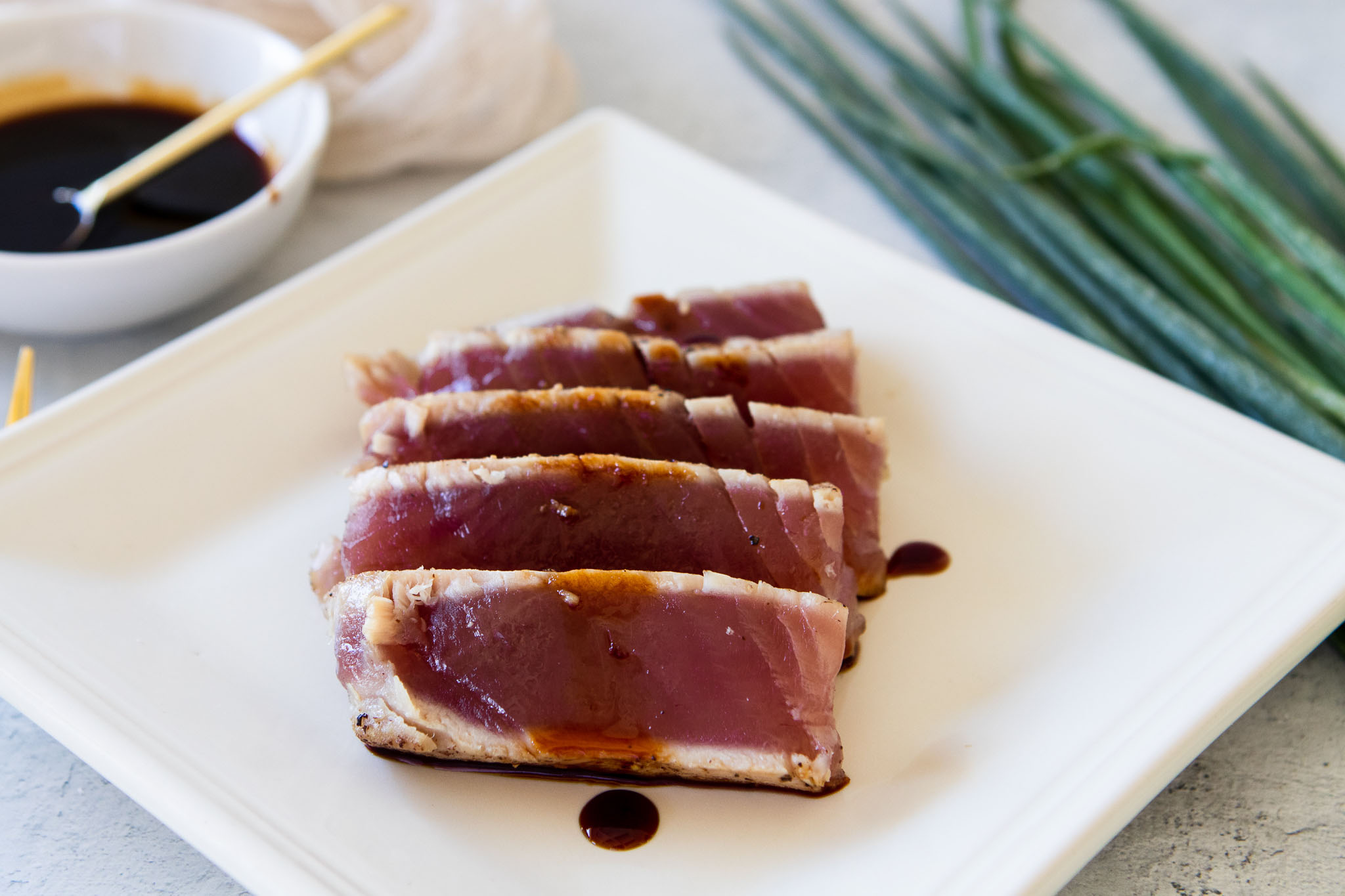 If you are a fan of fresh tuna, you MUST try this Seared Tuna with Citrus Sauce recipe.  I happen to love tuna and if I can find sushi-grade tuna, I'm a happy camper.  Then the question becomes what to do with it.
I could make Tuna Poke or Grilled Tuna with Cherry-Nectarine Chutney.  Both are so delicious!  But, what comes to mind when I'm thinking quick, easy & amazing is this recipe.
When I say quick, I mean it!  The entire dish takes less than 10 minutes to make.  When I say easy, I mean that too!  A saucepan and a sauté pan for a quick reduction of the sauce and a quick sear of the tuna.  And, when I say amazing, well…don't just take my word for it.  Give it a try!  I guarantee that this will become one of your go-to recipes when you happen to find beautiful-looking tuna!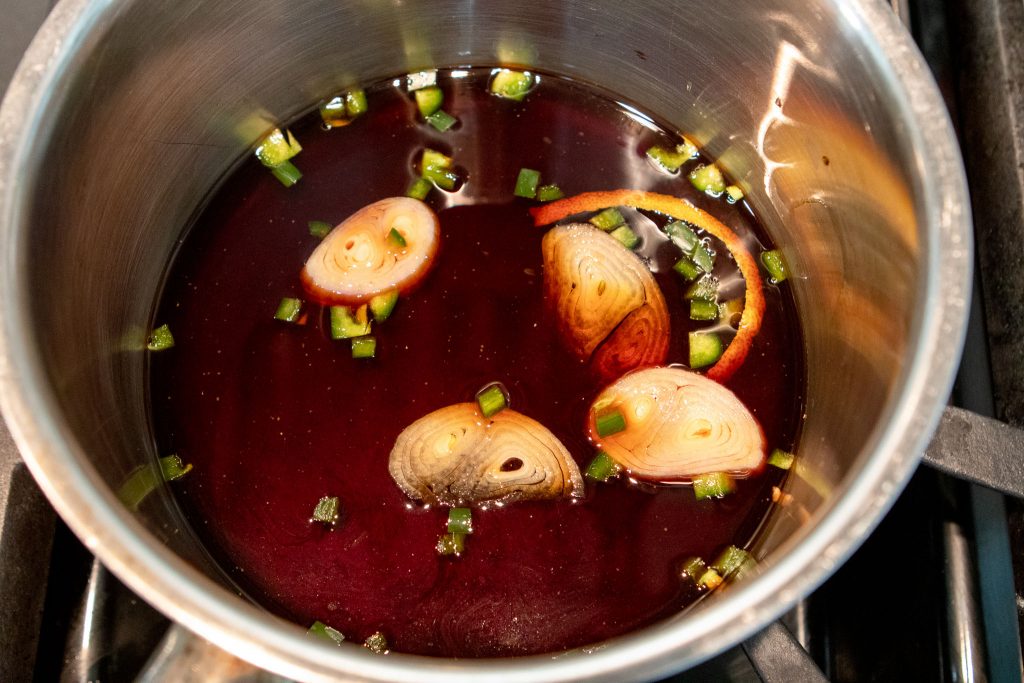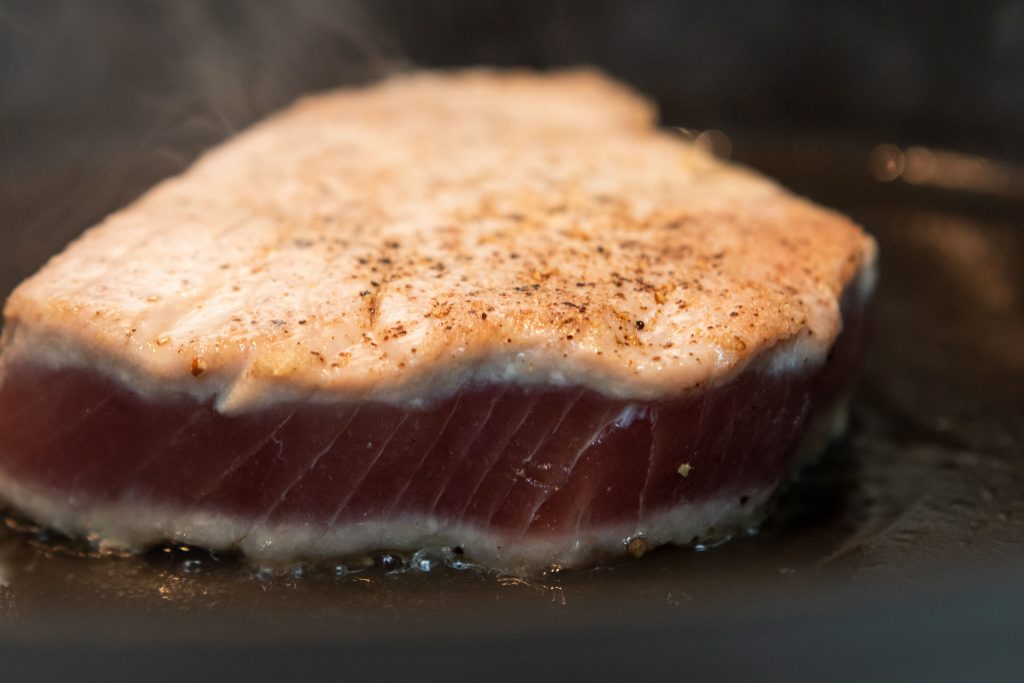 Let's talk about this dish.  You want to first start with the sauce.  It is a soy-based sauce that gets enhanced with Mirin (rice wine), shallots, a bit of a zing with some jalapeño, and some freshness with orange and lemon juice.  A tiny bit of sugar and coriander finish this lovely concoction.  Now, let it simmer for a bit until you've got a nice thick glaze.  Be sure to keep an eye on it to make sure it doesn't reduce down to nothing.
And then there's the tuna…the star attraction!  When you've got a stunning piece of fish like this, you don't need to do much.  Get your sauté pan nice and hot with a bit of oil in it.  I love using avocado oil because it's got such a high smoke point, which makes it ideal when you need a very hot pan.  If I have time, I like to take the tuna out of the fridge and let it sit at room temperature for about 30 minutes just to take a bit of the chill off of the middle of the piece.  But, it's not a problem if you forget or there isn't time.  
Salt & pepper the tuna and sear it on each side for one minute.  That's right, only one minute.  It's supposed to be rare (actually raw, so you need to love sushi if you are making this dish).  One minute per side on a high heat will give you a perfect sear.  Let the tuna rest for a minute or two and then slice it against the grain.
I like to drizzle a bit of the sauce over the sliced tuna and serve more on the side.  This combination of seared tuna with the citrusy soy sauce is divine and will become a fast favorite.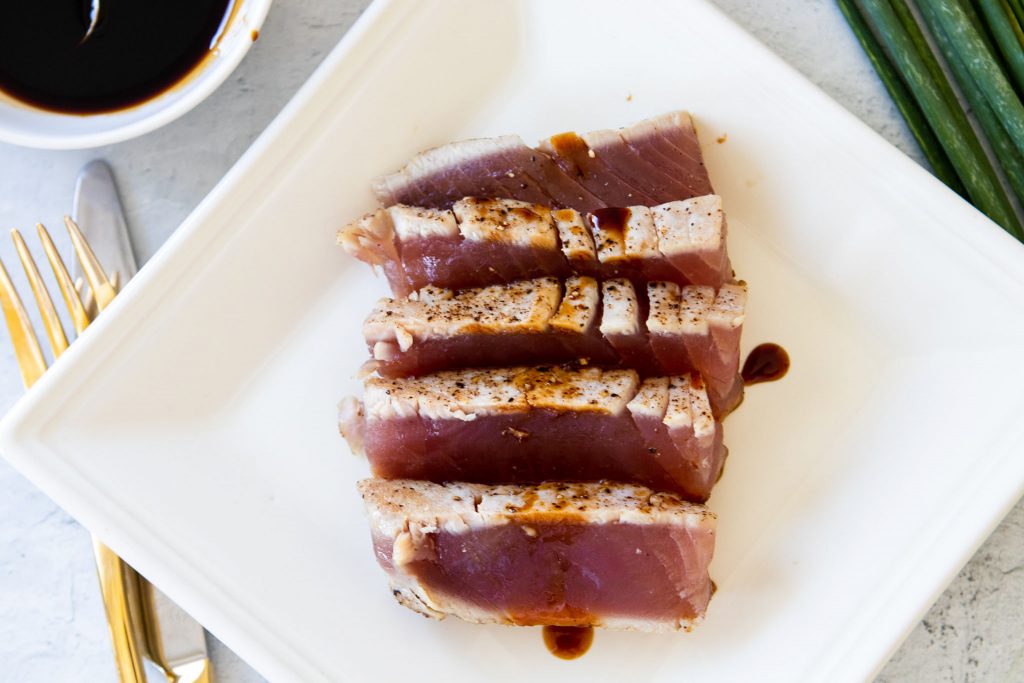 Lastly, if you make Seared Tuna with Citrus Sauce, be sure to leave a comment and/or give this recipe a rating! Above all, I love to hear from you and always do my best to respond to each and every comment. And of course, if you do make this recipe, don't forget to tag me on 
Instagram
! Looking through the photos of recipes you all have made is one of my favorite things to do!
Seared Tuna with Citrus Sauce
Makes: 3-4 servings
Prep Time: 5 minutes
Bake Time: 10 minutes
Total Time: 15 minutes
Ingredients
1/2 cup soy sauce
1/4 cup mirin
1 small shallot, thinly sliced
1/2 jalapeno, seeded and chopped
2 tbsp fresh orange juice
One 3″ strip of lemon zest plus 1 tbsp fresh lemon juice
1 tsp sugar
1/4 tsp ground coriander
1 tbsp vegetable oil
4 4-oz tuna steaks, 1″ thick
Salt and freshly ground pepper
Instructions
In a small saucepan, combine the soy sauce, mirin, shallot, jalapeno, orange juice, lemon zest and juice, sugar and coriander. Simmer over moderate heat until reduced by half, about 8 minutes. Strain the sauce.
In a large nonstick skillet, heat the oil until shimmering. Season the tuna with salt and pepper. Cook over high heat for 1 minute per side. Transfer the tuna to a platter and let rest for 1 minute; thickly slice and serve with the sauce.
Seared Tuna with Citrus Sauce