Weeknight Clams and Spanish Chorizo Paella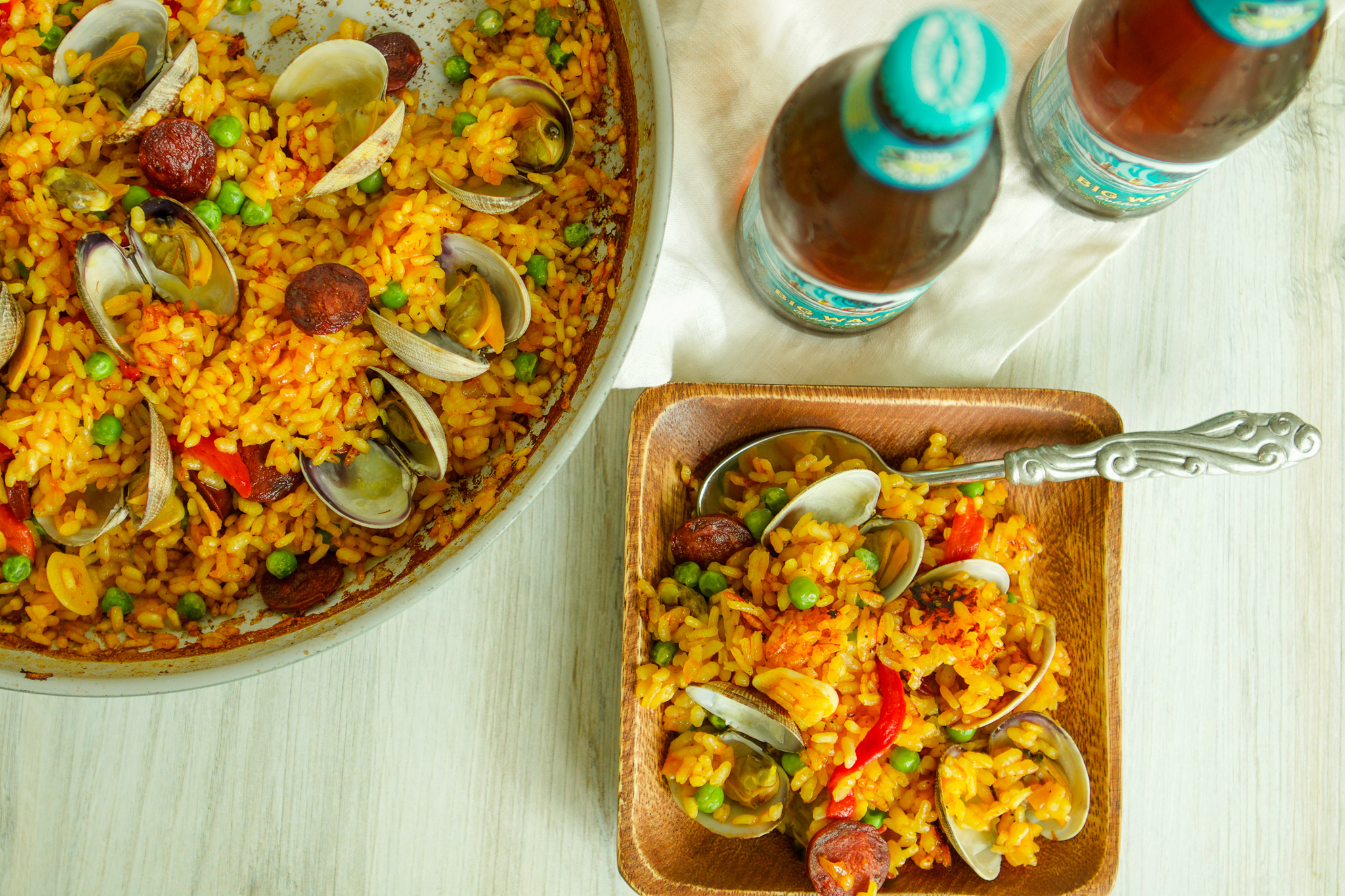 I picked up a bunch of clams the other day with no recipe in mind.  I just thought they looked so fresh and delicious!  I decided that paella was the answer to the question of what to do with them!  ​ This really is a wonderful weeknight dinner as it takes under an hour to make, including prep time and you really don't need anything to go with it besides maybe a simple salad.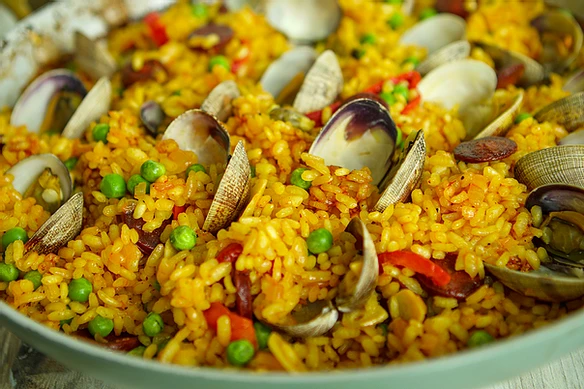 If you've never had Spanish Chorizo, it's very different from Mexican.  It is a cured sausage with an intense flavor.  Typically, one of the curing spices is smoked paprika which gives this hard sausage a lovely smoky flavor.  It's perfect in this paella.
Briny clams, saffron, jarred roasted red peppers and peas round out the flavor profile.  If you let it sit on the cooktop without stirring, the arborio rice develops a delicious crunchiness that makes this paella completely addicting!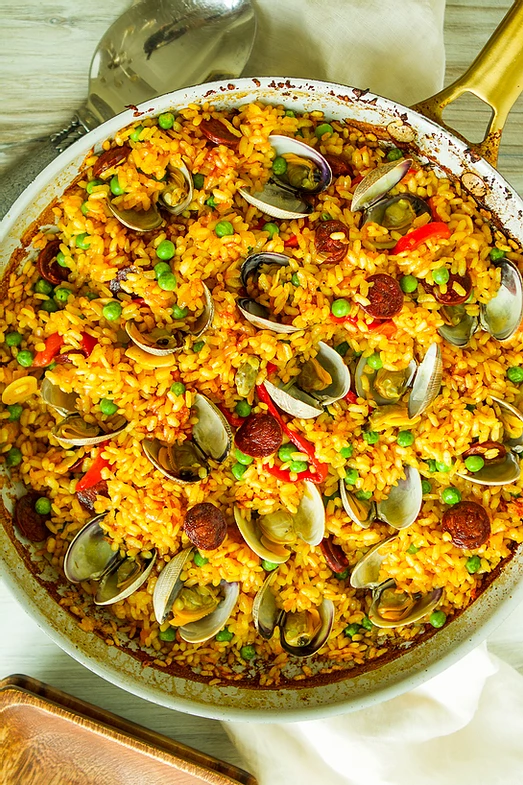 Lastly, if you make Weeknight Clams and Spanish Chorizo Paella, be sure to leave a comment and/or give this recipe a rating! Above all, I love to hear from you and always do my best to respond to each and every comment. And of course, if you do make this recipe, don't forget to tag me on 
Instagram
! Looking through the photos of recipes you all have made is one of my favorite things to do!
Weeknight Clams and Spanish Chorizo Paella
Makes: 4 servings
Prep Time: 10 minutes
Cook Time: 45 minutes
Total Time: 55 minutes
Ingredients
2 cups low-sodium chicken broth

Pinch of saffron threads

8 scrubbed littleneck clams

2 tbsp olive oil

2 ounces cured Spanish chorizo, sliced into 1/8-inch-thick rounds

1/2 cup minced onion

3 garlic cloves, thinly sliced

1 tsp smoked paprika

1 & 1/2 cups arborio rice

Kosher salt and freshly ground black pepper

1/3 cup dry white wine

1 large roasted red pepper from a jar, drained, cut into 1/4-inch-wide strips

1/2 cup frozen peas, thawed 
Instructions
Bring broth, saffron, and 1 & 1/4 cups water to a simmer in a small saucepan over medium heat. Add clams, cover, and simmer until clams open, 3–5 minutes; transfer clams to a small bowl (discard any that do not open). Set broth and clams aside.
Heat oil in a 12-inch heavy skillet over medium heat; add chorizo and cook until chorizo just starts to render and oil turns red, 1–2 minutes. Using a slotted spoon, transfer to a small bowl.
Place onion in skillet. Stir often until onion begins to soften, about 3 minutes. Add garlic and paprika; stir constantly until paprika is caramelized, about 3 minutes. Stir in rice; season lightly with salt and pepper. Cook, stirring constantly, until rice is lightly toasted, about 2 minutes. Add wine; stir constantly until liquid is absorbed, about 1 minute. Stir in broth and red pepper. Simmer (do not stir), rotating skillet often for even cooking, until liquid is almost absorbed and rice is tender, 20–23 minutes. Add peas, chorizo, and clams with juices, tucking clams into rice. Increase heat to medium-high. Cook until clams are heated through and rice along bottom of pan is slightly crisp, about 2 minutes.
Weeknight Clams and Spanish Chorizo Paella