Braised Rotisserie Chicken with Bacon, Tomatoes & Kale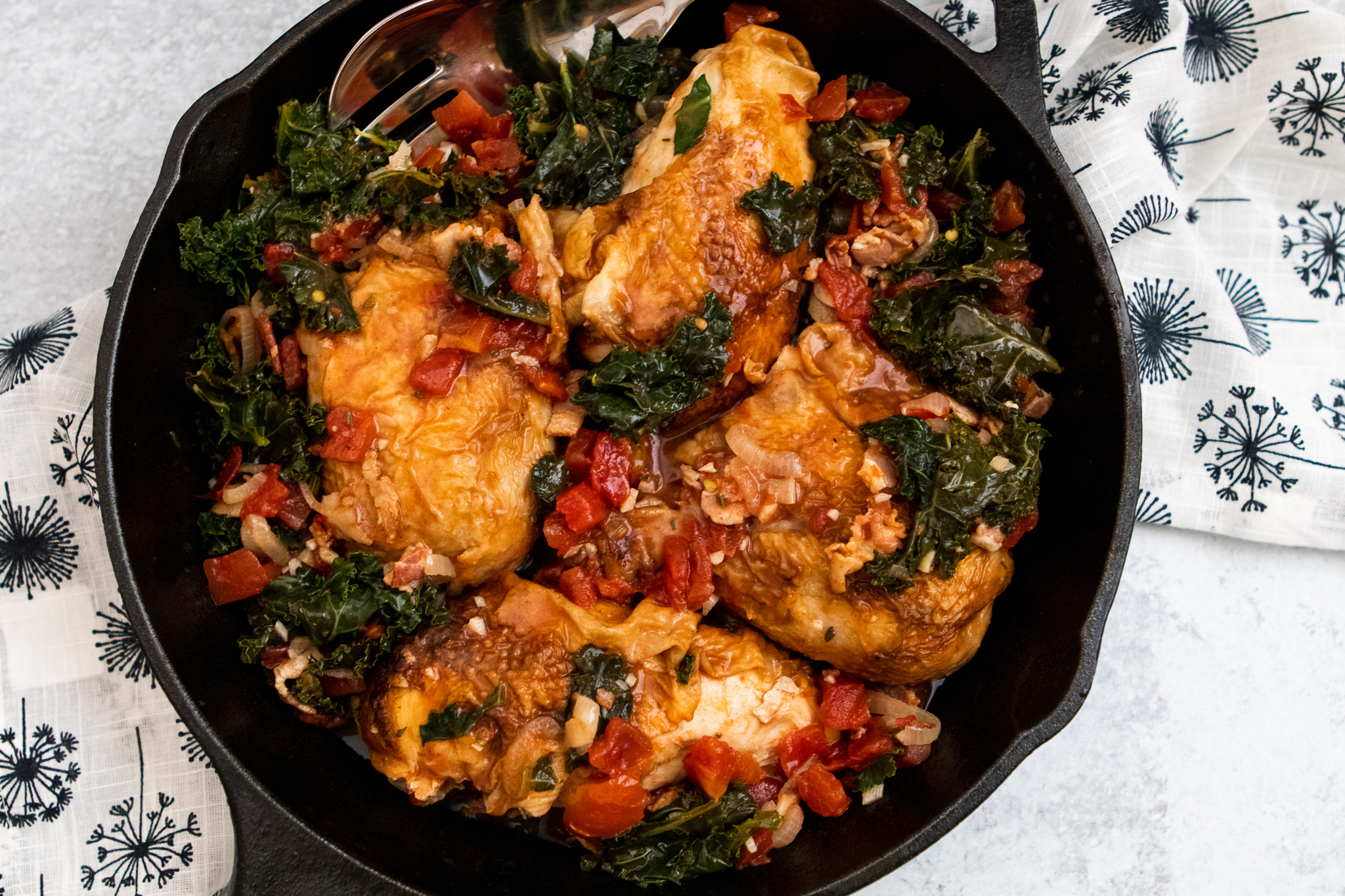 Braised Rotisserie Chicken with Bacon, Tomatoes & Kale is a wonderfully easy, quick and delicious dish!
Braising chicken gives it a deep flavor that seems like it can only be achieved by low, slow cooking.  But, here's the best hack of all times:  use pre-cooked rotisserie chicken (I love Costco's rotisserie chicken) and in about 30 minutes, dinner will be on the table!
This dish begins by crisping up bacon and then adding shallots for fragrant deliciousness.  Add white wine, garlic and rosemary to the pan and let it cook off for about a minute.  Next comes the tomatoes, chicken stock, salt and red pepper flakes for a  bit of heat.  Bring this to a boil, and then nestle the cut up rotisserie chicken pieces into the sauce.  Finally, top it all with the chopped up kale and let it  braise until the kale is wilted, about 6 minutes.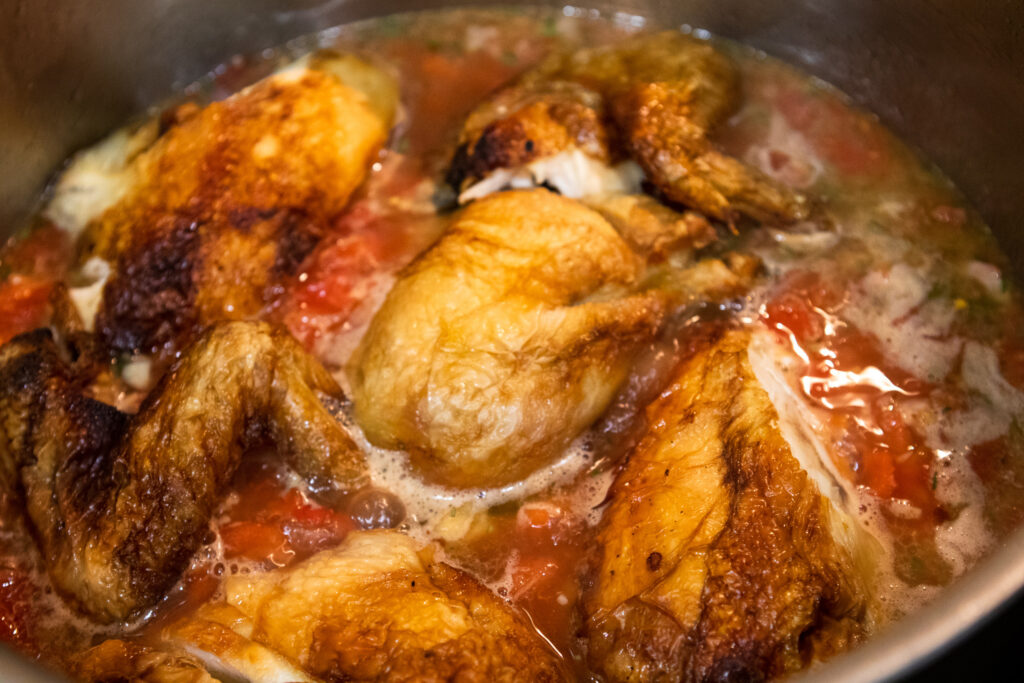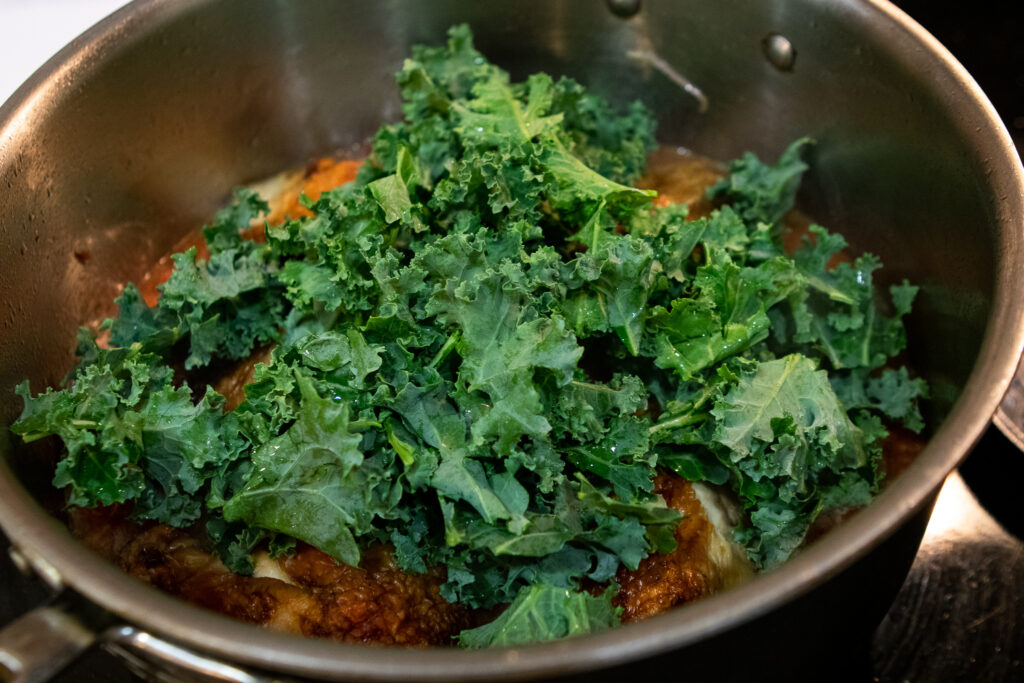 Within a very short time, you have a wonderful braised chicken dish with a rich sauce of tomatoes, wilted kale and bacon.  As a huge fan of roasted chicken (it's a dish I order most often at restaurants), I'm here to attest that this is so good, so easy and so quick!
Lastly, if you make Braised Rotisserie Chicken with Bacon, Tomatoes & Kale, be sure to leave a comment and/or give this recipe a rating! Above all, I love to hear from you and always do my best to respond to each and every comment. And of course, if you do make this recipe, don't forget to tag me on 
Instagram
! Looking through the photos of recipes you all have made is one of my favorite things to do!
Braised Rotisserie Chicken with Bacon, Tomatoes & Kale
Makes: 4 servings
Prep Time: 5 minutes
Cook Time: 25 minutes
Total Time: 30 minutes
Ingredients
2 tsp extra-virgin olive oil

4 ounces bacon (about 4 strips), sliced crosswise into 1/4″ strips

2 shallots, thinly sliced

1/3 cup dry white wine

2 garlic cloves, finely chopped

2 tsp finely chopped rosemary

1 (14-ounce) can diced tomatoes

1 cup

homemade chicken stock

or low-sodium chicken broth

1/2 tsp kosher salt

1/4 tsp crushed red pepper flakes

1 rotisserie chicken, cut into 8 pieces

1 bunch curly kale, ribs and stems removed, torn into bite-sized pieces

Crusty bread, for serving
Instructions
Heat oil in a large skillet with a lid or braising pan over medium. Cook bacon until fat starts to render, about 5 minutes. Add shallots and cook until shallots are soft and fat is rendered from bacon, 8–10 minutes.
Increase heat to high and add wine, garlic, and rosemary. Cook, stirring, until wine is reduced by half, about 1 minute. Add tomatoes, chicken stock, salt, and red pepper flakes and bring to a boil. Reduce heat to medium and nestle chicken pieces, skin side up, in sauce. Top with kale, cover, and cook until kale is wilted, about 6 minutes. Stir kale into sauce and cook, uncovered, until chicken is warmed through, about 5 minutes more. Serve with bread.
Recipe by Epicurious
Braised Rotisserie Chicken with Bacon, Tomatoes & Kale