Chow Mein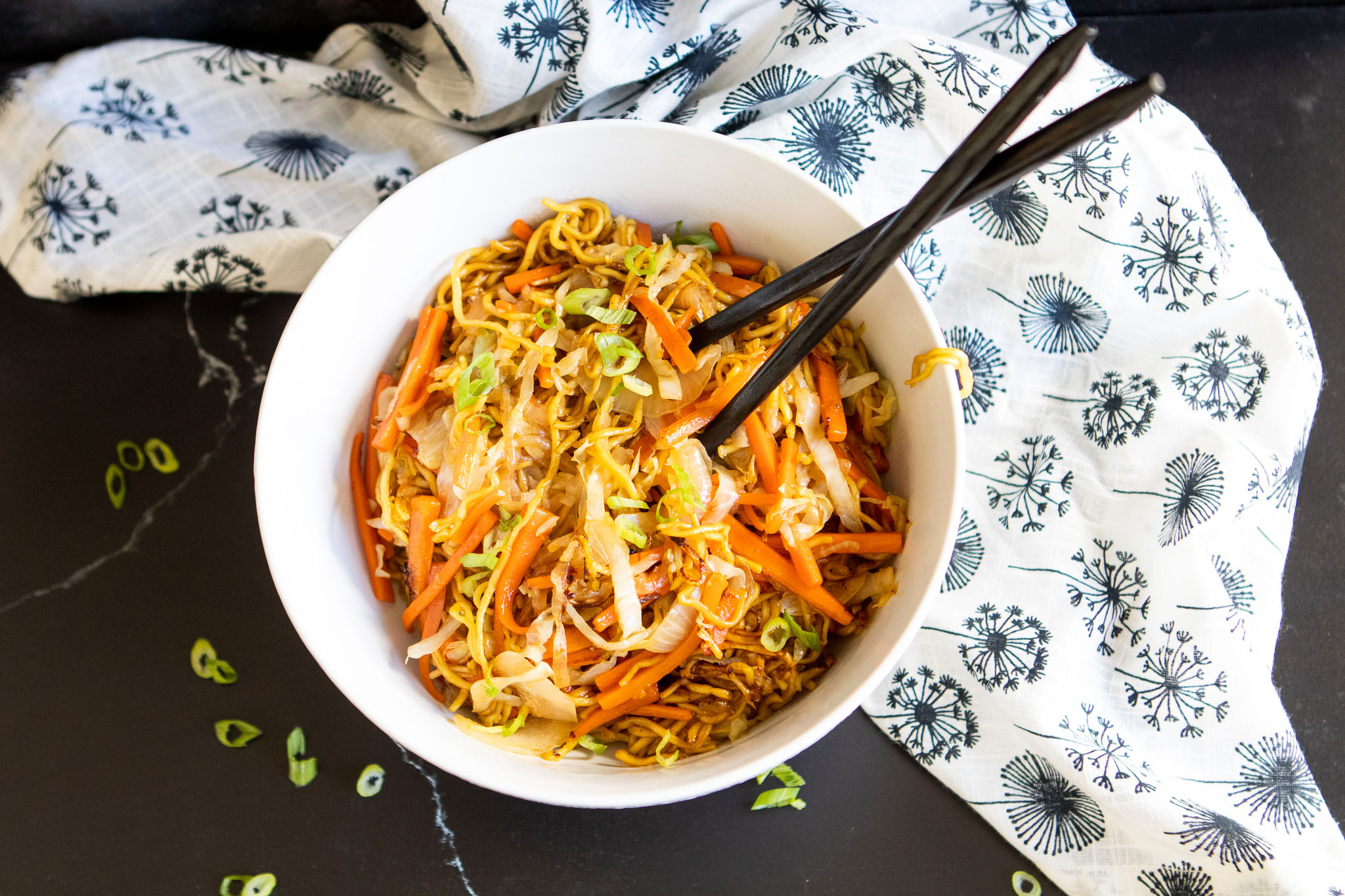 Chow Mein is one of my favorite types of Asian noodles.  I love it from an authentic Chinese restaurant and I dig it from the fast food chain (rhymes with Tanda) at the mall!  As long as the noodles have a bit of crunch, the sauce is well seasoned and the veggies are fresh, I'm happy happy happy!
This recipe provides all of the above, on top of being incredibly easy and quick.  In under 30 minutes, you can have this tasty dish on the table!
The sauce is a lovely combination of soy sauce, oyster sauce, mirin, sugar and sesame oil.  Add some white pepper for heat and some cornstarch to thicken it, and this sauce becomes perfect!
I have kept it simple on the vegetables:  thinly sliced white onions, julienned carrots, shredded green cabbage and garlic.
I take the chow mein noodles aka Chinese egg noodles and soak them in boiling hot water briefly.  Drain them and set them aside.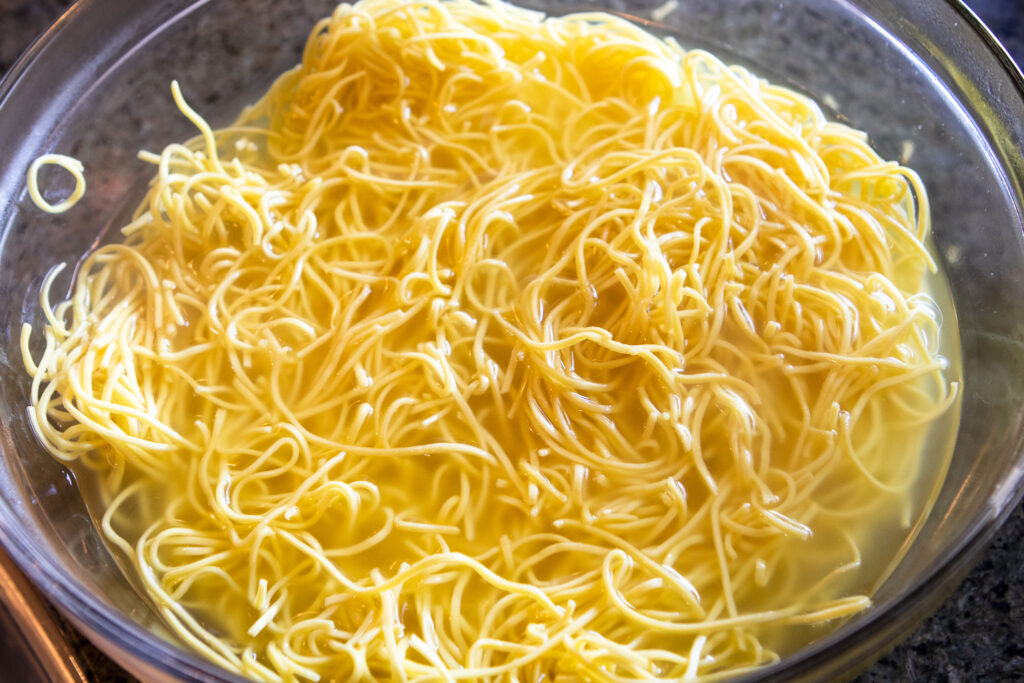 In a very hot large skillet, add the vegetable oil and then the vegetables. Sauté them for a couple of minutes and then add the drained noodles.  I like to try to separate them out as they can clump a bit if they've been sitting for too long.  That also allows you to incorporate the vegetables throughout the noodles.  Sauté this mixture until you see the noodles start to crisp up.
Pour the sauce over and toss everything together until the sauce is well-dispersed.  That's all there is to this quick, easy dish, besides sprinkling some slivered green onions over and devouring!
Lastly, if you make Chow Mein, be sure to leave a comment and/or give this recipe a rating! Above all, I love to hear from you and always do my best to respond to each and every comment. And of course, if you do make this recipe, don't forget to tag me on 
Instagram
! Looking through the photos of recipes you all have made is one of my favorite things to do!
Makes: 3 servings
Prep Time: 10 minutes
Bake Time: 10 minutes
Total Time: 20 minutes
Ingredients
Chow Mein Sauce:
2 tbsp soy sauce

2 & 1/2 tsp cornstarch

2 tbsp oyster sauce

1 &1/2 tbsp mirin

1 & 1/2 tsp sugar

1 & 1/2 tsp sesame oil

1/2 tsp white pepper
Noodles and Vegetables:
8 ounces chow mein noodles (Chinese egg noodles)

2 & 1/2 tbsp vegetable oil

1/2 small thinly sliced white onion

2 small peeled and julienne carrots

1/4 head shredded green cabbage

2 minced garlic cloves

2 thinly sliced green onions for garnish
Instructions
Chow Mein Sauce:
In a mixing bowl whisk soy sauce and cornstarch together until fully combined. Add remaining sauce ingredients and whisk together. Set aside.
Noodles & Vegetables:
Soak noodles in boiling water for about 2 minutes, until al dente. Drain and set aside.
Place a large skillet or wok over high heat. Add oil to the hot skillet. Add onion, carrot, cabbage, and garlic and sauté for 2 to 3 minutes, constantly stirring with a wooden spoon.
Add drained noodles and toss together. Sauté for 2 to 3 minutes, or until noodles begin to crisp around the edges. Pour sauce over vegetables and noodles and toss together until evenly coated and fully absorbed, about 2 minutes.
Remove from heat, top with green onions and serve.
Recipe from Spoon Fork Bacon