Seeds and Cheese Crackers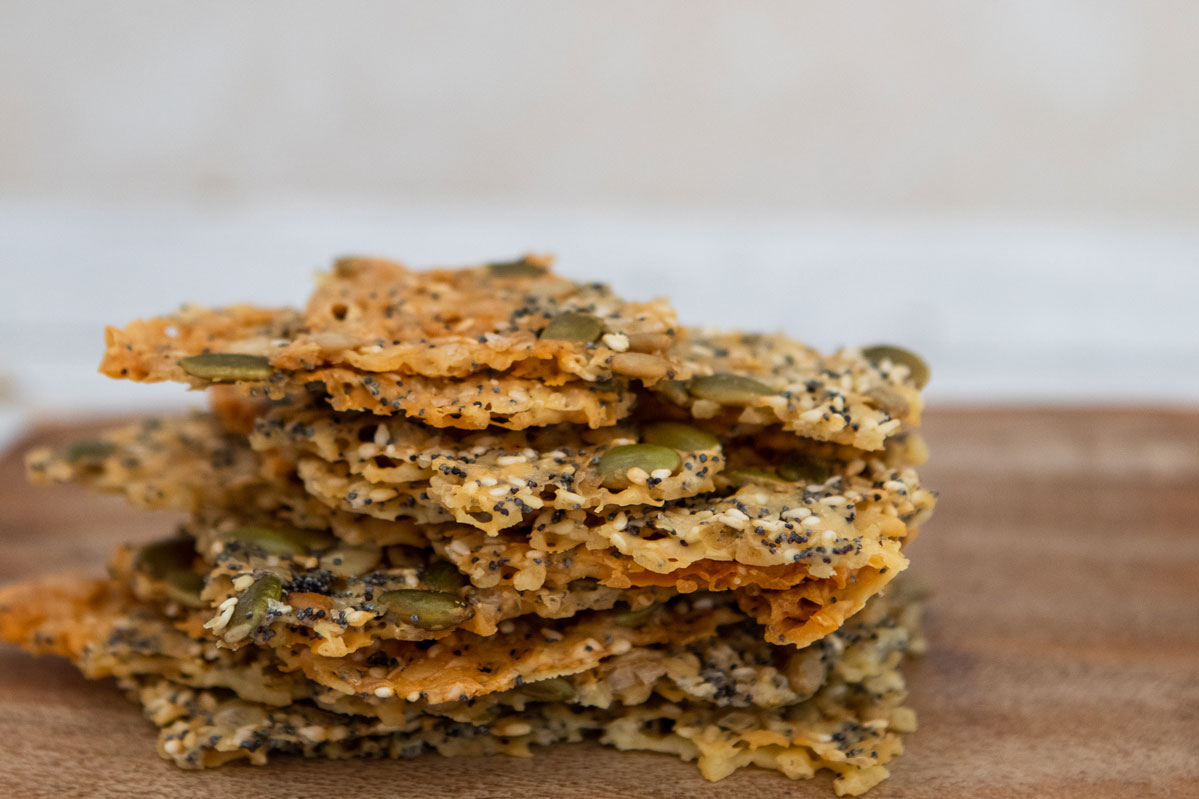 Seeds and Cheese Crackers are the perfect accompaniment to any charcuterie board, dip or spread.  They are delicious alongside a warm bowl of soup or as a snack when you are in a munching mood. And, they are absolutely perfect if you are gluten-free or just not in the mood for flour.
I am a snacker, I'll admit.  When I'm enjoying a good book, I most probably have a little snack happening as well.  When I'm binge-watching my show-of-the-moment, I'm sure there's a tiny bowl of potato chips next to me (you should see my "tiny").  When I'm gabbing on the phone,  I've probably got some seasoned pretzels close by.  Occasionally, I have the guilt-factor going on.  Should I eat this?  Should I cut up an apple, instead?  Of course, the answer is no, but if I reach for these Seed and Cheese Crackers, I don't feel half bad about it!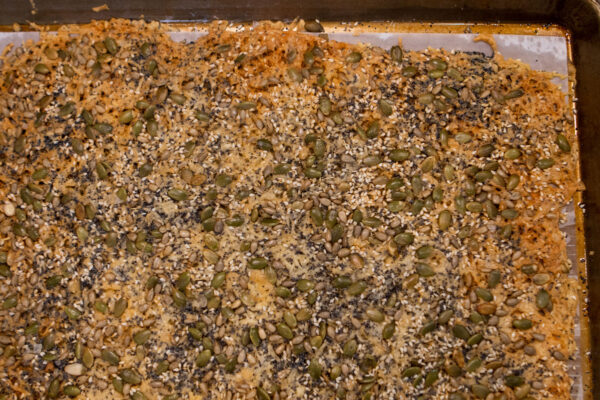 These crackers are so easy to make! Simply spread some shredded fontina and asiago cheese over a sheet pan. Top it with an assortment of seeds (pepitas, sunflower seeds, poppyseeds & sesame seeds) and a sprinkling of salt and bake them! That is all there is to it!
Once they come out of the oven, let them cool and then break them into smaller pieces.
Like I said, they are very easy to make and perfect for snacking, serving with dip, or crumbled over pasta.  I used them as a base for Beet-Cured Smoked Salmon and they were amazing!
Lastly, if you make Seeds and Cheese Crackers, be sure to leave a comment and/or give this recipe a rating! Above all, I love to hear from you and always do my best to respond to each and every comment. And of course, if you do make this recipe, don't forget to tag me on 
Instagram
! Looking through the photos of recipes you all have made is one of my favorite things to do!
Seeds and Cheese Crackers
Makes:  8-10 appetizer servings
Prep Time:  10 minutes
Bake Time:  40 minutes
Total Time:  50 minutes
Ingredients
4 oz finely shredded fontina cheese (about 1 packed cup or 1½ cups loosely packed)

4 oz finely shredded asiago cheese (about 1 packed cup or 1½ cups loosely packed)

1/4 cup raw or roasted unsalted pepitas

2 tbsp raw or roasted unsalted sunflower seed kernels (no shells)

1 tbsp poppy seeds

1 tbsp white sesame seeds

1/2 tbsp black sesame seeds (you can also use all white)

Flaky sea salt
Instructions
Preheat oven to 325°F. Line a baking sheet with parchment paper or a silicone baking mat.
Toss cheeses together in a bowl and sprinkle shredded cheeses evenly over the entire sheet pan. Top with seeds, distributing them evenly over the entire pan. Sprinkle lightly with sea salt.
Bake for 35 to 40 minutes, rotating the pan once part way through. The cheese will have melted and darkened to a light golden brown, the color of butterscotch candy. Take care not to let it bake too long or the cheese may taste burnt.
Remove from oven and let cool completely before breaking up into bite-size pieces.
Store crackers in an airtight container at room temperature or in the refrigerator for up to 7 days.
Recipe by Love & Olive Oil
Seeds and Cheese Crackers