20-Minute Honey Garlic Shrimp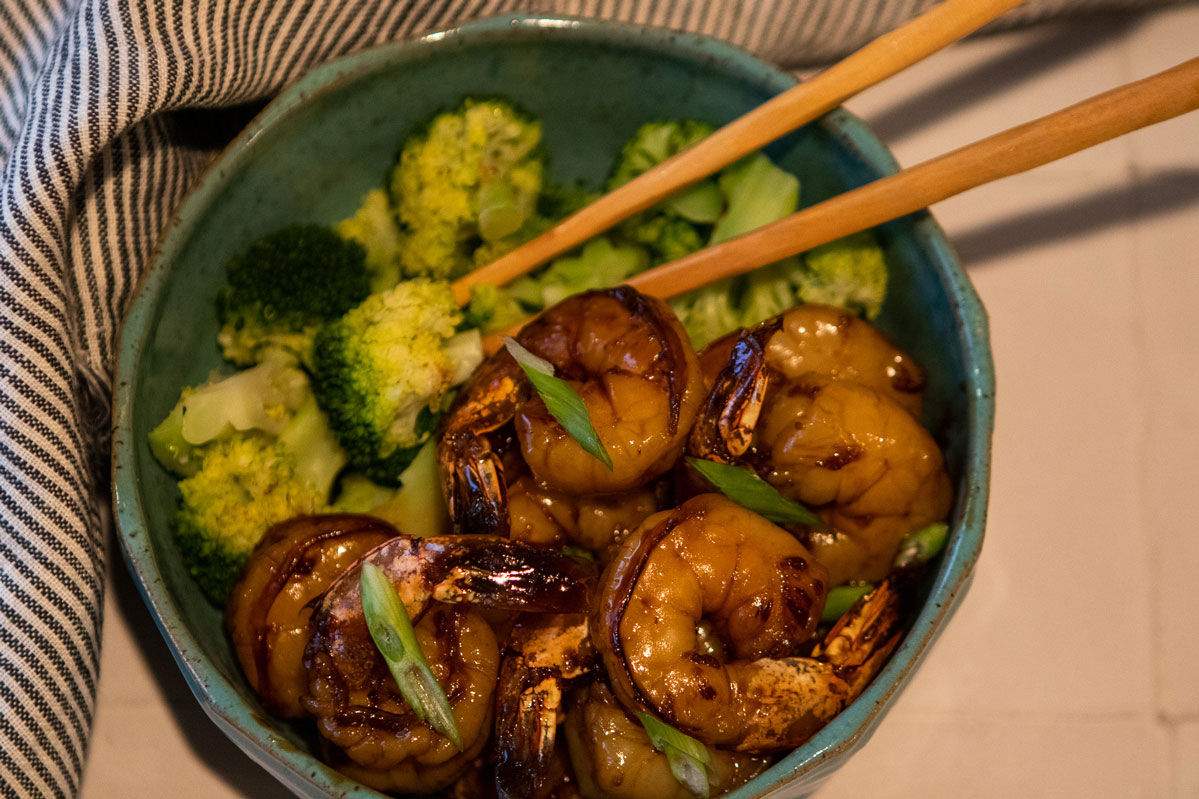 Any recipe that has "20 minutes" in the title has my attention, especially 20-Minute Honey Garlic Shrimp!
And, a recipe with only 5 ingredients in it jumps to the top of the list.  
Combining honey, garlic, soy sauce and ginger to create a rich marinade is what really makes this dish pop, so do yourself a favor and make this now!
Marinate the shrimp for 15 minutes (or up to 12 hours) in half of the sauce.  The remaining sauce will be used once you start to cook the shrimp.
After the shrimp have marinated, heat olive oil in a skillet over high heat.  Discard the marinade and place the shrimp in the hot skillet and sear until they are pink on one side (about 45 seconds) and then flip them over.
Add the remaining sauce and continue to cook until the shrimp are cooked through, just another minute or two.  The sauce will thicken up.
Serve the shrimp with some rice or steamed veggies on the side (or both).  Top with some slivered green onions.  Enjoy!
Lastly, if you make 20-Minute Honey Garlic Shrimp, be sure to leave a review down below at the bottom of this page (stars are also appreciated)! Above all, I love to hear from you and always do my best to respond to each and every review. And of course, if you do make this recipe, don't forget to tag me on 
Instagram
! Looking through the photos of recipes you all have made is one of my favorite things to do!
20-Minute Honey Garlic Shrimp
Makes: 4 servings
Prep Time: 15 minutes
Cook Time: 5 minutes
Total Time: 20 minutes
Ingredients
1/3 cup honey

1/4 cup soy sauce (we usually use reduced sodium)

2 garlic cloves, minced

1 tsp minced fresh ginger

1 pound medium uncooked shrimp, peeled & deveined

2 tsp olive oil

optional for garnish: chopped green onion
Instructions
Whisk the honey, soy sauce, garlic, and ginger (if using) together in a medium bowl.
Place shrimp in a large sealable container or zipped-top bag. Pour 1/2 of the marinade/sauce mixture on top, give it all a shake or stir, then allow shrimp to marinate in the refrigerator for 15 minutes or for up to 8-12 hours. Cover and refrigerate the rest of the marinade.
Heat olive oil in a skillet over medium-high heat. Place shrimp in the skillet. (Discard used marinade.) Cook shrimp on one side until pink, about 45 seconds, then flip shrimp over. Pour in remaining marinade/sauce and cook it all until shrimp is cooked through, about 1-2 more minutes.
Serve shrimp with cooked marinade sauce and a garnish of green onion. The sauce is excellent on brown rice and steamed vegetables on the side.
Recipe from Sally's Baking Addiction
20-Minute Honey Garlic Shrimp