Salmon Piccata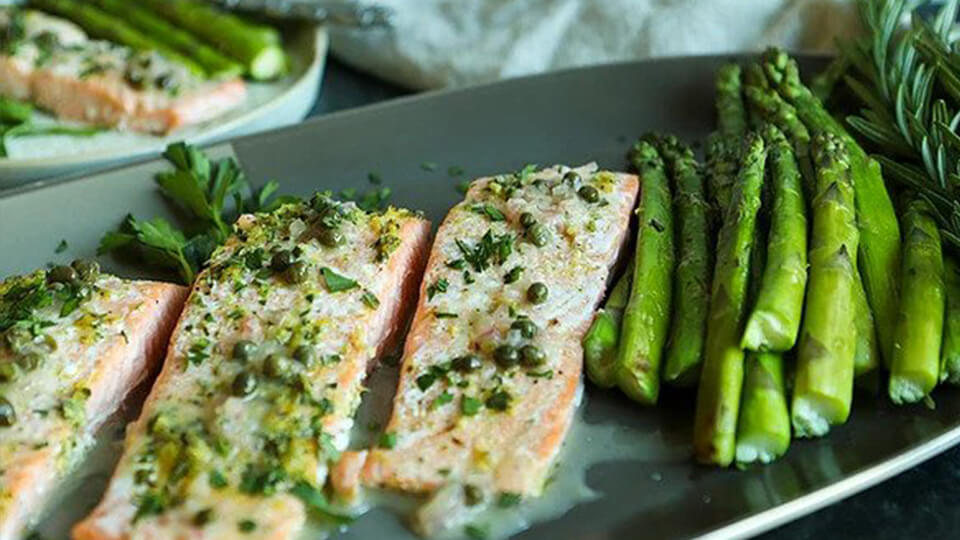 Do you ever just want a wonderfully flavored dish that is as easy as it is delicious?  I love hosting elaborate dinner parties and creating intricate cakes and desserts but most of the time, I'm more interested in easy main courses.  And, my honey is looking for easy clean ups!!  This wonderful salmon dish addresses both needs!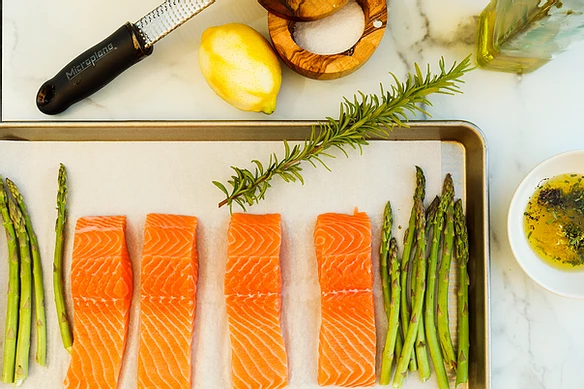 It begins with fresh salmon (use wild if you can) very lightly dressed with a marinade that's flavored with lemon and rosemary.  Add some lovely asparagus to the sheet pan, and you've got your entire dinner on one pan!  How's that for making clean-up a snap?!
This dish is simple, elegant and just as yummy cold as it is hot. Enjoy this tasty salmon piccata recipe!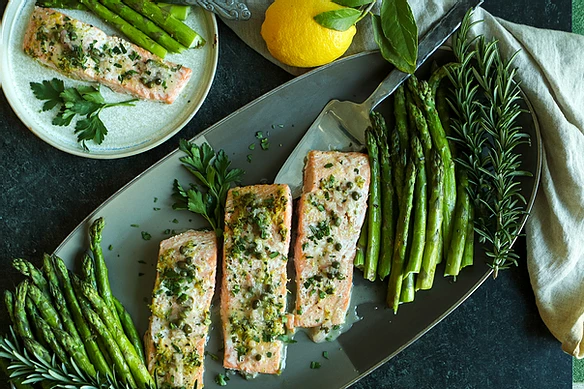 Lastly, if you make Salmon Piccata, be sure to leave a comment and/or give this recipe a rating! Above all, I love to hear from you and always do my best to respond to each and every comment. And of course, if you do make this recipe, don't forget to tag me on 
Instagram
! Looking through the photos of recipes you all have made is one of my favorite things to do!
Makes: 6 servings
Prep Time: 10 minutes
Bake Time: 15-18 minutes
Total Time: 25 minutes
Ingredients
2 pounds boneless, skinless salmon fillets, preferably wild, about 1 1/2" thick (6 pieces)

1 & 1/2 pounds asparagus

3 tbsp extra-virgin olive oil

1 tbsp grated lemon peel

1 tbsp chopped fresh rosemary or thyme

1 tsp kosher salt

1/4 tsp freshly ground pepper

3 tbsp butter, divided

1 small shallot, finely chopped

2 tbsp lemon juice

1 tbsp capers, rinsed and drained

Salt & pepper to taste

2 tbsp chopped fresh parsley
Instructions
Place salmon on a parchment-lined baking sheet. Preheat oven to 375° F.
In a small bowl, combine oil, lemon peel, rosemary, salt and pepper. Brush most of mixture over salmon and toss remainder with asparagus. If asparagus is thick, place it on baking sheet beside or around salmon but if it is thin, add it 10 minutes after salmon goes into oven.
Place salmon and thick asparagus in oven and cook until fish comes apart, about 15-18 minutes, depending on thickness of salmon. Be sure not to overcook fish.
Meanwhile, melt 1 tbsp of butter in a small saucepan over medium heat. Add shallot and cook for 2-3 minutes, or until tender. Add lemon juice and capers. season with salt and pepper. Remove from heat and stir in remaining 2 tbsps butter. Transfer salmon and asparagus to a serving platter. Spoon sauce over salmon and sprinkle with parsley.