Baked Apple Cider Donuts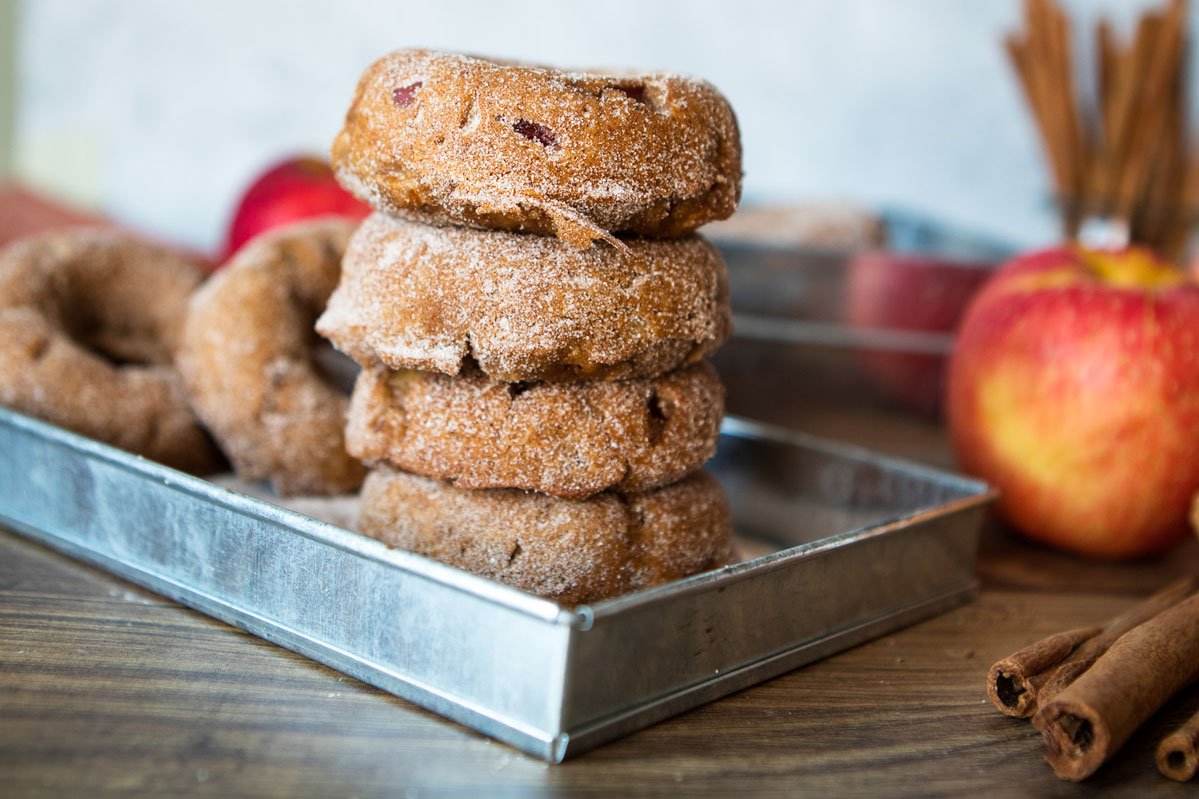 Baked Apple Cider Donuts are the perfect way to enjoy fall in every bite!  These tender donuts are loaded with juicy apple chunks and flavored with apple cider and apple butter.  They are dipped in cinnamon sugar for extra goodness.  Besides, they are healthy-ish (baked, not deep-fried)!
Baked donuts are so much simpler than people think!  If you can make cookies, you can make donuts.  All you need is a donut mold (I like this one) and you are ready to bake!
The apple cider in this recipe will be reduced down to a syrup, to give you a very intense apple flavor.  
To make the batter, whisk the flour, baking powder & soda, and salt together in a small bowl.  In a larger bowl, stir the brown sugar, egg, apple butter and vanilla together and then mix in the reduced apple syrup.
Now, add half of the flour mixture to the wet mixture and combine; repeat with the remaining flour mixture.  Finally fold in the apple chunks.
Divide the batter between the donut cups, only filling 2/3 full.  Bake the donuts for 10 minutes or so until the top is springy when pressed.  Cool the donuts briefly and then dip in a mixture of cinnamon and sugar.  Why not take these over the top??
No excuses now for not having homemade warm donuts whenever you want them!  Grab a cuppa Joe and enjoy!
Lastly, if you make Baked Apple Cider Donuts, be sure to leave a comment and/or give this recipe a rating! Above all, I love to hear from you and always do my best to respond to each and every comment. And of course, if you do make this recipe, don't forget to tag me on 
Instagram
! Looking through the photos of recipes you all have made is one of my favorite things to do!
Makes: 12 donuts
Prep Time: 35 minutes
Bake Time: 10 minutes
Total Time: 45 minutes
Ingredients
Apple Cider Donuts:
1 cup apple cider

2 cups all purpose flour

1 & 1/2 tsp baking powder

1/2 tsp baking soda

1/2 tsp fine sea salt

2/3 cup light brown sugar

1 large egg

1 & 1/4 cup apple butter

2 tsp pure vanilla extract

1

apple, cored and stem removed, chopped into small pieces (Honeycrisp or Gala works well)
Topping:
1 cup granulated sugar

2 tsp ground cinnamon
Instructions
Place apple cider in a small saucepan, on medium heat. Bring to a boil, the reduce to a simmer. Allow cider to simmer for 15 minutes or until it has reduced to one-quarter cup. Remove from heat to cool.
Stir the granulated sugar, and cinnamon together in a shallow medium bowl. Save for coating warm donuts.
Preheat oven to 350°F and prepare two of the 6-capacity donut pans with a light coating of baking spray.
Combine flour, baking powder, baking soda, and salt together in a medium bowl and whisk to mix.
Place brown sugar, egg, apple butter, and vanilla in a large bowl, then hand whisk to combine. Stir in the reduced apple cider until distributed evenly.
Add half of the flour mixture to the wet mixture and slowly whisk to combine. Repeat with the second half of the dry mixture. Fold in the apple chunks with a rubber spatula or wooden spoon to evenly distribute.
Spoon the thick batter into each donut cup about 2/3-3/4 full. Place the donut trays on the middle rack of the oven. Bake for 10-12 minutes until the tops spring back with a gently press of your finger tip.
Place trays on wire cooling rack for about 2 minutes. Then, invert pans to release donuts directly onto wire racks.
Coat the warm donuts with cinnamon sugar before cleaning pans and baking remaining batter. Totally optional, I just prefer to roll my donuts in cinnamon sugar while they are warm. Place a warm donut in the bowl and twist, then flip to coat all sides in sugar. Repeat with remaining donuts.
Recipe from Two Cups Flour