Oven Baked Tuscan Fries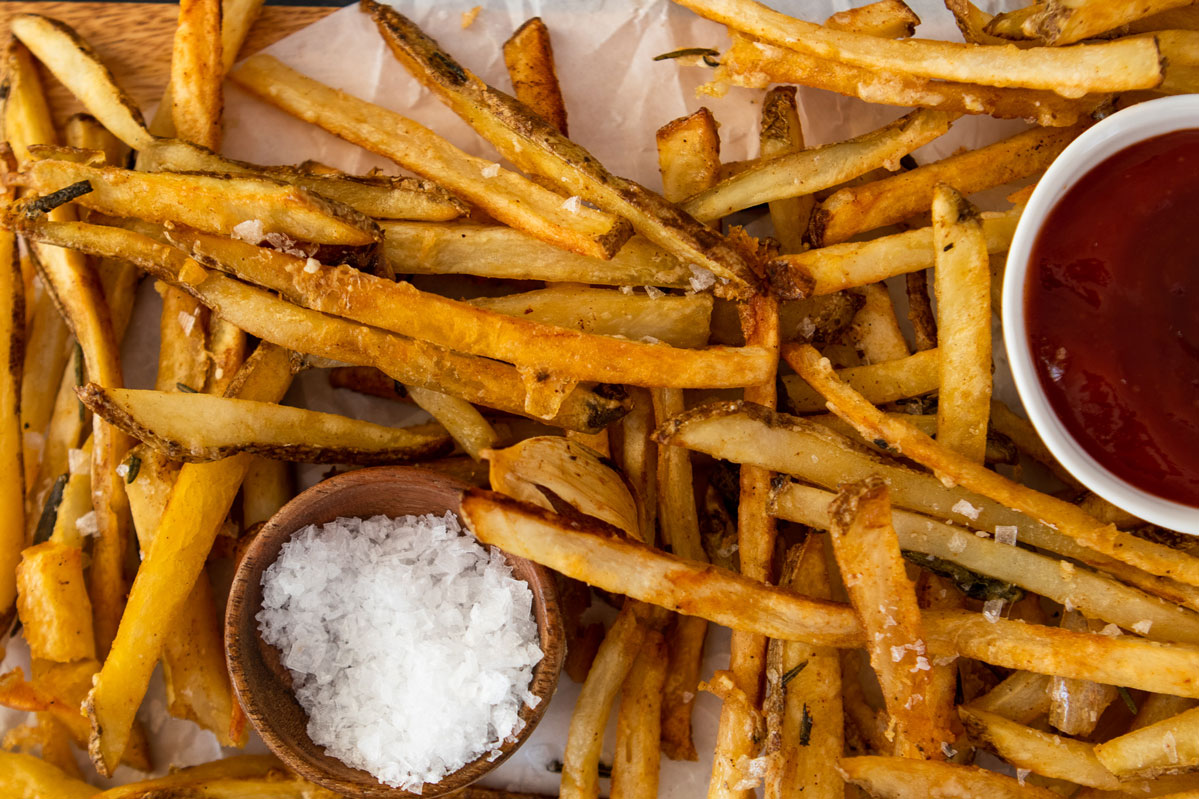 One of life's little pleasures are these Oven Baked Tuscan Fries!  They don't look baked, do they?  They look and taste exactly like what you'd get at your favorite restaurant, but healthier and more delish!
They aren't fried!  Should I repeat that?  They are baked so give them a gold star!  They are crispy but soft inside…another gold star!  And, the flavor is sublime!  Rosemary, sage, garlic and paprika all contribute to the Tuscan flavor.  Toss with some parmesan cheese and butter, sprinkle some flaky sea salt, and I promise you will think you've gone to heaven!  Definitely 3 gold stars!⭐️⭐️⭐️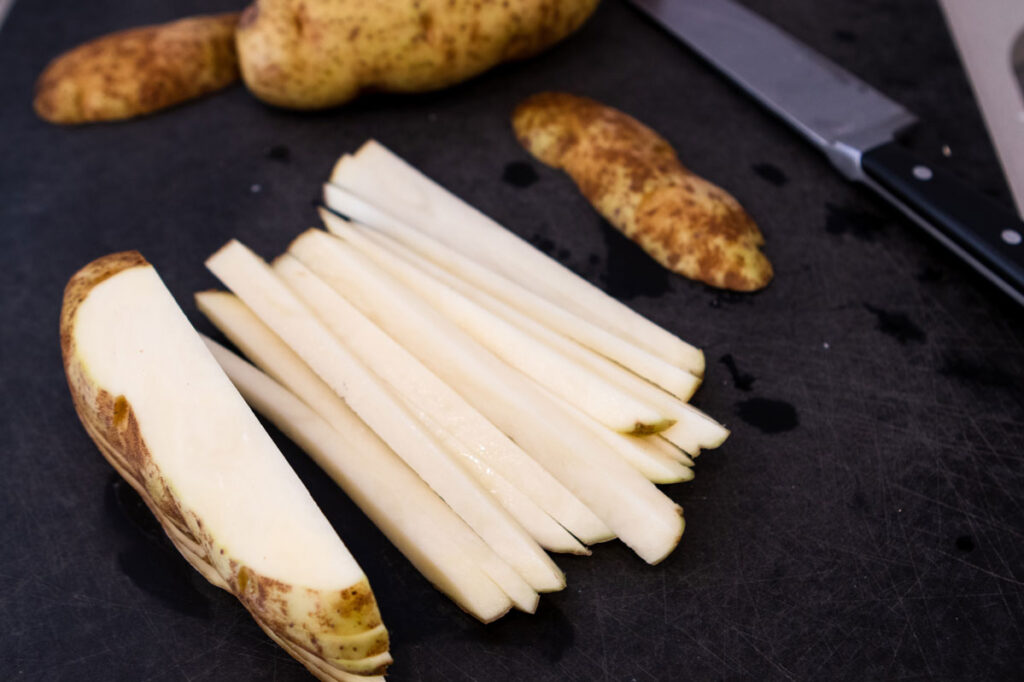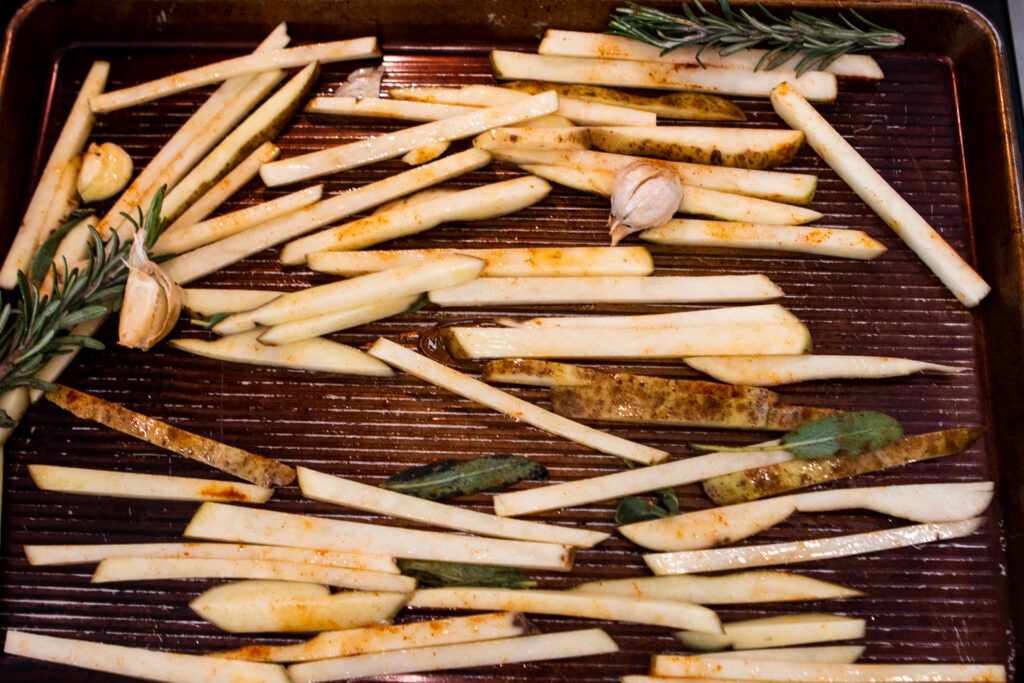 To make these fries, begin by cutting the potatoes into 1/4-inch matchsticks.  This is the only laborious part of this recipe, and that will take you about 5 minutes!  I leave the skin on because I love the texture when crisped, but if you don't, feel free to peel them (add another 5 minutes to your time).
Toss the potatoes with olive oil, fresh rosemary and sage, fresh garlic, paprika and salt.  Spread it all in a sheet pan.  Use two pans if you have large potatoes.  You do not want to crowd the potatoes or they will steam, rather than bake and crisp.  The right photo above shows how much they should be spread out.  I used two sheet pans for my potatoes.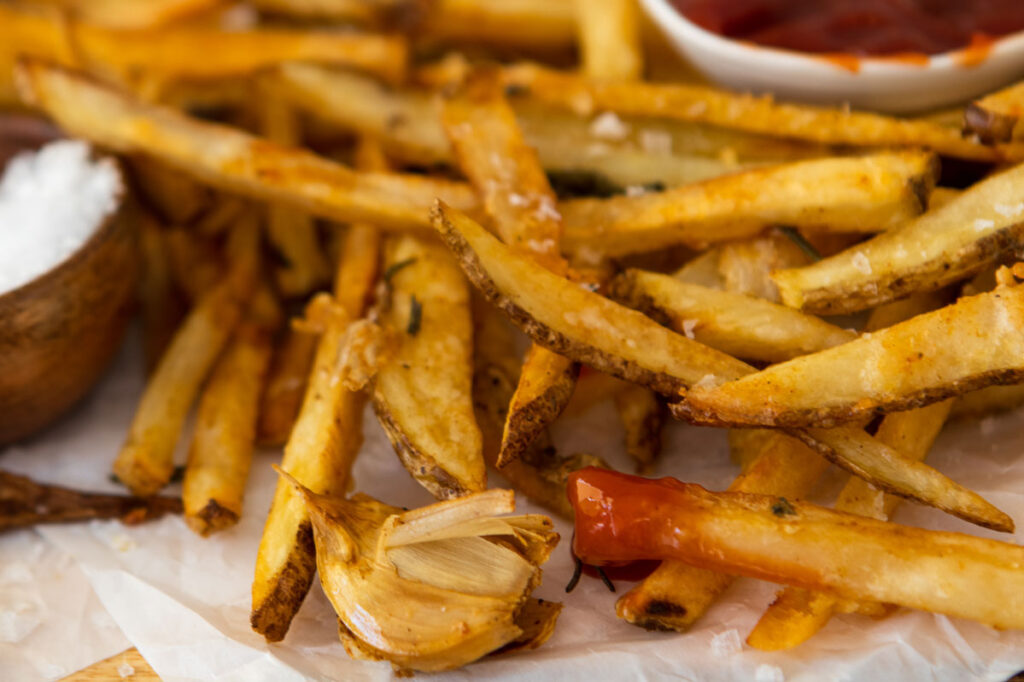 Bake the french fries on a high heat (425°F) for 15 -20 minutes, toss and then continue baking another 15 minutes.  Add the parmesan cheese and butter to the pan(s) and bake for another 5 minutes.  When done, sprinkle with flakey sea salt and serve hot.
I love to eat the roasted garlic with the potatoes, but you can also save them to spread on toasts or use in a salad dressing.
Cheers!
Lastly, if you make Oven Baked Tuscan Fries, be sure to leave a comment and/or give this recipe a rating! Above all, I love to hear from you and always do my best to respond to each and every comment. And of course, if you do make this recipe, don't forget to tag me on 
Instagram
! Looking through the photos of recipes you all have made is one of my favorite things to do!
Makes: 4 servings
Prep Time: 10 minutes
Bake Time: 50 minutes
Total Time: 1 hour
Ingredients
4 russet potatoes, cut into ¼-inch-thick matchsticks

3 tbsp

extra virgin olive oil

3-4 sprigs fresh rosemary (or 1 tablespoon dried rosemary)

12 fresh sage leaves (or 2 teaspoons dried sage)

4-6 cloves garlic, skin on and smashed

1/2 tsp

paprika
kosher salt

2 tbsp unsalted butter

2 tbsp grated parmesan cheese

F

laky sea salt
Instructions
Preheat the oven to 425°F.
Place the potatoes on a large baking sheet and toss with olive oil, rosemary, sage, the entire smashed garlic cloves, the paprika, and a large pinch of salt. Spread the fries in an even layer. Do not overcrowd the pan, if needed, divide the fries between 2 baking sheets. Transfer to the oven and bake for 15-20 minutes, then flip and bake for 15 minutes more.
Add the butter and parmesan, toss, and return to the oven for another 5 minutes. You want the potatoes to be tender, yet crispy.
Serve while hot, sprinkled flaky sea salt.
Recipe from Half Baked Harvest