Baked Brie with Caramelized Fruit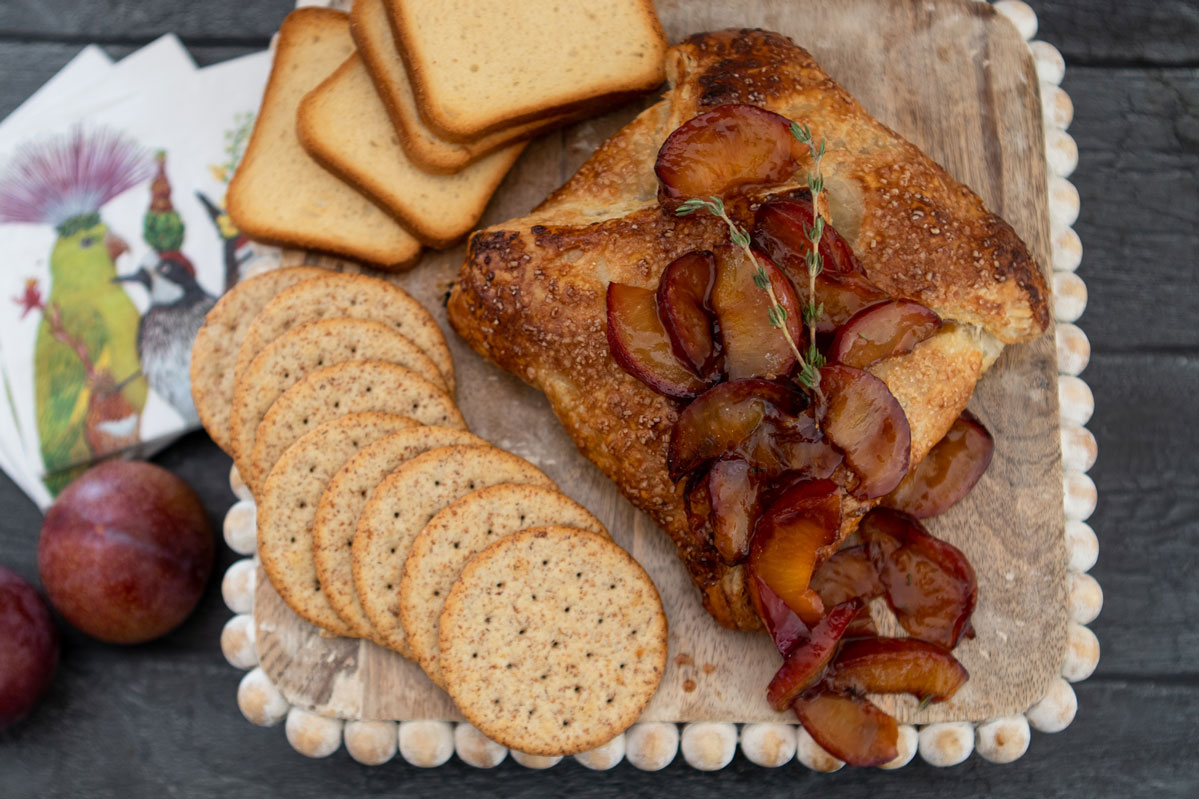 A simple, delicious and versatile appetizer is right here with Baked Brie with Caramelized 
Fruit. Creamy brie is paired with fig jam, wrapped in puff pastry and topped with roasted fruit slices.  It's versatile because you can use plums, apples or pears so it works in every season!  We love that, right?
If this recipe looks familiar, it's because I posted it a few years back, but my lovely friend Bett pointed out that it had disappeared from my site.  Yikes!  She was trying to share it with someone because it's just that good!
You might remember that I had some website glitches a while back and had to rebuild the site.  Turns out one of my favorite recipes vanished.  Poof!  So, here it is, but slightly updated.  Bett loves to make this with roasted apples as she's not a fan of plums.  I think pears would be awesome with this, not to mention how great peaches and nectarines could be.  So feel free to use any fruit you happen to love that's in season!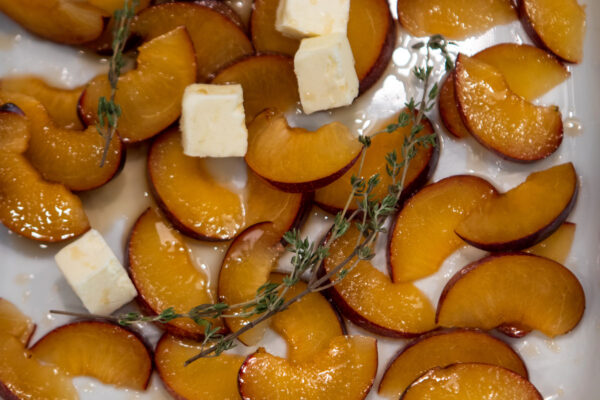 Begin by roasting the fruit.  I like to slice my fruit very thin (1/8-inch is perfect).  The slices will caramelize beautifully if they are thin.
Place them in a baking dish along with butter, maple syrup and some thyme sprigs.  Roast them in a hot oven for 20-25 minutes.
While the fruit is roasting, place the Brie wheel on thawed puff pastry.  Slice off the top rind so that the cheese will melt more easily.
Spread a heaping tablespoon of fig preserves over the top of the cheese and fold the corners of the puff pastry up over the cheese.  I dabbed a bit of the beaten egg under each flap of pastry so that it adheres.
Brush the egg over the top and sides of the packet, sprinkle with coarse sugar and pop it into the oven to bake for 20-25 minutes or until the pastry is nicely browned.
Spoon the fruit over the top, garnish with fresh thyme, if desired, and serve with crackers or bread.
Lastly, if you make Baked Brie with Caramelized Fruit, be sure to leave a comment and/or give this recipe a rating! Above all, I love to hear from you and always do my best to respond to each and every comment. And of course, if you do make this recipe, don't forget to tag me on 
Instagram
! Looking through the photos of recipes you all have made is one of my favorite things to do!
Baked Brie with Caramelized Fruit
Makes: 6-8 servings
Prep Time: 5 minutes
Bake Time: 40 minutes
Total Time: 45 minutes
Ingredients
4 plums, apples or pears, sliced

2 tbsp salted butter

3 tbsp real maple syrup

2 sprigs fresh thyme, plus more or serving

1 sheet frozen puff pastry, thawed

1 8-ounce wheel brie cheese

1 rounded tbsp fig jam/preserves

1 egg, beaten

Coarse sugar, for sprinkling 
Instructions
Preheat the oven to 425°F. 
In a medium baking dish, combine the fruit slices, butter, maple and thyme.  Transfer to the oven and roast for 20-25 minutes, until the plums caramelize. 
Meanwhile, lay the puff pastry flat on a parchment-lined baking sheet.  Please the brie in the center of the pastry and remove a little of the rind from the top of the brie.  I leave the rind on the bottom and sides intact.  Spread the fig jam over top of the brie and then fold the corners of the pastry over the brie.  Brush the pastry with beaten egg and sprinkle lightly with sugar.  Bake for 20-25 minutes or until the pastry is deep golden brown. 
To serve, spoon the caramelized fruit over the brie.  Top with fresh thyme..  Eat and enjoy with your favorite bread or crackers! 
Chef's Note: 
You can roast the fruit earlier in the day.  Just rewarm them before topping the brie with them.  I pop them in the same oven as the brie for about 5 minutes at the end of the cooking time.
Recipe adapted from Half Baked Harvest
Baked Brie with Caramelized Fruit