Beet Tzatziki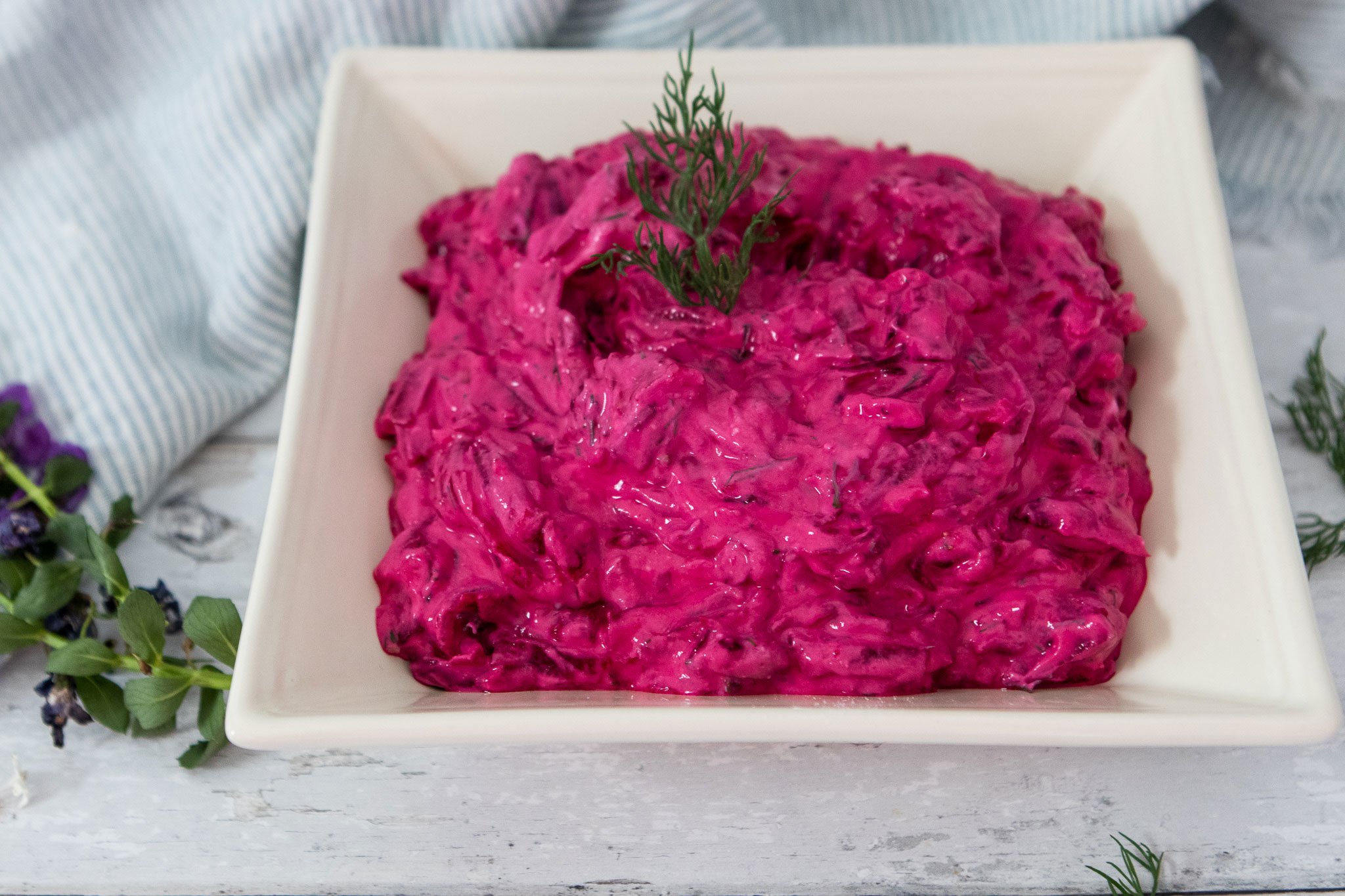 If you're looking for a shocking pink appetizer dip, then Beet Tzatziki is for you!  That's a bit of a joke…I know that it doesn't really cross your mind to look for a shocking pink anything, let alone a food.  But, if you want to create a gorgeous mezze platter, which I decided to do, I looked for a dip that had a bright color as well as a fantastic taste.  Poof!  Beet Tzatziki!
Now, I will admit that it strongly reminds me of something that I couldn't stand when I was little, beet borscht.  Not that I ever tried it, but my mom would make it and I'd turn a little green.  It started with the idea of beets, which weren't in my lexicon at that stage of my young life.  And it ended with a dollop of sour cream, which made me squeamish (still not a fave of mine).  And that color:  bright fuschia.  Not something I wanted to ingest.
But, I digress.  I am a grown person now with a mature palette.  Ha!  
I can now appreciate the wonderful color of this dip and the fun that it allowed me when constructing my Epic Mezze Platter.  But the taste!  Oh my…this is a keeper!  It's fresh, it's vibrant and the flavors of the roasted beets, garlic, lemon, dill and Greek yogurt meld together to make one heck of a dip!  Hopefully you love the color.  If not, try it anyway…you'll love the flavor!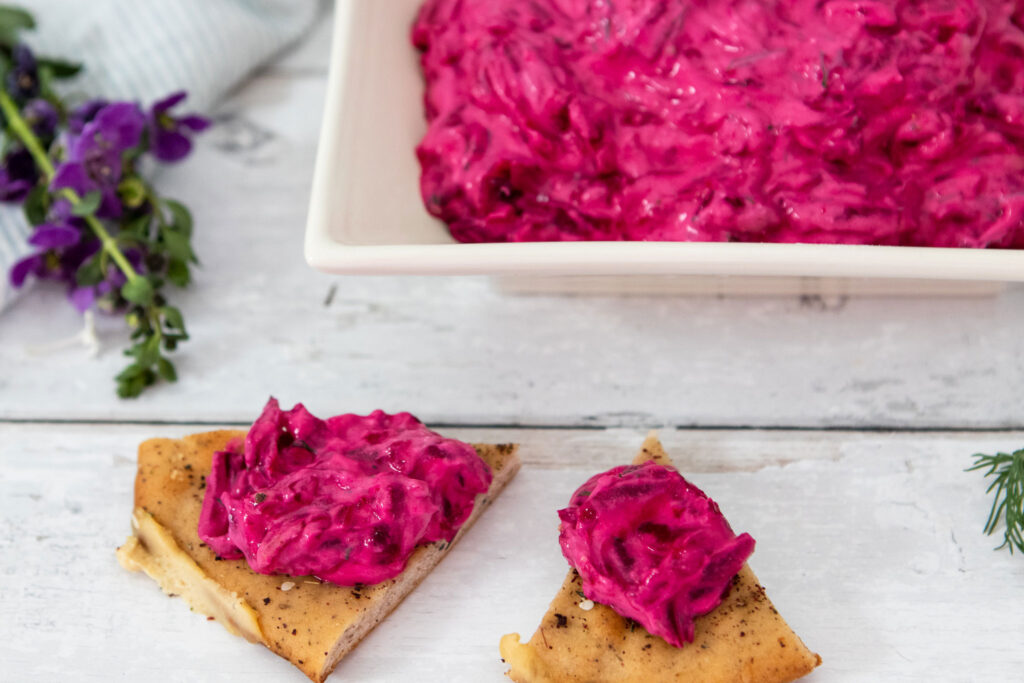 Lastly, if you make Beet Tzatziki, be sure to leave a comment and/or give this recipe a rating! Above all, I love to hear from you and always do my best to respond to each and every comment. And of course, if you do make this recipe, don't forget to tag me on 
Instagram
! Looking through the photos of recipes you all have made is one of my favorite things to do!
Makes: 2 cups
Prep Time: 10 minutes
Total Time: 10 minutes
Ingredients
1 pound beets roasted, peeled and cooled

4 garlic cloves finely chopped

2-3 tsp fresh lemon juice

2 cups thick low-fat Greek yogurt

1 tbsp finely chopped dill

Kosher salt and freshly cracked black pepper to taste

Radishes, Persian cucumbers, pea pods, endive, flat bread, baby cherry tomatoes and flabread for serving
Instructions
Grate the roasted beets on the large side of a grater and transfer to a large bowl.
Add the garlic, lemon juice, yogurt and dill and stir to combine. Taste and season with salt and pepper as needed. Feel free to add extra lemon juice if you want it more acidic. Serve as needed with crudité or flatbread.
Recipe from What's Gaby Cooking