Epic Mezze Platter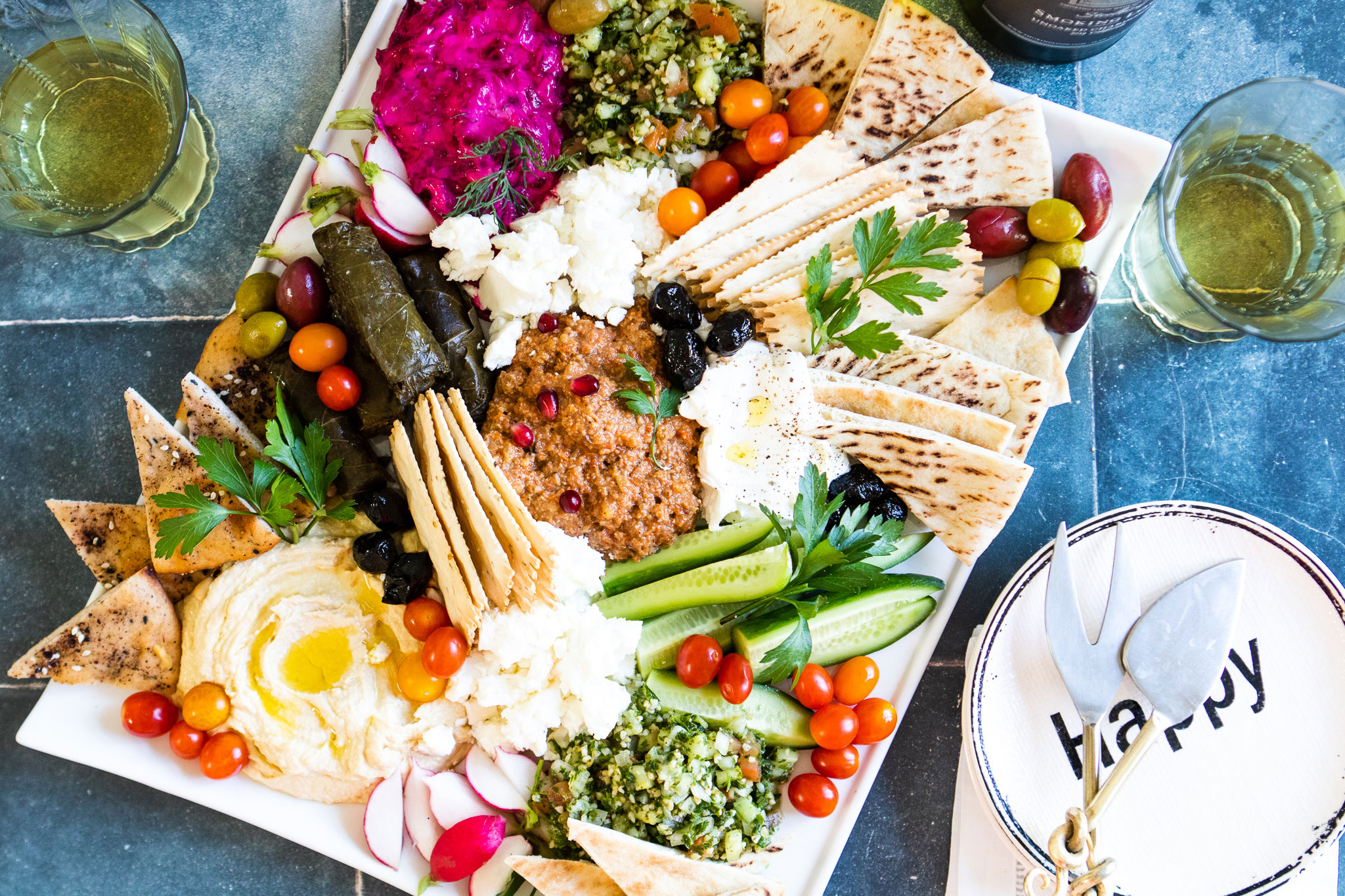 Charcuterie boards are all the craze but have you considered an Epic Mezze Platter?  If you'd like to try something a little different than cheese, meats & crackers, consider this fabulous board.
What exactly is a mezze platter?  Mezze means small, savory dishes served as appetizers or accompaniments to alcoholic drinks in Greek or Middle Eastern cuisine.  In Muslim communities, it's not generally served with alcohol but as a full meal, combining hot and cold dishes.
I love to sit around with friends enjoying cocktails and nibbles and this platter is ideal in that the nibbles aren't typical and are conversation-worthy!  For example, the color of the beet tzatziki on the platter.  Or the Muhammara ("what's that", you might ask over a gin fizz).  See, so much to talk about!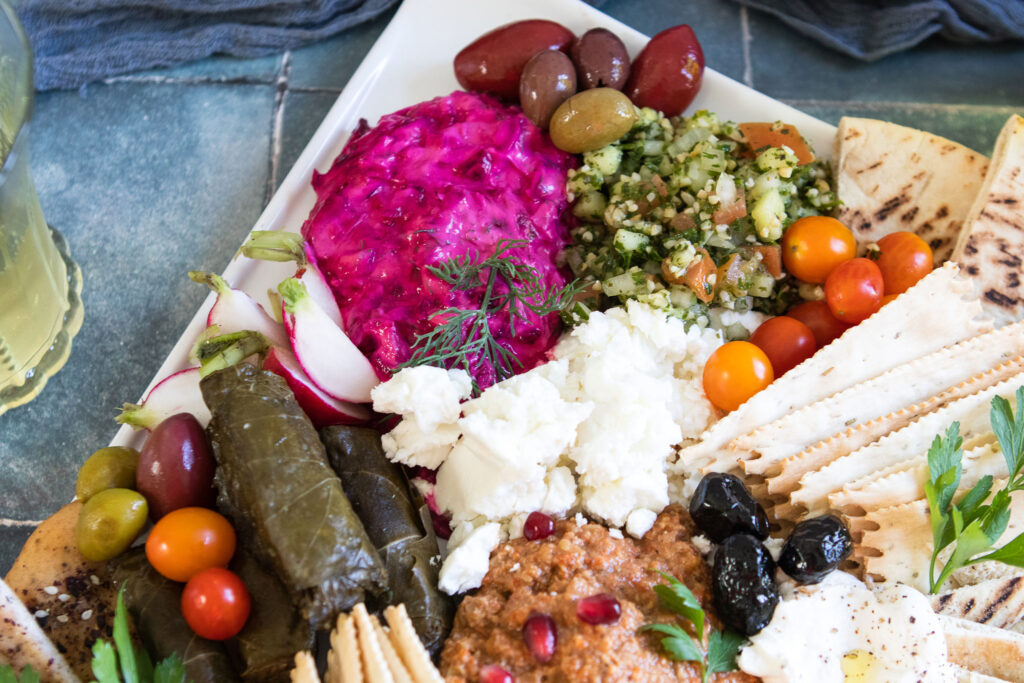 Setting up a platter takes a tiny bit of thought, but I'm here to think for you, so if you simply follow along, you'll be golden!
Start with your major items, dips and cheese.  On my platter, I have Beet Tzatziki, Homemade Hummus, Muhammara, labneh and chunks of feta.  These are the bigger items so they get placed first.  The rest gets built around them.  Space those items out around the platter, leaving space in between. Time-saving Hack:  buy dips from the store.  If you're pressed for time, it's perfectly cool to buy dips.  I'd try to find a Middle Eastern bakery or deli to pick up some authentic dips, but grocery-store dips will also work in a pinch.
Once you've got those items spaced around, place the cucumbers, radishes and tomatoes around the dips.  Then, position the grape leaves and tabbouleh (if using) on the outside of the platter.  Fit your crackers and pita bread into the remaining spaces.  Sprinkle olives around the top, again filling empty spaces.  The finishing touch is a sprinkle of fresh herbs, a drizzle of olive oil on the labneh and the hummus and you are ready to serve it up!
Lastly, if you make Epic Mezze Platter, be sure to leave a comment and/or give this recipe a rating! Above all, I love to hear from you and always do my best to respond to each and every comment. And of course, if you do make this recipe, don't forget to tag me on 
Instagram
! Looking through the photos of recipes you all have made is one of my favorite things to do!
Makes: 4-6 servings
Prep Time: 15 minutes
Total Time: 15 minutes
Ingredients
1/2 cup labneh

1 small block feta cheese, cubed

6 – 8 mini cucumbers, sliced into sticks

10 small radishes, quartered

1 cup grape tomatoes

8 ounces olives (use whatever is your favorite!)

8 store bought grape leaves

Store-bought tabbouleh, optional

4 – 6 pita bread rounds

or

Chickpea Flatbreads

fresh herbs, optional
Instructions
If making homemade dips, prepare according to directions.
On a large serving platter, use a large spoon to drop the hummus, muhammara, tzatiziki, and labneh into separate rounds throughout the board so that you're creating negative space to nestle your other ingredients in. I also like to place the feta now as it is another large item.
Slice up your veggies and arrange them around the dips.
If using grape leaves or a prepared salad, position on the easily accessible edges of the mezze board.
Place your pita bread or crackers into the remaining empty spots. Last fit the olives into any remaining spots.
If desired, top with fresh mint, parsley, and cilantro to add some extra flavor! Devour! If you don't finish your mezze board, you can wrap it in plastic wrap and place in the fridge for up to 5 days!
Chef's Notes:
Mezze platters are super customizable, so feel free to use whatever veggies, scooping vessels and dips you prefer!
If you're feeling lazy, you can always buy your dips from a local restaurant or the grocery store. 
Recipe from Broma Bakery