Garden Vegetable Latkes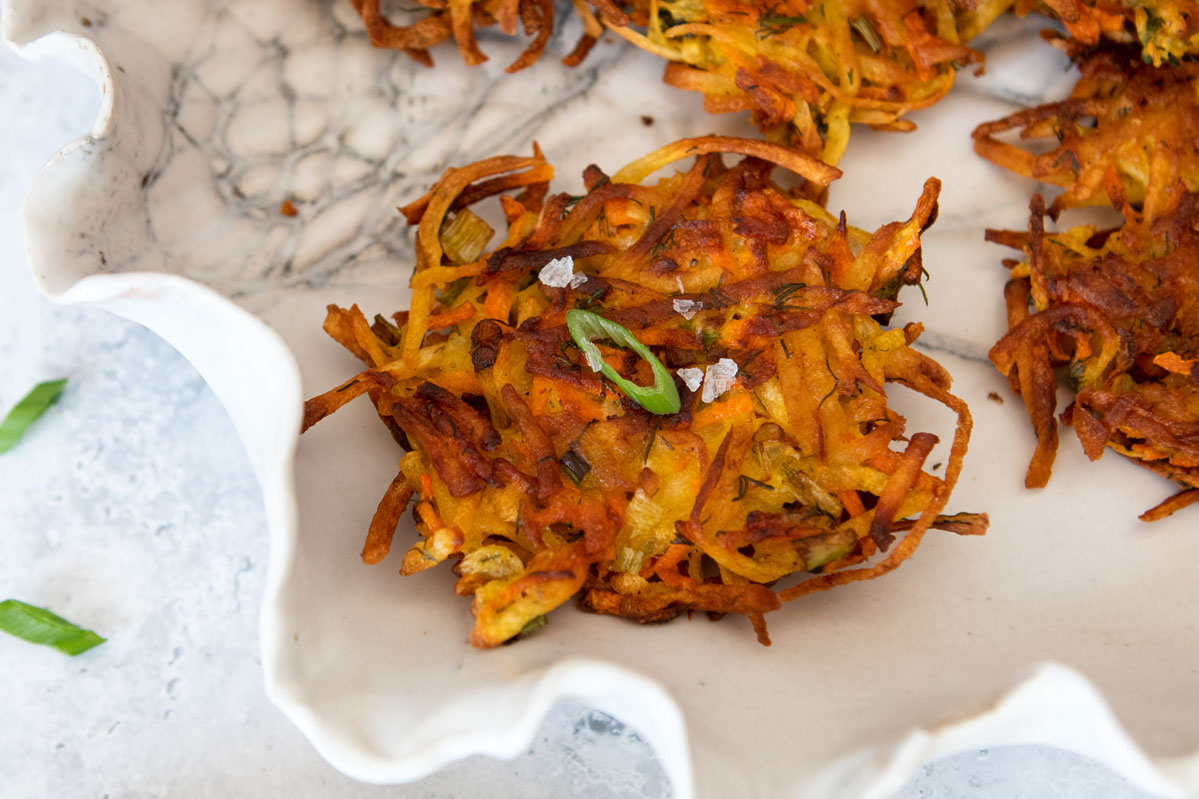 Garden Vegetable Latkes are a lovely way to change up the traditional potato latke.  Made with potatoes, carrots and parsnips, they quickly transform a classic into a crunchy, uniquely-flavored sensation!  This could be your new favorite!
The parsnips and carrots give these pancakes a sweeter flavor and the addition of dill and green onions gives them a fresh, herby flavor.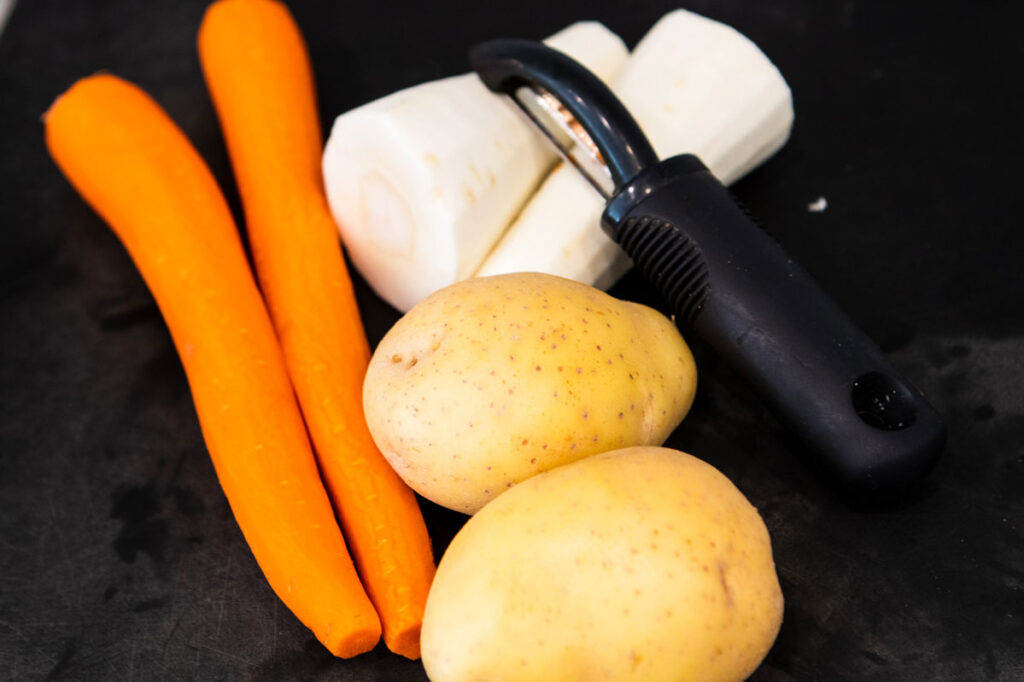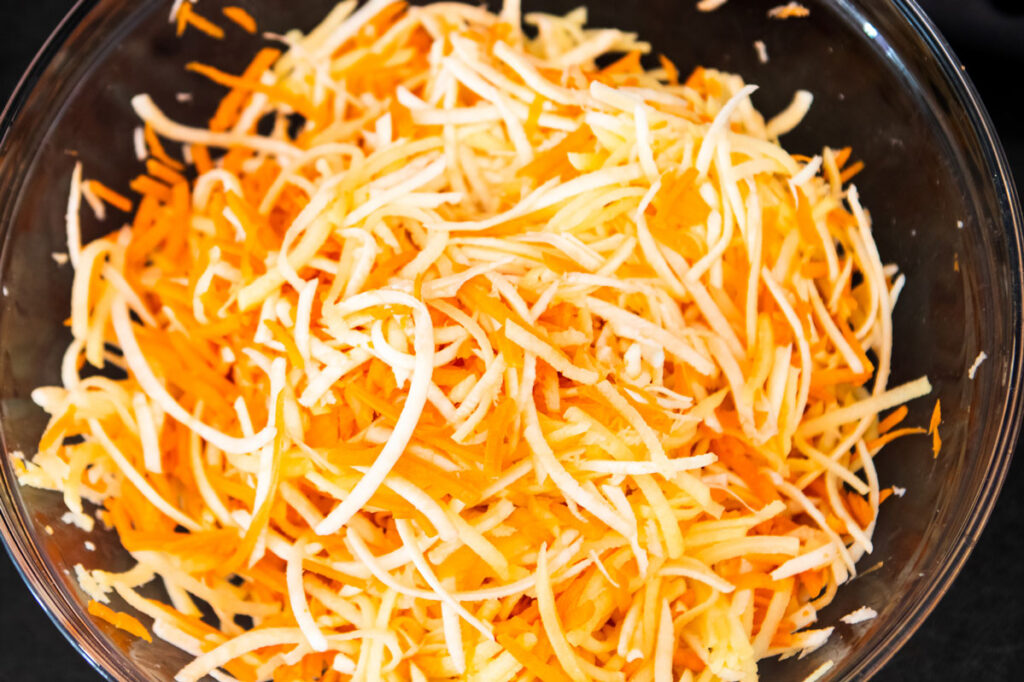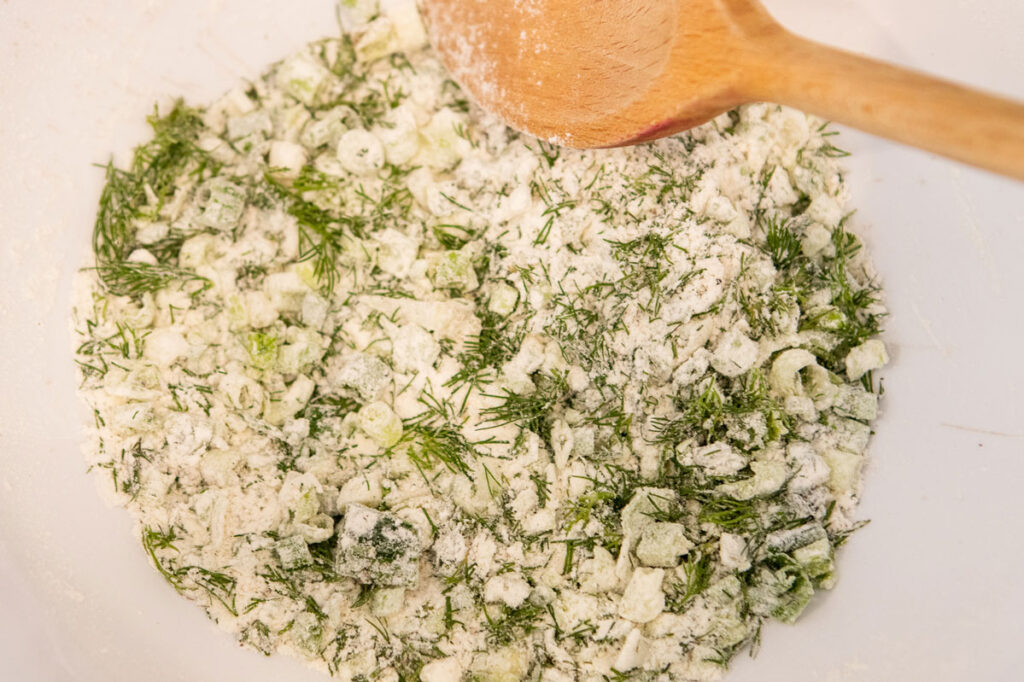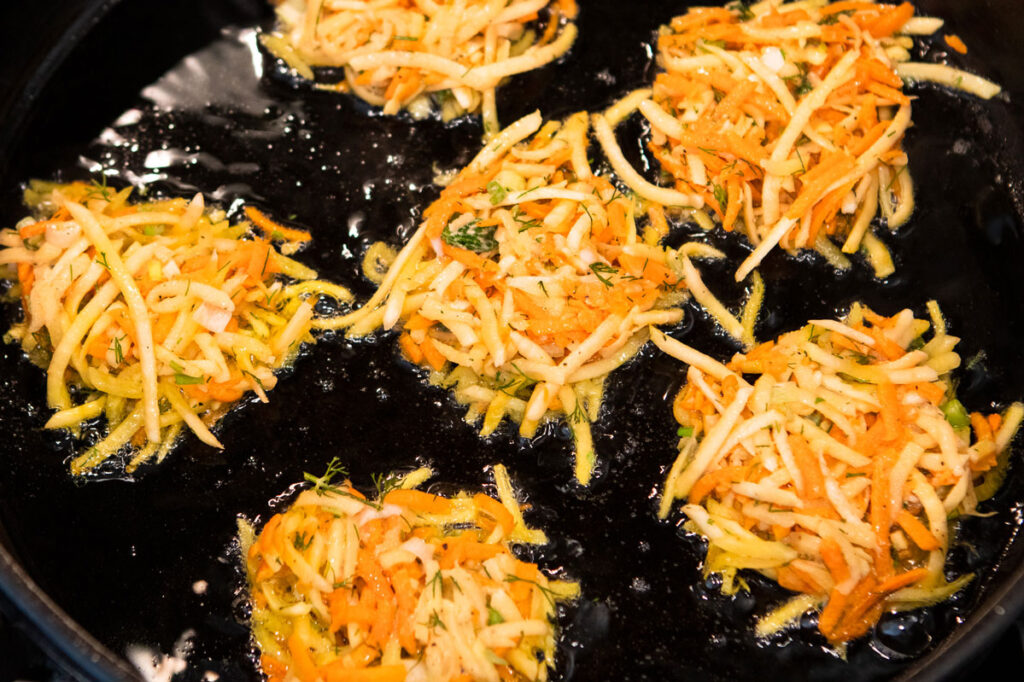 Use a food processor to grate the potatoes, carrots, and parsnips.  You'll want to roll the grated veggies in a dish towel to remove any excess moisture.  Roll them tight!
In a separate bowl, combine the flour, dill, onion, salt, and pepper and then add the grated vegetables.  Add the beaten eggs and combine.
Heat the oil in a frypan (or see my instructions in the Classic Potato Latkes post for alternatives to making the latkes indoors).  Once nice and hot, drop heaping tablespoons of batter into the oil and fry until brown, about 3 minutes per side.
These latkes don't really need any topping like sour cream or apple sauce, but if I had to choose, I'd go with Chunky 15 -Minute Apple Sauce!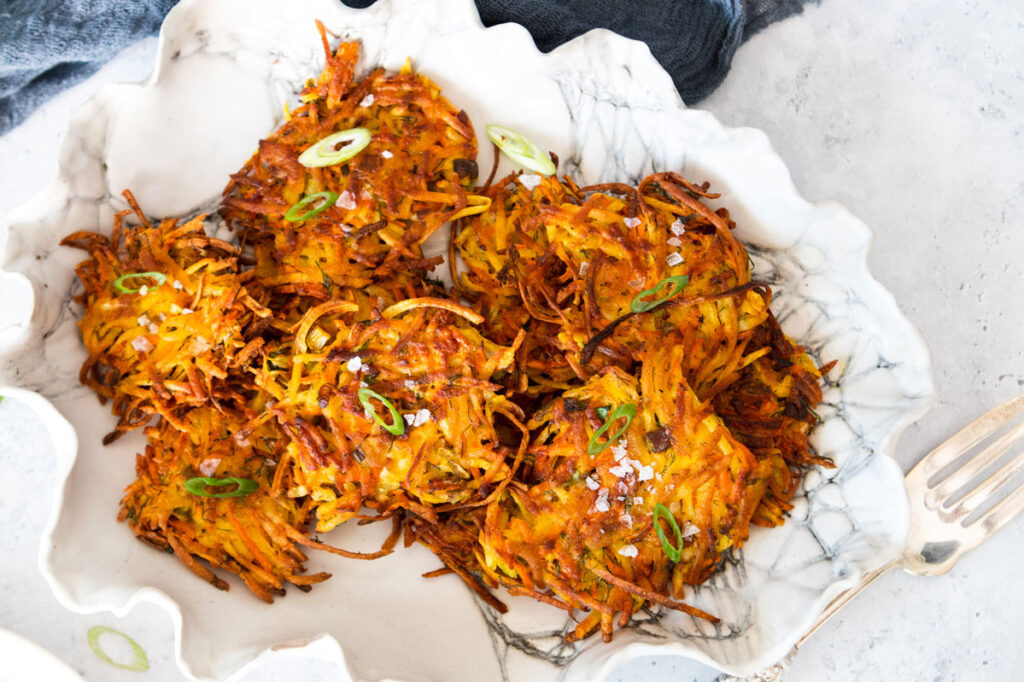 Lastly, if you make Garden Vegetable Latkes, be sure to leave a comment and/or give this recipe a rating! Above all, I love to hear from you and always do my best to respond to each and every comment. And of course, if you do make this recipe, don't forget to tag me on 
Instagram
! Looking through the photos of recipes you all have made is one of my favorite things to do!
Makes: 12 latkes
Prep Time: 10 minutes
Cook Time: 20 minutes
Total Time: 30 minutes
Ingredients
8 ounces Yukon Gold potatoes, peeled, cut into 1-inch pieces

8 ounces carrots (about 2 large), peeled, cut into 1-inch pieces

8 ounces parsnips (about 2 large), peeled, cut into 1-inch pieces

1/4 cup all-purpose flour

1/4 cup fresh dill

1/4 cup chopped green onions

1/2 tsp kosher salt

1/2 tsp freshly ground pepper

2 large eggs, beaten to blend

10 tbsp (approximately) vegetable oil
Instructions
Preheat oven to 325°F. Place baking sheet in oven (see Chef's Note below).
Using food processor fitted with medium grating disk, shred potatoes, carrots and parsnips. Place towel on work surface. Spread vegetables over. Roll up towel; squeeze tightly to absorb moisture from vegetables.
Blend flour, dill, onions, salt, and pepper in large bowl. Add vegetables; toss to coat. Mix in eggs.
Heat 6 tablespoons oil in large skillet over medium heat. Working in batches, drop 2 heaping tablespoons batter per pancake into hot oil. Using spoon, spread to 4-inch rounds. Cook until brown, about 3 minutes per side. Transfer to sheet in oven. Repeat with remaining batter, adding more oil to skillet by tablespoons as necessary. Serve hot!
Chef's Note:
I line the baking sheet that's in the oven with paper towel. I hesitate to mention this as I don't want any fires to start, but I've never had that happen and it helps to absorb excess oil.
Recipe by Epicurious