Butternut Squash Purée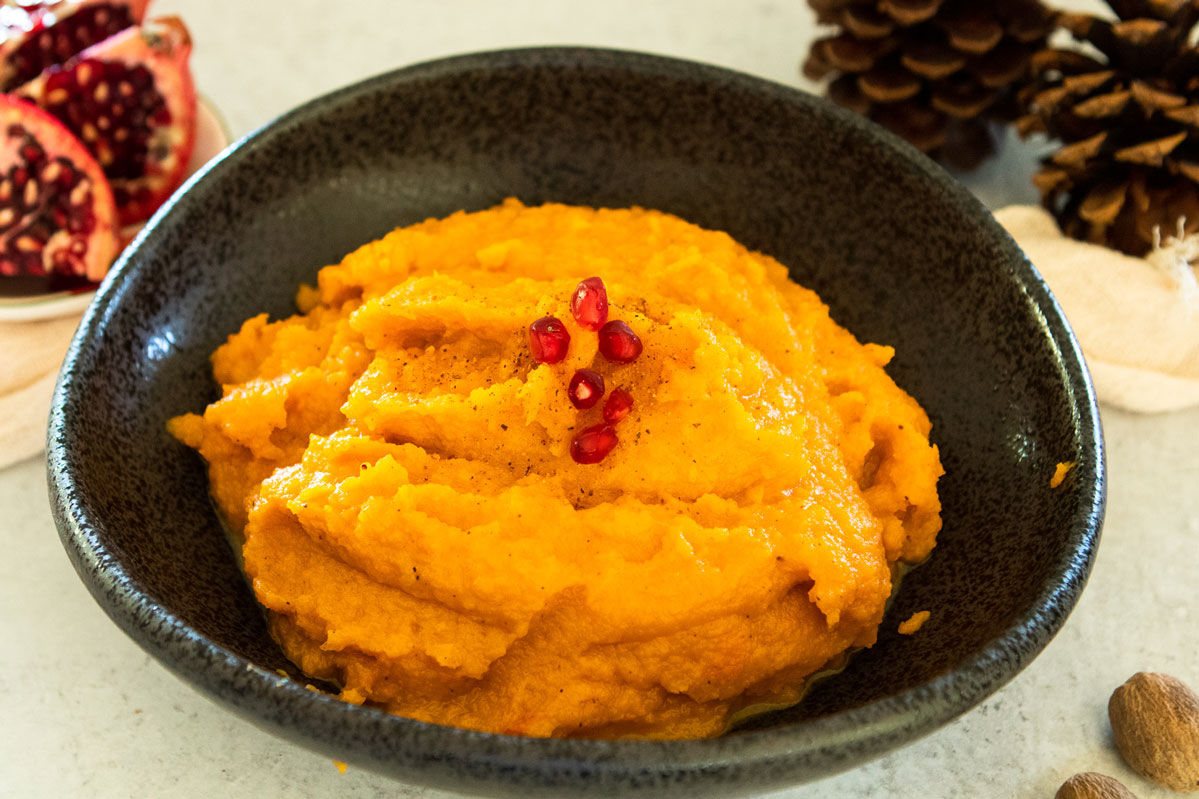 With all the winter squash available now, you have to make this Butternut Squash Purée.  I advise you to not think baby food, but instead think mashed potatoes made from butternut squash.  Ok?  
This is a very delicious addition to any Thanksgiving meal or winter dinner.  Butternut squash is hearty and healthy, and looks so pretty.  Especially if you sprinkle some crunchy sweet pomegranate seeds on top!
I love the flavor imported with adding brown sugar, cinnamon & nutmeg.  Definitely an autumnal experience!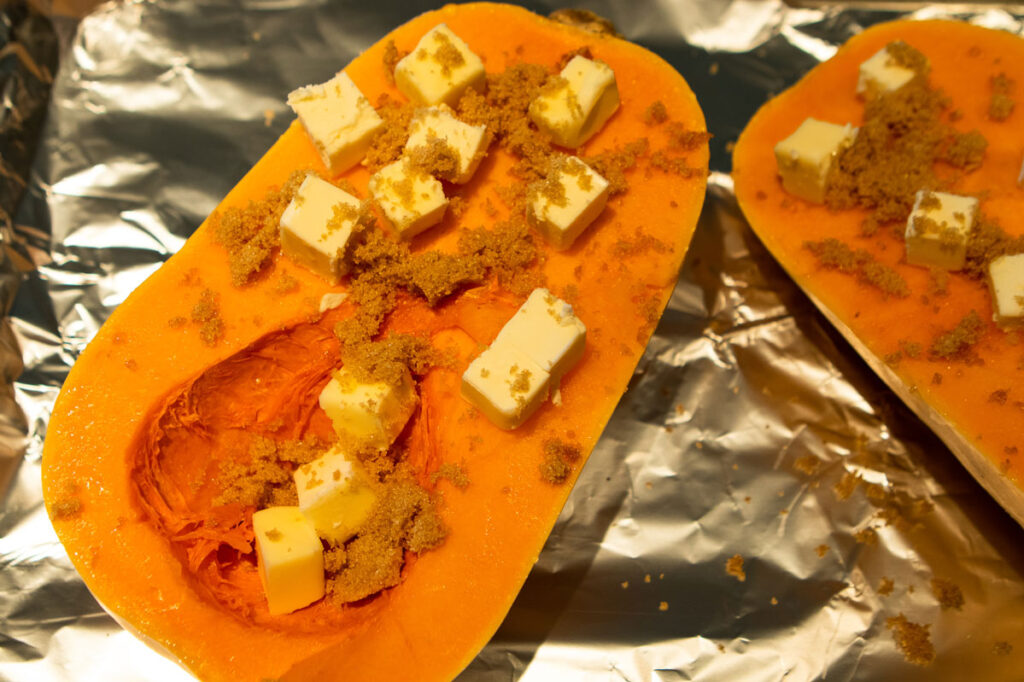 We begin by roasting the squash.  Cut it in half carefully and scoop out the seeds.  Place it on a sheet pan and sprinkle disced butter and brown sugar over the flesh.  Roast it for an hour or so.  You want the sqush to be soft enough to pierce it easily with a knife.  the liquid on the top of each half that is comprised of butter and brown sugar is an important part of the mash, so don't discard that!  You'll be sorry!
Remove the squash and let it cool for a bit.  Scoop out the flesh and liquid and put it in a food processor or blender.  Add your spices and pulse until you get a creamy consistency.
If you'd like, you can add some butter to the top and let it melt over the mash; pomegranate seeds also add a lovely texture and color.
This recipe can be used in the Butternut Squash Bread being featured in another post.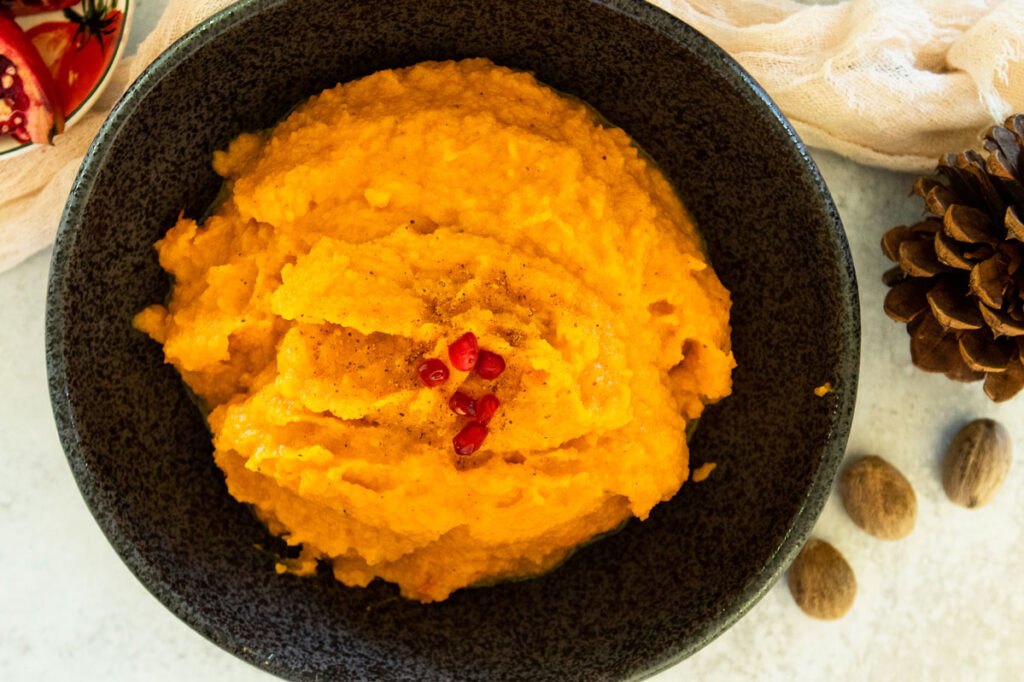 Lastly, if you make Butternut Squash Purée, be sure to leave a comment and/or give this recipe a rating! Above all, I love to hear from you and always do my best to respond to each and every comment. And of course, if you do make this recipe, don't forget to tag me on 
Instagram
! Looking through the photos of recipes you all have made is one of my favorite things to do!
Makes: 3 cups
Prep Time: 5 minutes
Bake Time: 1 hour
Total Time: 1 hour & 5 minutes
Ingredients
1 large butternut squash

6 tbsps unsalted butter; diced

2 tbsps brown sugar

1/2 tsp ground cinnamon

1/4 tsp ground nutmeg

1/4 teaspoon kosher salt
Instructions
Preheat oven to 350°F. Slice the butternut squash in half lengthwise; scoop out and toss the seeds. Place the halves flesh-side-up on a foil-lined baking sheet. Sprinkle the diced butter and brown sugar evenly on both halves. Roast for 45-60 minutes or until the butternut squash can easily be pierced with a knife. A liquid mixture of butter and brown sugar will form in the wells of the squash, make sure you include this deliciousness with the purée.
Remove squash from the oven; allow to cool for about 10 minutes. Scoop out the flesh and liquid and place into your food processor or blender.
Add the cinnamon, nutmeg and salt; pulse until you reach a creamy consistency.
If you are serving this delicious puree as a simple side dish, adjust the seasoning to your taste and toss in a couple more tablespoons of unsalted butter. If you are using it for Butternut Squash Bread, leave the puree as written.
Recipe by My Baking Addiction