Cauliflower Gnocchi with Sausage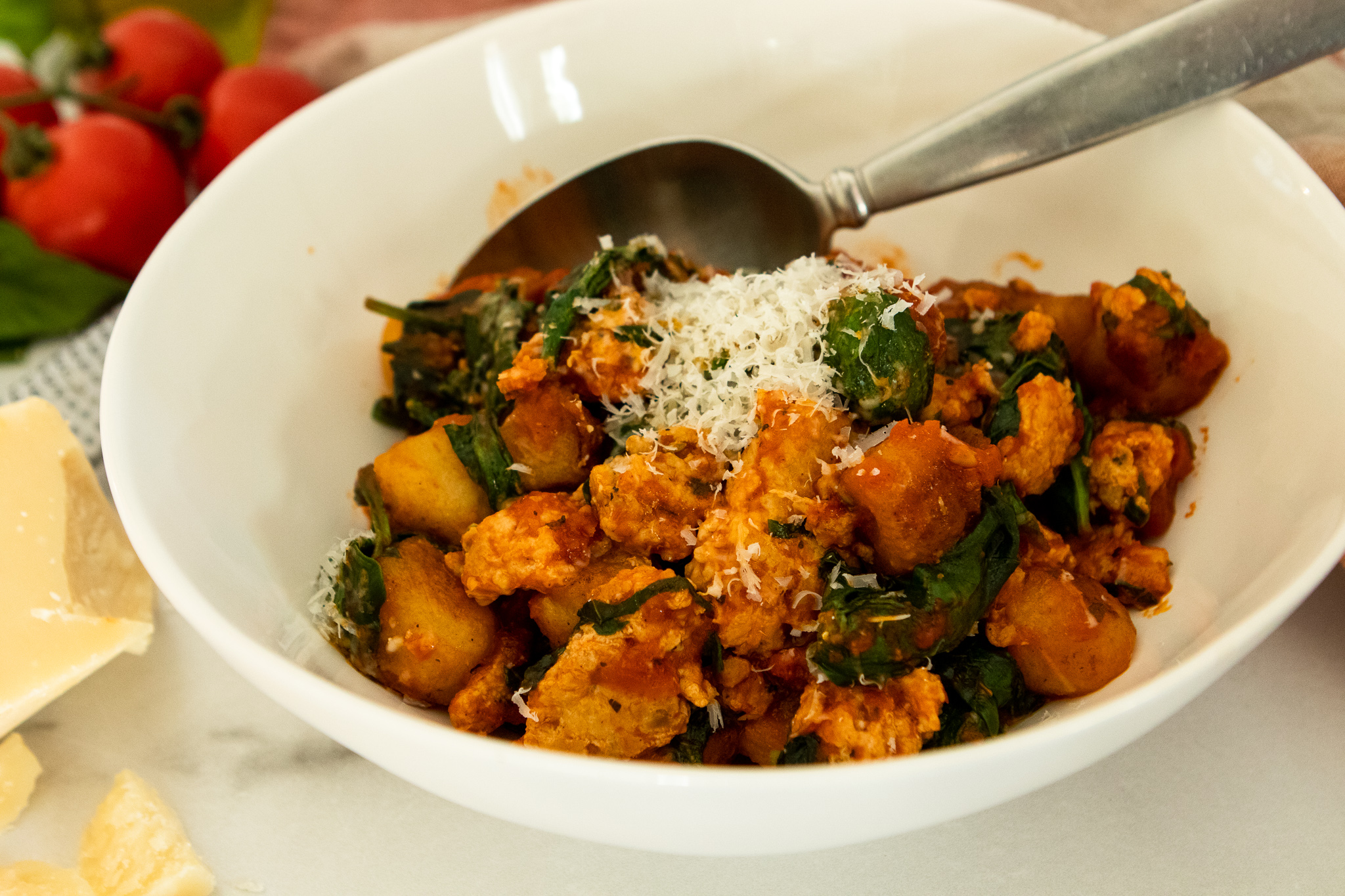 Have y'all tried Trader Joe's Cauliflower Gnocchi? I don't get paid for saying for this, but I must tell you that these are amazing! When you want to keep it healthy, these gnocchi, when cooked properly, are like eating the real thing.
Pair the gnocchi with spicy sausage, Marinara sauce, baby spinach, and fresh basil and it will seem like a meal that took a lot longer to prepare than 20 minutes!
One important key to the gnocchi is cooking them properly. I must admit that the first time I made them I thought "what's the big deal?" because they were mushy and tasteless. When I read this recipe and realized how they really need to be cooked, I figured I'd try them one more time.
The trick here is to let the gnocchi fry undisturbed for 2-3 minutes. The gnocchi will "unstick" themselves when they are ready. Otherwise, you'll have the same first experience that I had, and we wouldn't want that for you!!!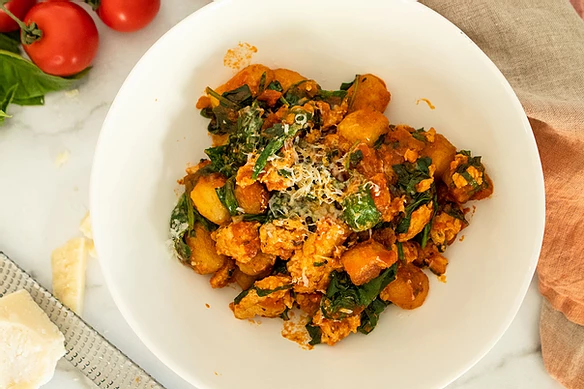 Lastly, if you make Cauliflower Gnocchi with Sausage, be sure to leave a review down below at the bottom of this page (stars are also appreciated)! Above all, I love to hear from you and always do my best to respond to each and every review. And of course, if you do make this recipe, don't forget to tag me on 
Instagram
! Looking through the photos of recipes you all have made is one of my favorite things to do!
Cauliflower Gnocchi with Sausage
Makes: 2 servings
Prep Time: 5 minutes
Cook Time: 15 minutes
Total Time: 20 minutes
Ingredients
2 tbsp extra virgin olive oil

2 uncooked, sweet or hot Italian sausage links

1 bag frozen Trader Joe's Cauliflower Gnocchi

1 tbsp ghee (or butter)

1/2 cup marinara sauce

1 & 1/2 cups baby spinach (or just a big handful)

3 tbsp fresh basil, cut into thin ribbons

1/4 cup shredded parmesan cheese, or more to taste

Kosher salt, to taste
Instructions
Heat 2 tablespoons olive oil over medium high heat in a non-stick skillet. Add the sausage links and cook until cooked through and golden brown, about 4 minutes per side. Transfer to a cutting board.
Add the frozen gnocchi to the same skillet and spread so that it is in a single layer. Let the gnocchi sauté, undisturbed, until golden brown on the bottom, 2-3 mins. Flip using a large spatula and add 1-2 tablespoons water. Continue to sauté, shaking the skillet every minute or so, until golden brown all over. *Do not attempt to flip the gnocchi for the first time until they are seared and golden brown on the bottom. The gnocchi will "unstick" themselves from the skillet when they're ready to be flipped.
Cut up the cooked sausage into bite sized pieces and add back into the skillet with the gnocchi. Add the butter and marinara and shake the skillet to combine. Add the spinach and basil and toss until the spinach is just wilted, 2-3 mins. Serve immediately and enjoy!
Recipe from The Defined Dish
Cauliflower Gnocchi with Sausage