Coconut Apricot Granola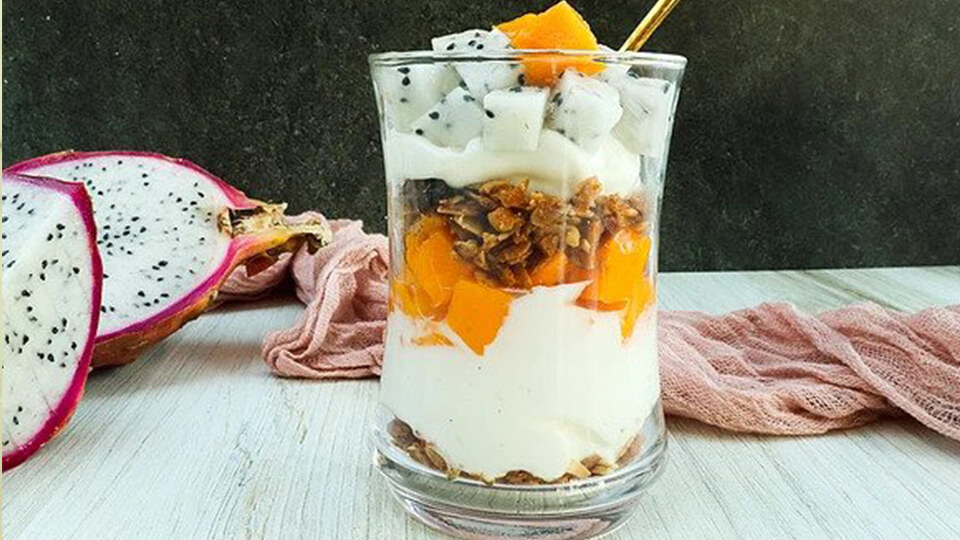 I recently posted a photo on Instagram that featured the lovely Dragonfruit, extolling it's anti-oxidant properties and delicious taste.  As an aside, I mentioned the Coconut Apricot Granola that was in the yogurt parfait shown in the pic.  I got so much interest in the recipe for the granola that I decided to include it in the blog. ​
This recipe just works…the combination of oats, maple syrup, brown sugar and cinnamon create a perfect base for the add-ons.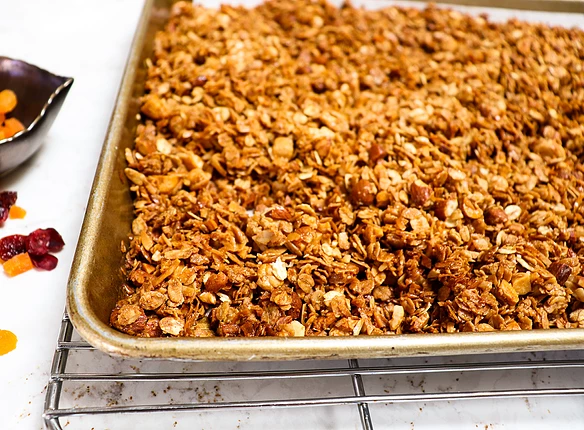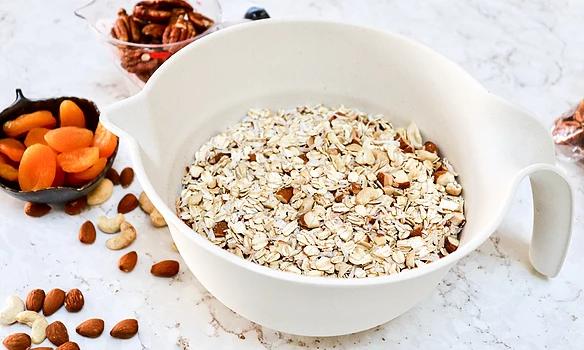 For the additional flavors and textures, I chose coconut, apricots, almonds and cranberries, but this is a very adaptable recipe.  If you don't like one of those ingredients, choose something you prefer.  Chocolate chips, raisins, pecans…the sky's the limit when it comes to this delicious granola!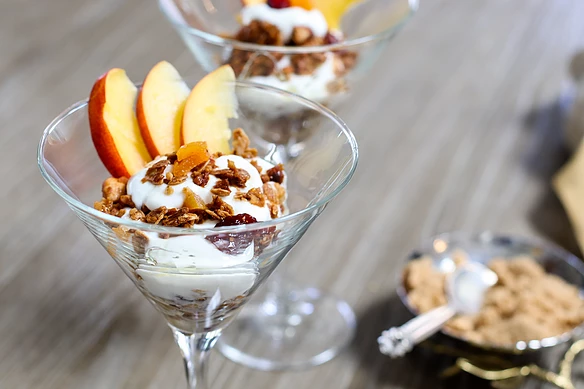 Lastly, if you make Coconut Apricot Granola, be sure to leave a comment and/or give this recipe a rating! Above all, I love to hear from you and always do my best to respond to each and every comment. And of course, if you do make this recipe, don't forget to tag me on 
Instagram
! Looking through the photos of recipes you all have made is one of my favorite things to do!
Makes: 6 cups
Prep Time: 15 minutes
Bake Time: 30 minutes
Total Time: 45 minutes
Ingredients
1/3 cup unsalted butter, melted

1 & 1/2 tsp pure vanilla extract

1/4 tsp salt

4 cups traditional rolled oats (not quick-cooking)

1/3 cup loosely packed brown sugar

2 tsp cinnamon

1/2 cup maple syrup

1/2 cup flaked coconut

1/2 cup almonds, coarsely chopped

1/2 cup dried apricots, chopped into small pieces

1/2 cup dried cranberries
Instructions
Preheat the oven to 300°F. Line a baking sheet with parchment paper.
In a small bowl, combine the melted butter, vanilla and salt. In a large bowl combine the oats, brown sugar, cinnamon and maple syrup. Add the coconut and almonds.
Drizzle the melted butter mixture over the oat mixture and stir to fully combine all the ingredients.
Spread the granola on the lined baking sheet. Bake for 30 to 35 minutes, stirring with a spatula a few times, until the oats are lightly golden. Remove from the oven.
Add the apricots and cranberries, and stir to combine. Allow the granola to cool completely on the baking sheet. The granola can be stored in an airtight container at room temperature for up to 3 weeks.
Chef's Note:
This recipe is naturally gluten-free. It is also a very forgiving recipe so feel free to add whatever makes you happy: chocolate chips, banana chips, hazelnuts, etc.
Download PDF