Char Siu (Chinese BBQ Pork)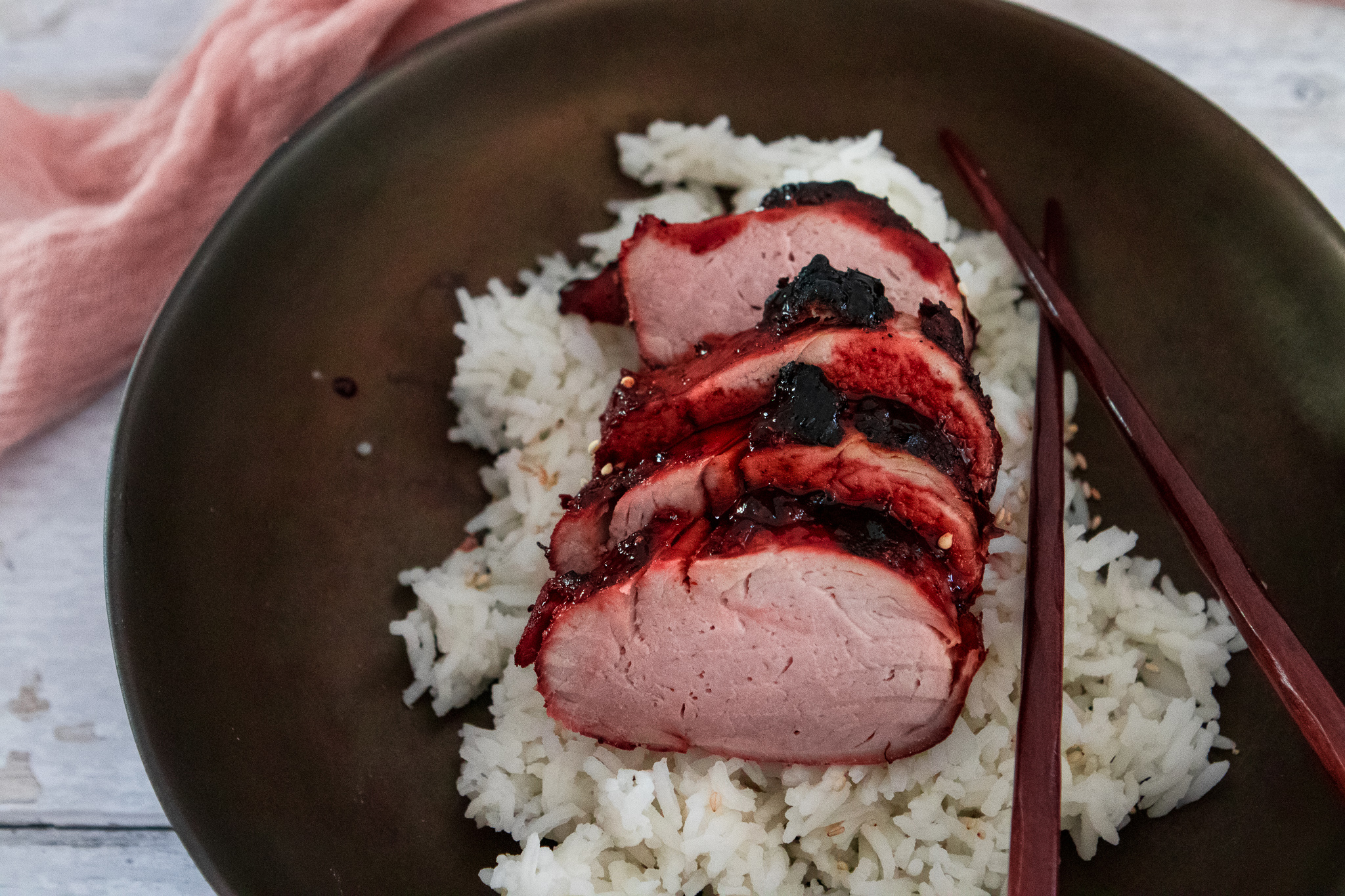 Char Siu, or Chinese barbecue pork, is something I grew up on.  Every Sunday night the entire immediate and extended family would  venture down to Chinatown in Toronto and feast on unbelievable Chinese food, including Char Siu.
Our parents were wise in that they'd reserve two tables, one for them and the second for all of us children (I think I sat at the children's table until I had children of my own).  No one complained as we had our siblings and cousins to have fun with and they had the adults to laugh and visit with.  It was a perfect arrangement.
And, then we'd start ordering food…we could order for our table and it always included sticky bones (a honey-garlic pork rib), char siu and an assortment of other amazing specialties.E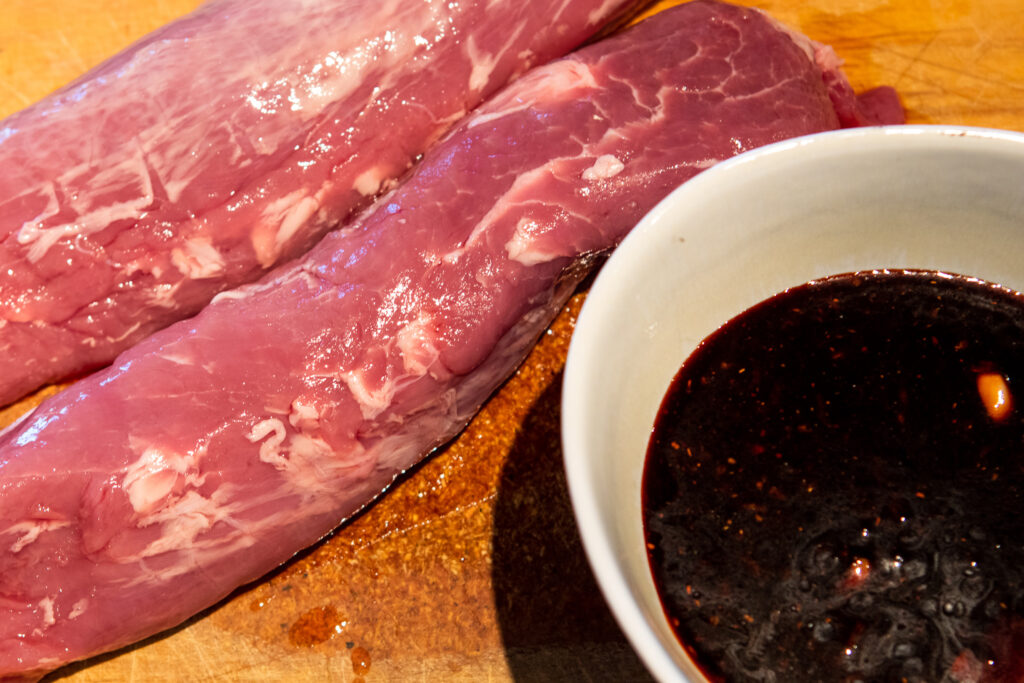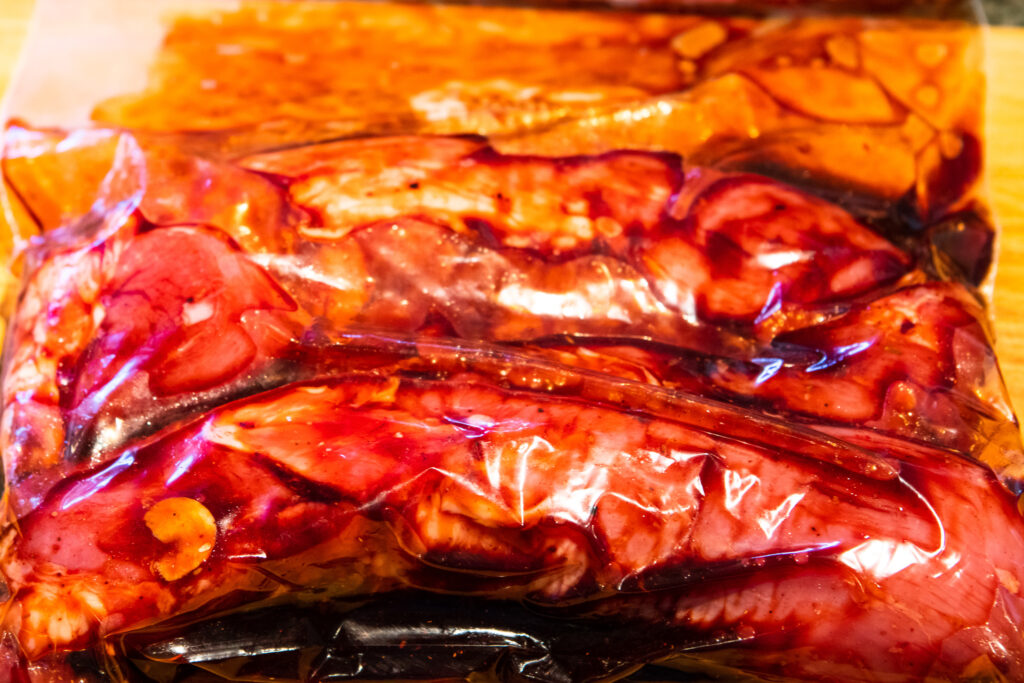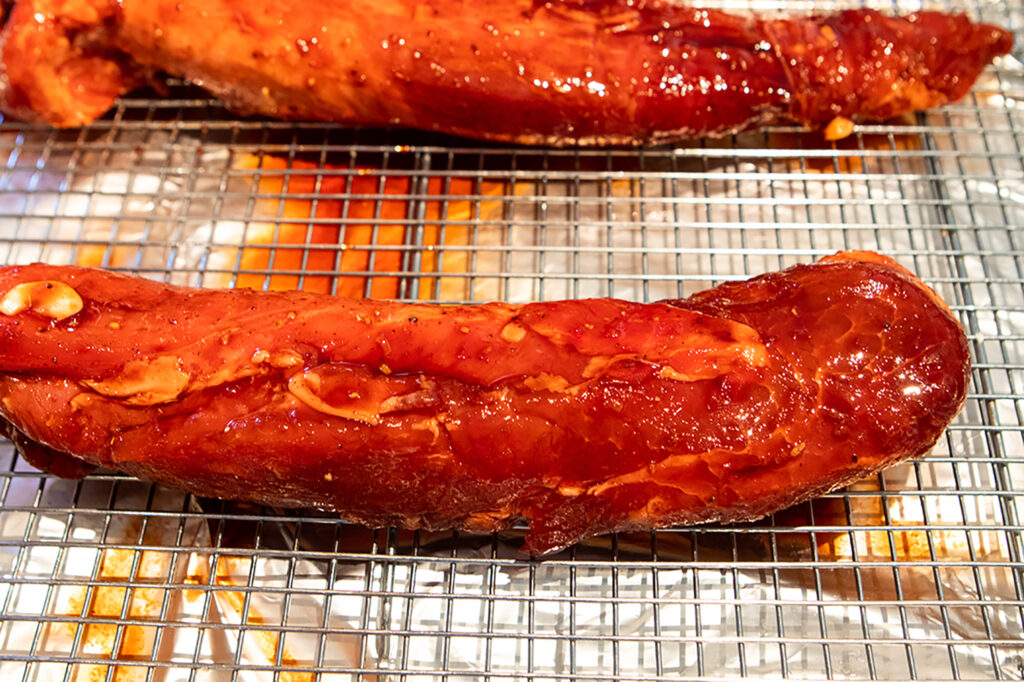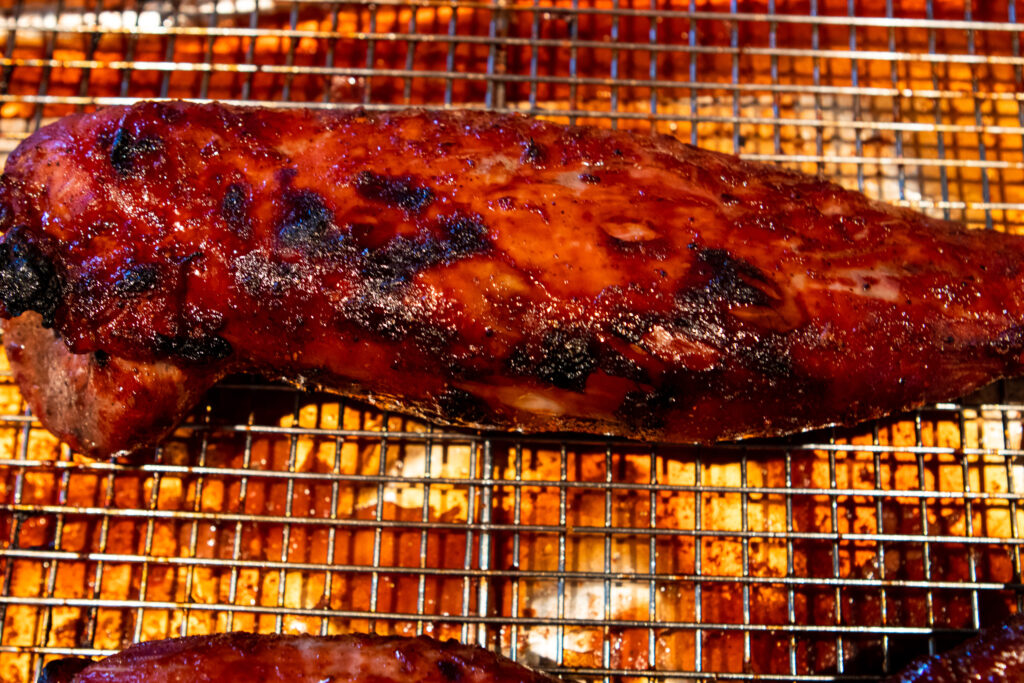 For some reason, I expected char siu to be a difficult dish to make, but I've been exploring recipes that allow me to make authentic Chinese food at home, and when I came upon this recipe, I realized it really isn't a challenge.  
A little patience is all that you need, because the pork tenderloin needs to marinate for a while, preferably overnight.  Once you start roasting the pork, all you have to do is dab the glaze on every so often.  That's about it.  Like I said, it's not a difficult recipe at all!
One ingredient that I wasn't familiar with is maltose.  While it isn't absolutely necessary (you can use honey to get the same flavor), it will give the pork a beautiful lacquered finish.  It can be bought online here or at a local Chinese grocery.
Serve this as a main course over rice, as an appetizer like we got in Chinatown, or mixed with fried rice.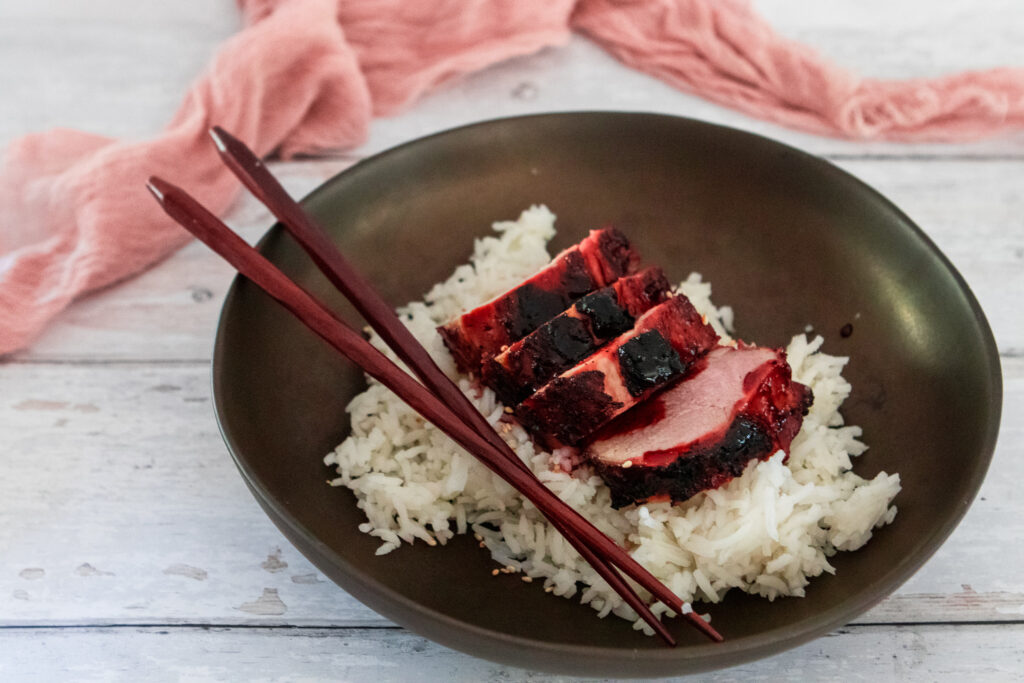 Lastly, if you make Char Siu (Chinese BBQ Pork), be sure to leave a comment and/or give this recipe a rating! Above all, I love to hear from you and always do my best to respond to each and every comment. And of course, if you do make this recipe, don't forget to tag me on 
Instagram
! Looking through the photos of recipes you all have made is one of my favorite things to do!
Char Siu (Chinese BBQ Pork)
Makes: 8 servings
Prep Time: 20 minutes
Cook Time: 30 minutes
Total Time: 50 minutes plus marinade time 12 hours
Ingredients
2 to 2.5 lbs (1 kg) pork tenderloin (or pork loin)
Sauce:
1/4 cup soy sauce

1/4 cup Shaoxing wine (or dry sherry)

1/4 cup hoisin sauce

1/4 cup oyster sauce

1/4 cup sugar

2 tbsp molasses

2 tsp garlic , grated

1 tsp five spice powder

3/4 tsp Kosher salt

10 drops red food coloring, optional

2 tbsp maltose (or honey)
Instructions
If you're using pork loin, cut the pork along the grain, into 2 strips about 2" (6 cm) wide and 1"(3 cm) thick. Skip this step if using tenderloin.
Prepare the marinade and the glaze the day before you cook.
Marinade:
In a large bowl combine the soy sauce, hoisin sauce, oyster sauce, Shaoxing wine, sugar, molasses, garlic, five spice powder, salt, and food coloring (if using). Stir to mix well.
Transfer the pork into a large ziplock bag. Pour 1/2 cup of the mixed sauce into the bag. Squeeze out as much air as possible and seal the bag. Massage the bag a few times so the pork pieces are covered evenly with the sauce. Transfer to the fridge and marinate overnight (highly recommended), or for at least 6 hours.
Prepare the Glaze:
Microwave the maltose for 20 seconds or so, until the top loosens. Do NOT touch the maltose with your fingers. It's very hot once it's heated. Grease your tablespoon with a thin layer of oil.
Transfer 2 tablespoons of maltose into a small saucepan. The oil coating on the spoon will help the maltose to fall into the pan without stuck on the spoon.
Add the rest of the sauce into the same pan. Heat over medium heat and stir frequently to melt the maltose, until brought to a simmer. Turn to medium low heat. Cook for 5 minutes to thicken the sauce slightly.
Once done, let the sauce cool for at least 10 minutes. Carefully transfer the sauce into a heat-proof mason jar or container. Let cool for another 10 to 15 minutes. Cover and transfer into the fridge. The sauce will continue to thicken once chilled.
Roasting:
When the pork is marinated and the glaze is chilled, you're ready to cook.
Preheat the oven to 450°F. Line a large baking tray with aluminum foil and add 1/4 inch water. Place a grilling rack on top. (Alternatively, you can grill the pork as well). Transfer the pork onto the grilling track. Drizzle a few tablespoons marinating liquid onto the pork. Bake for 10 minutes.
Baste the pork, using a brush to dab the glaze onto the top side. Turn to the other side and dab glaze on top. Bake for 5 minutes.
Baste the top of the pork, and bake for another 5 minutes. Once done, you can check the doneness by inserting a thermometer into the thickest part of the pork. It should read at least 140°F. Return the pork to the oven to bake for another 5 minutes or so if needed.
Turn on the broiler. Broil for 3 minutes. Flip the pork to baste the other side. Broil for another 3 minutes. The pork should look glossy, lightly charred, and cooked through.
Once the pork is done, brush it with the rest of the glaze. Cover loosely with aluminum foil. Let rest for 10 to 15 minutes before serving.
You can serve the pork hot over rice as a main dish, or at room temperature as a cold appetizer. It's super delicious either way.
Recipe by Omnivore's Cookbook
Char Siu (Chinese BBQ Pork)