Marinated Mozzarella Melon Skewers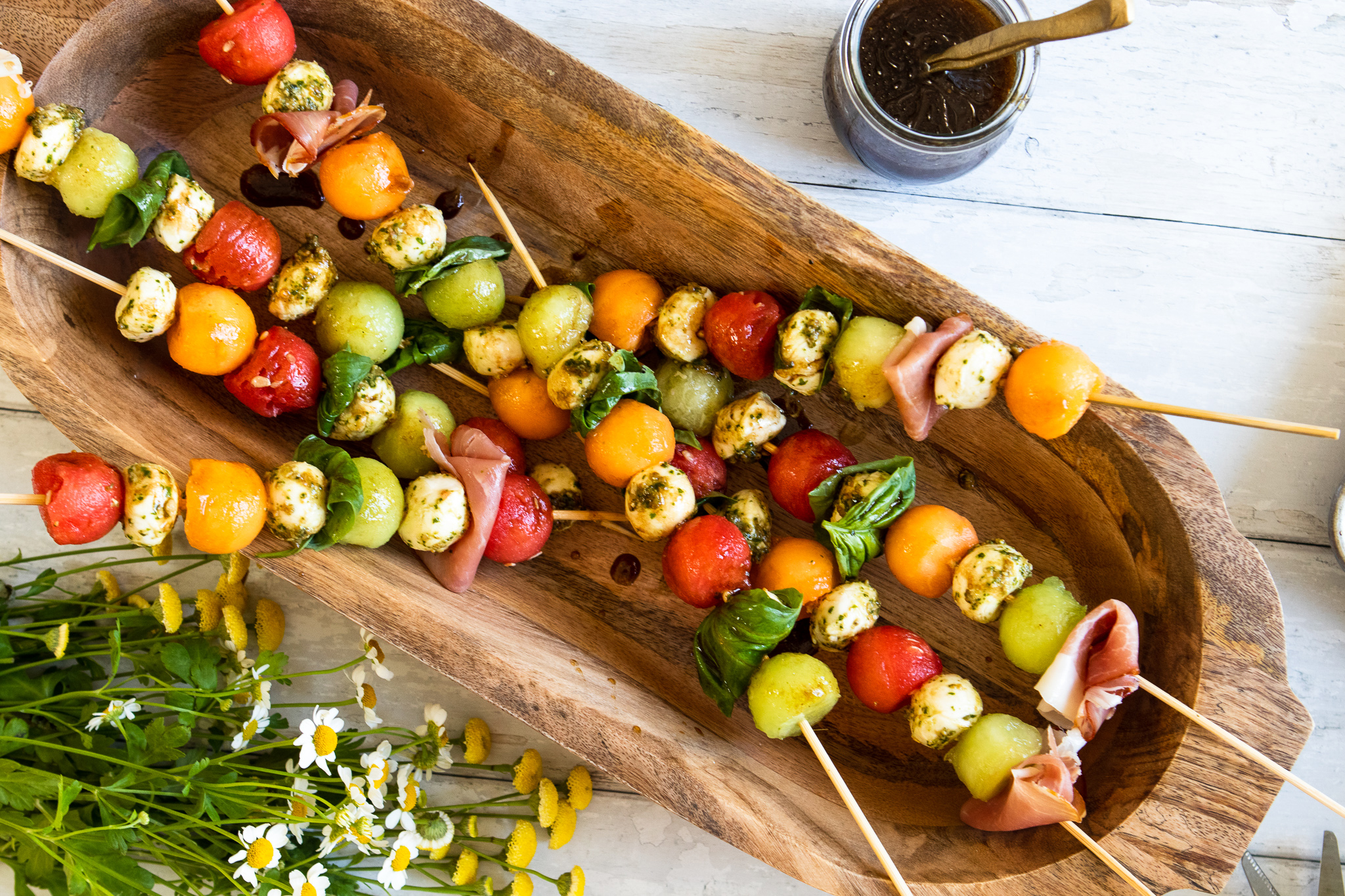 There is nothing easier, prettier and tastier than Marinated Mozzarella Melon Skewers.  I'm going Ella Fitzgerald on you all when the summer hits:  "Summertime…and the living is easy…"
So, why, I ask you, would I want to make my summer complicated and difficult?  Easy, my friends, easy!  This recipe is the best, especially when serving it to your friends!  It's gorgeous, right?  It's healthy, right?  And, it takes only a hot minute to put it together!  Happy days!
I'm not going to lie…making melon balls was a bit of a challenge for this uninitiated person!  I used a small icecream scoop (No!  Don't do it!) and I got chunks of messy looking melon.  Then I tries a teaspoon because I wanted small balls, and well, that was a bit of a disaster.  So, what did I do?  I ran out to the grocery store and bought a melon baller and more melon (I really hacked up the first few melons)!  Then, I got on youtube, of course!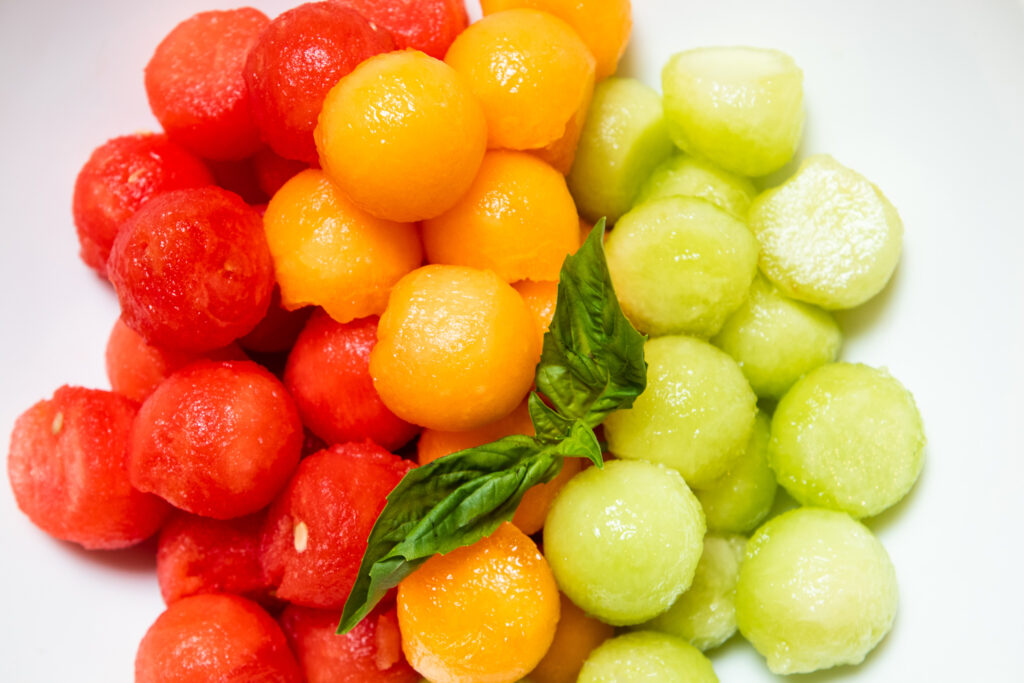 Here's what I learned:  dig the melonballer into the melon and then scoop.  I was originally just getting it started and then turning the melonballer.  No.  You need to get it at least halfway down into the melon.  Then, slice off that inch or so of the melon so that you start with a fresh flat surface. That's important.  So, three times was the charm for me…hopefully with this tip, it will only take you one time!
I always keep homemade pesto in my fridge or freezer, so this came together in no time.  If you need a wonderful recipe, click on my Basil Pesto Sauce recipe.
Mix your mozzarella balls with the pesto and set aside.  
Next, combine all of the vinaigrette ingredients.  By the way, the fig preserves make this dressing, so don't overlook it.  You can always use it on a charcuterie board, spread it on pizza or use it over and over again in this delicious dressing! 
Then assemble the skewers.  It's not any more than that!  You can decide if you want to go vegetarian and forego the prosciutto.  Your call…
Drizzle a little of the vinaigrette over the top of the assembled skewers and serve!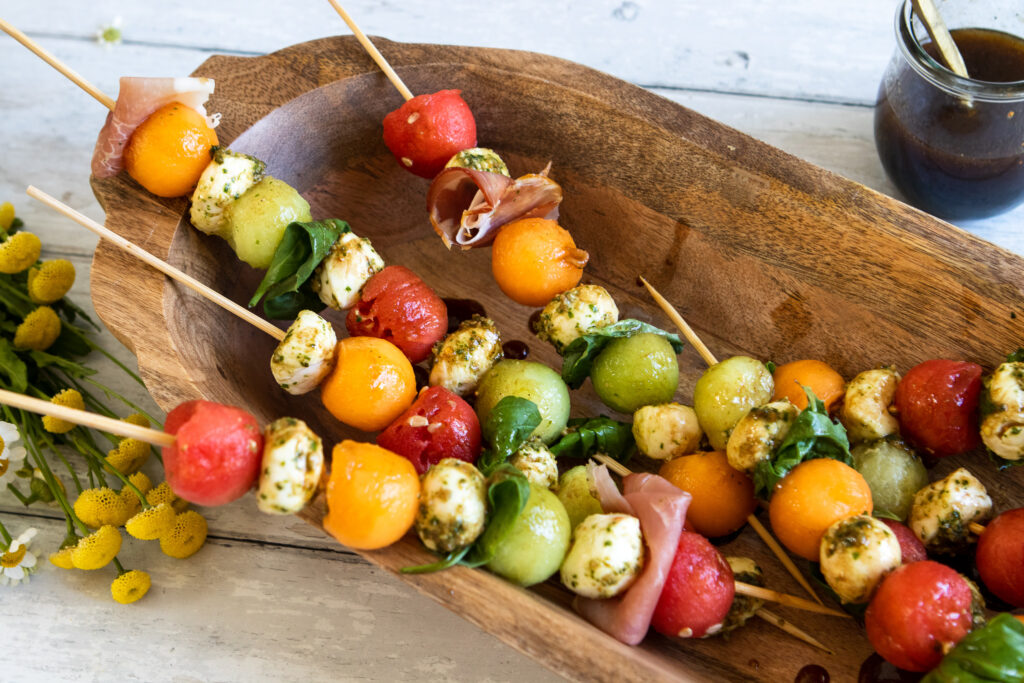 Lastly, if you make Marinated Mozzarella Melon Skewers, be sure to leave a comment and/or give this recipe a rating! Above all, I love to hear from you and always do my best to respond to each and every comment. And of course, if you do make this recipe, don't forget to tag me on 
Instagram
! Looking through the photos of recipes you all have made is one of my favorite things to do!
Marinated Mozzarella Melon Skewers
Makes: 8 servings
Prep Time: 20 minutes
Total Time: 20 minutes
Ingredients
Skewers:
1/3 cup

basil pesto

,

see recipe, or store-bought

2 cups fresh mozzarella balls

4 cups mixed melon balls (See Chef's Note)

1-2 cups fresh basil leaves

3 ounces prosciutto (optional)
Balsamic Vinaigrette:
1/4 cup

extra virgin olive oil

3 tbsp

balsamic or champagne vinegar

1 tbsp

lemon juice

2 tbsp

honey

2 tsp

fig preserves/jam

K

osher salt and black pepper
Instructions
In a bowl, toss together the pesto and mozzarella balls.
To make the vinaigrette, combine all ingredients in a glass jar and shake, or whisk to combine. Season with salt and pepper.
To assemble, thread the prosciutto (if using), melon balls, cheese, and basil onto skewers. You can mix and match your skewers or make them all the same. Arrange on a serving plate and serve drizzled with the vinaigrette.
Chef's Note:
To make life easy, buy a melon baller and dig it into the melon about halfway and scoop in a circular manner while adding a little pressure. Then, slice off that inch or so of the melon so that you start with a fresh flat surface. That's important.
Recipe from Half Baked Harvest
Marinated Mozzarella Melon Skewers