Game Day Pizza Sliders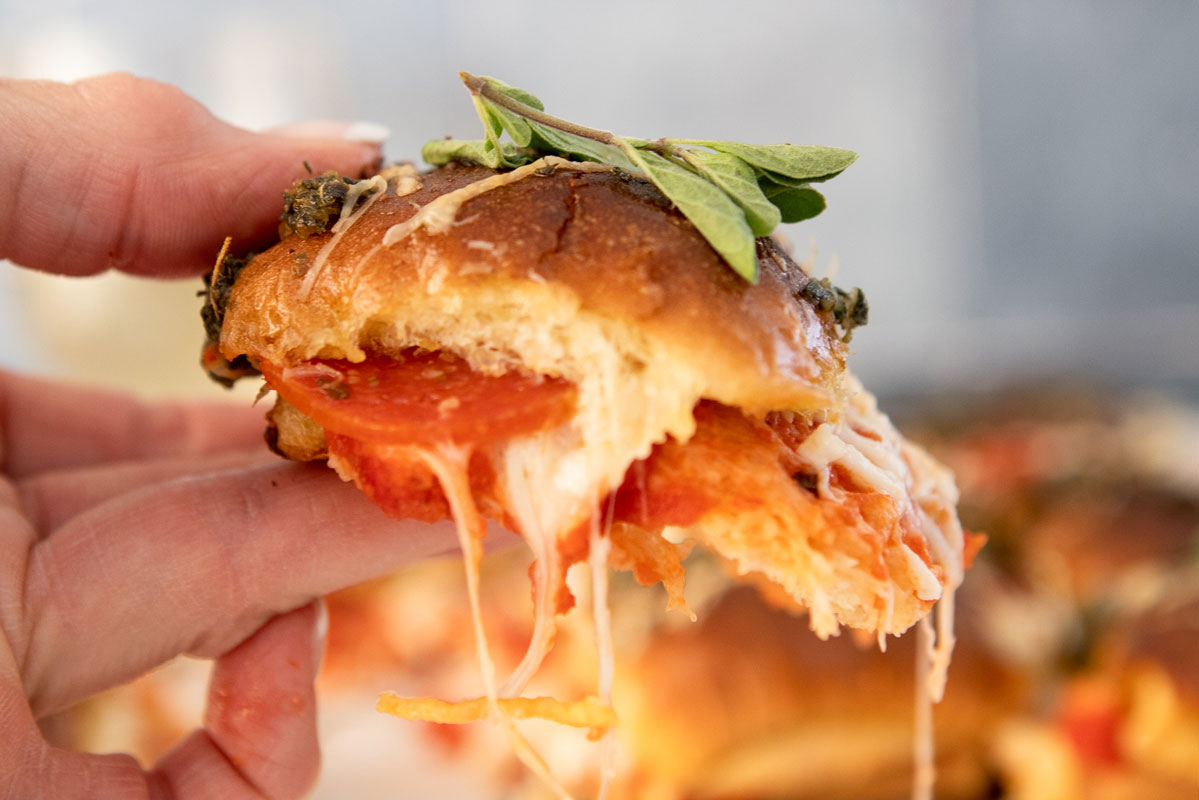 If you're wondering what to serve at your next football party, you MUST try Game Day Pizza Sliders!  Not only are they so easy to throw together, but they are so tasty!  And by tasty I mean they will disappear in minutes!  
These little sliders are a wonderful combination of a pepperoni pizza on bread that's been brushed with garlic butter…pizza meets garlic bread…what could be bad about that?!
The garlic butter gets enriched with roasted garlic.  Place the garlic on a piece of foil and let it slow-roast.  Once it's nice and caramelized, squeeze the cooled garlic cloves into a bowl with butter, parmesan cheese, sage, basil and other delicious herbs.  This will eventually get brushed over the sliders.
While the garlic is roasting, prep the sliders by slicing the rolls horizontally in half.  The best dinner rolls to get are the ones that are attached in a 12-pack.  I happen to love Hawaiian rolls.  They are sweet and give this snack a delightful flavor.  I happen to know that not everyone loves sweet rolls (I'm talking to you, Terry R.), so feel free to substitute a regular roll in place of the sweet ones.  
Either way, after they are sliced, top the bottom half with marinara sauce, mozzarella cheese, provolone cheese and pepperoni.  Finish with Parmesan cheese.  Place the top half of the rolls over these layers.
Brush the garlic butter over the top of the rolls and bake these bad boys.  I like to cover them with foil for about 10 minutes and then remove foil and continue cooking for another 10 minutes or so.
If you've got any leftover butter, brush it on once the sliders come out of the oven.  These are now ready for feasting!!!
Lastly, if you make Game Day Pizza Sliders, be sure to leave a comment and/or give this recipe a rating! Above all, I love to hear from you and always do my best to respond to each and every comment. And of course, if you do make this recipe, don't forget to tag me on 
Instagram
! Looking through the photos of recipes you all have made is one of my favorite things to do!
Makes: 12 sliders
Prep Time: 15 minutes
Bake Time: 1 hour
Total Time: 1 hour & 15 minutes
Ingredients
1 head garlic
Extra virgin olive oil
1 (12-count) package dinner rolls, halved lengthwise
1 – 1 & 1/2 cups marinara sauce
3/4 cup shredded mozzarella cheese
3/4 cup shredded provolone cheese
1/4 cup grated parmesan cheese
1/2 cup thinly sliced pepperoni
3 tbsp unsalted butter, at room temperature or melted
1 tbsp chopped fresh sage
2 tsp dried basil
1 tsp dried oregano
1 tsp dried parsley
1/2 tsp Kosher salt
1 pinch chili flakes
Instructions
Preheat the oven to 400° F. Slice off the top portion of the garlic head to expose some of the cloves. Place the garlic on a piece of foil. Drizzle with olive oil, wrap it up, and bake for 40-55 minutes, until deeply golden and very soft.
Meanwhile, place the bottom half of the dinner rolls onto a baking sheet lined with parchment. Top with marinara sauce, mozzarella, provolone, and then pepperoni. Sprinkle with half the parmesan. Place the top half of the roll over the cheese.
Let the garlic cool, then squeeze the cloves out into a bowl. Add the butter, remaining parmesan, sage, basil, oregano, parsley, and chili flakes. Mash the cloves into the butter with a fork. Spread the butter over the top of the rolls. Cover the rolls and bake 10 minutes. Remove the foil and continue baking another 10 minutes, until the cheese has melted. Brush with any remaining garlic butter, serve immediately.
Recipe by Half Baked Harvest