Country-Bread Stuffing with Parmesan and Dried Cherries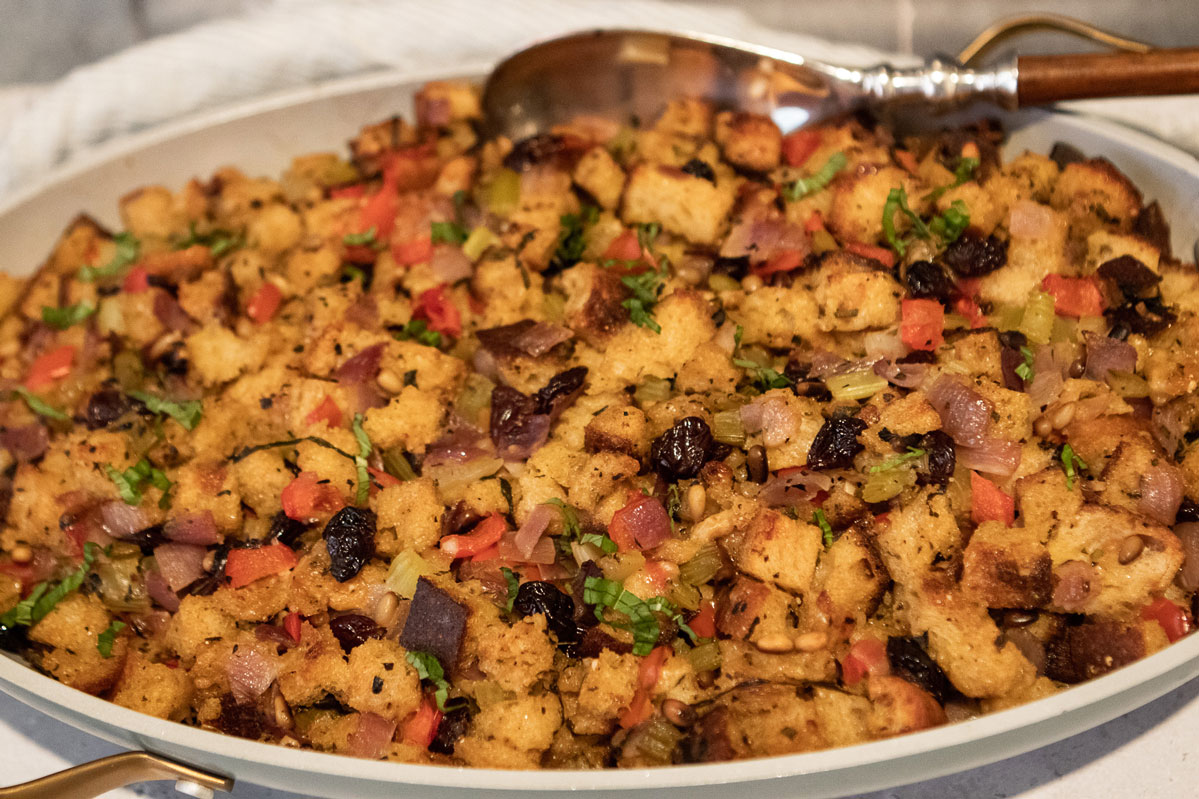 Country-Bread Stuffing with Parmesan and Dried Cherries takes a traditional country-bread stuffing and elevates it by incorporating Parmesan cheese, dried cherries and toasted pine nuts.
Stuffing is always one of my most favorite Thanksgiving side dishes and this one ranks up there with the best of them.  The sourdough bread gets baked with nutty Parmesan cheese and olive oil, providing an exceptional base for sautéed red onions, red peppers and celery.  Adding dried cherries, toasted pine nuts and slivered basil gives it that extra oomph to make this stuffing worthy of any Thanksgiving spread!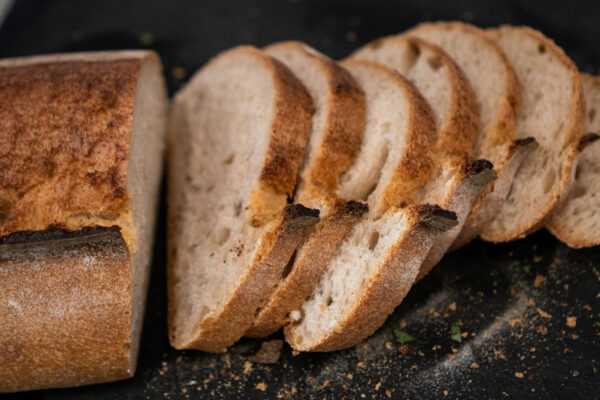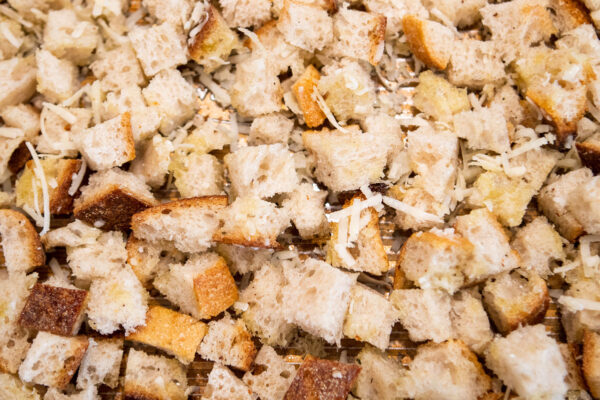 We begin by baking the bread chunks with olive oil and Parmesan cheese.  Because this is a large recipe, take half of the bread with 3 tablespoons of olive oil and 1/2-cup of cheese and toss together in a large bowl.  Transfer that to a baking sheet and then repeat with the remaining bread.  Spread that bread on a second baking sheet and bake both sheets for about 10 minutes, until the bread is golden.  Remove from the oven and then cool the bread.
To make the stuffing, sauté red onion, celery and bell peppers in olive oil until vegetables are almost tender.
Add the garlic and herbs.  Add the dried cherries and pine nuts and cook for two minutes.  
Transfer the mixture to a bowl and add the toasted bread.  Stir some basil and Parmesan cheese into the mixture.  
Mix the beaten eggs into the stuffing and then add the broth.
Cover the baking dish with buttered foil and bake for 40 minutes.  Remove the foil and bake for another 20 minutes until the top is slightly crunchy and golden.
Sprinkle with the remaining basil leaves and serve this dish!  It is absolutely delicious!
Lastly, if you make Country-Bread Stuffing with Parmesan and Dried Cherries, be sure to leave a comment and/or give this recipe a rating! Above all, I love to hear from you and always do my best to respond to each and every comment. And of course, if you do make this recipe, don't forget to tag me on 
Instagram
! Looking through the photos of recipes you all have made is one of my favorite things to do!
Country-Bread Stuffing with Parmesan and Dried Cherries
Makes: 10 servings
Prep Time: 20 minutes
Bake Time: 1 hour & 30 minutes
Total Time: 1 hour & 50 minutes
Ingredients
For Bread:
2 (15-ounce) loaves country-style white sourdough bread (about 16 cups), sliced 1/2 inch thick and cut into 1/2-inch cubes

8 tbsp olive oil, divided

1 & 1/2 cups freshly grated Parmesan cheese (about 4 & 1/2 ounces), divided
For the Stuffing:
1/4 cup unsalted butter

2 large red onions, coarsely chopped (about 1 & /2 pounds)

3 & 1/2 cups coarsely chopped celery

2 large red bell peppers, coarsely chopped

8 garlic cloves, chopped

4 tsp chopped fresh rosemary

4 tsp dried oregano

3/4 cup dried cherries or raisins

3/4 cup pine nuts, toasted

1/2 to 3/4 cup thinly sliced fresh basil

4 large eggs, beaten to blend

1 & 1/4 cups low-salt chicken or vegetable broth, plus more if necessary
Instructions
Bread:
Preheat oven to 400°F. Spray 2 large rimmed baking sheets with nonstick spray. Place half of bread pieces in bowl. Add 3 tablespoons oil and toss to coat, then add 1/2 cup Parmesan cheese, and toss. Spread bread on one prepared sheet. Repeat with remaining bread, 3 tablespoons oil and 1/2 cup sheet; spread on second sheet.
Bake bread until golden, stirring occasionally, about 10 minutes. Cool on sheets. Transfer to very large bowl.
Stuffing:
Preheat oven to 350° F.
Melt 1/4 cup butter with remaining 2 tablespoons olive oil in a heavy large pot over medium-high heat. Add onion, celery and bell peppers; sauté until vegetables are almost tender, about 15 minutes. Add chopped garlic, rosemary and oregano; stir 1 minute. Add cherries and pine nuts; stir and cook for 2 minutes. Transfer to bowl with bread. Stir 1/2 cup basil and remaining 1/2 cup Parmesan into stuffing. Season generously with salt and pepper. Mix eggs into stuffing.
Generously butter 15x10x2-inch glass baking dish. Add enough broth to stuffing to moisten (at least 1 & 1/4 cups). Transfer stuffing to prepared dish. Cover with buttered foil, buttered side down. Bake until heated through, about 40 minutes. Uncover and bake until top is slightly crunchy and golden, about 20 minutes longer.
Sprinkle remaining 1/4 cup basil over stuffing and serve.
Chef's Note:
For a vegetarian stuffing, use vegetable broth instead of chicken broth.
The stuffing can be made ahead of time and frozen. Because it has eggs in it, I wouldn't freeze it longer than 2 months. Freeze it uncooked. Cover it in plastic wrap and then aluminum foil. To bake it from frozen, cook it covered for one hour in a preheated oven at 350°F. Uncover, increase the temperature to 400°F, and bake for 15 to 20 minutes more, until hot throughout and golden-brown and crispy on top.
Country-Bread Stuffing with Parmesan and Dried Cherries