Extraordinary Marinated Olives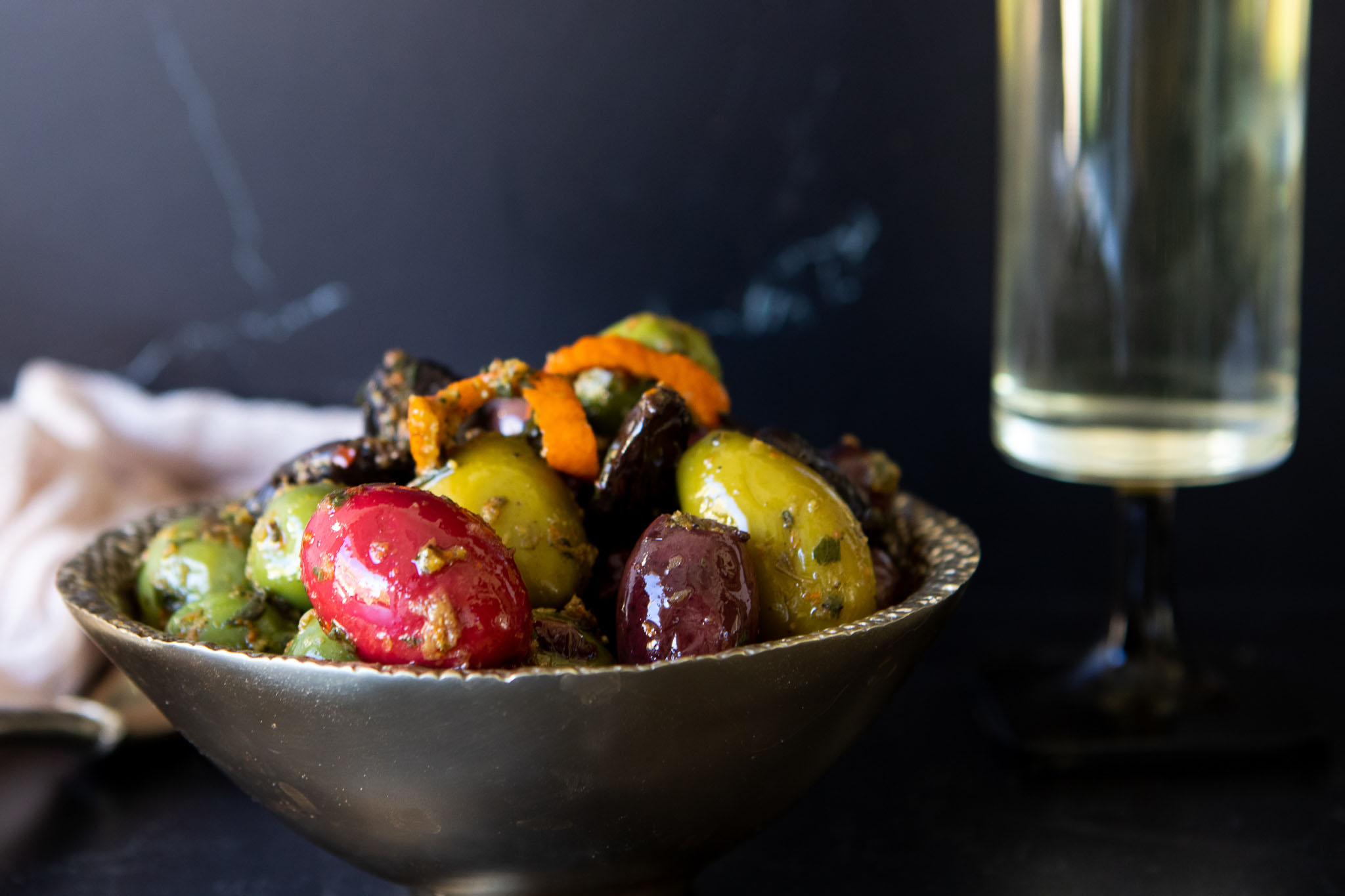 If you've ever wanted the perfect accompaniment for cocktails, these Extraordinary Marinated Olives are the answer.  Not only are they gorgeous to look at, you really can't stop eating them.  They are simple to make, quick to throw together, and they last and last in the fridge (that's assuming there are any left after you serve them)!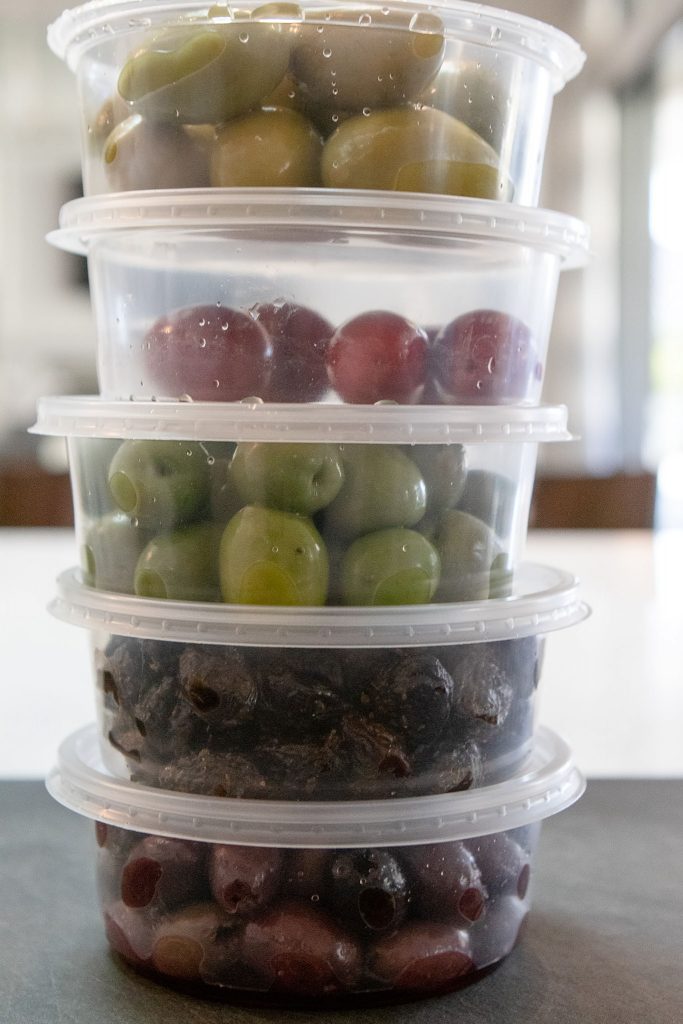 What kind of olives should you use?
First, let me say that you should use only olives with pits.  The pitted ones will start to collapse after being marinated for a while, so best to keep them plump if you intend to have leftovers.
There are so many choices, but I prefer the meatier types like Bella di Cerignola (top container).  They come from southern Italy, are huge and have an avocado-like consistency.  They are also available in pink, which tastes very similar, but looks fabulous in an olive mix!  
I also love Sicilian greens for their size (see the third container from the top).
Niçoise olives are a must, if you can find them!  They come from the south of France and are salt-brined.  They are meaty, wrinkly and slightly bitter, which compliments the mix so well!
Add some Kalamatas, and all is grand in the world!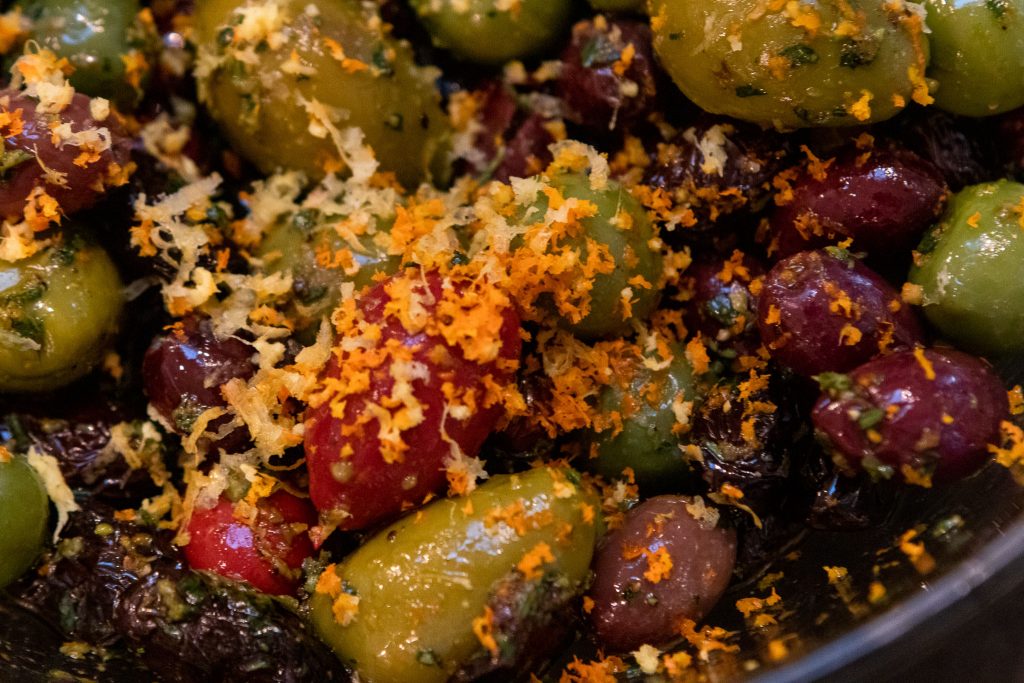 The funny thing about marinated olives is that if you see them on a menu, you probably wouldn't order them.  I always thought it was the least interesting thing on the menu.  But, if a restaurant would offer them complimentary as a little snack, they'd be devoured.  Set them down at a cocktail party or as part of a charcuterie platter and they disappear.
I decided to pay homage to these stone fruit (yes, it's a fruit) with this Extraordinary Marinated Olive recipe!  Serve with White Wine Sangria or Campfire Old Fashioned.
Lastly, if you make Extraordinary Marinated Olives, be sure to leave a comment and/or give this recipe a rating! Above all, I love to hear from you and always do my best to respond to each and every comment. And of course, if you do make this recipe, don't forget to tag me on 
Instagram
! Looking through the photos of recipes you all have made is one of my favorite things to do!
Extraordinary Marinated Olives
Makes: 4 cups
Prep Time: 5 minutes
Total Time: 5 minutes
Ingredients
Marinade: 
Grated zest of 1/2 orange 
Grated zest of 1/2 lemon 
2 garlic cloves, minced 
1/4 cup chopped fresh flat-leaf parsley leaves 
1-2 tbsp chopped fresh rosemary leaves or 1-2 tsp dried rosemary 
2 tsp chopped fresh oregano leaves or heaping 
1/2 tsp dried oregano 
1 tsp chopped peeled fresh ginger 
1/2 tsp fennel seeds 
1/4-1/2 tsp crushed red pepper flakes 
1 tsp Kosher salt 
1 tsp black pepper 
4 cups assorted olives, such as Niçoise, Gaeta, Cerignola, Kalamata, and/or Sicilian green 
1/2-3/4 cup extra virgin olive oil, to cover 
3 orange peel twists
Instructions
Marinade: 
Place all of the marinade ingredients in a food processor and pulse until a paste is formed. 
Combine the olives with the marinade and toss. Add the olive oil and orange peel twists and toss until olives are coated. Serve! 
Can be stored at room temperature for about 1 month in an air-tight container, mixing occasionally. Can also be refrigerated for up to 3 months.
 Serve with White Wine Sangria or Campfire Old Fashioned.
Extraordinary Marinated Olives