Garlic Butter Pizza Egg Rolls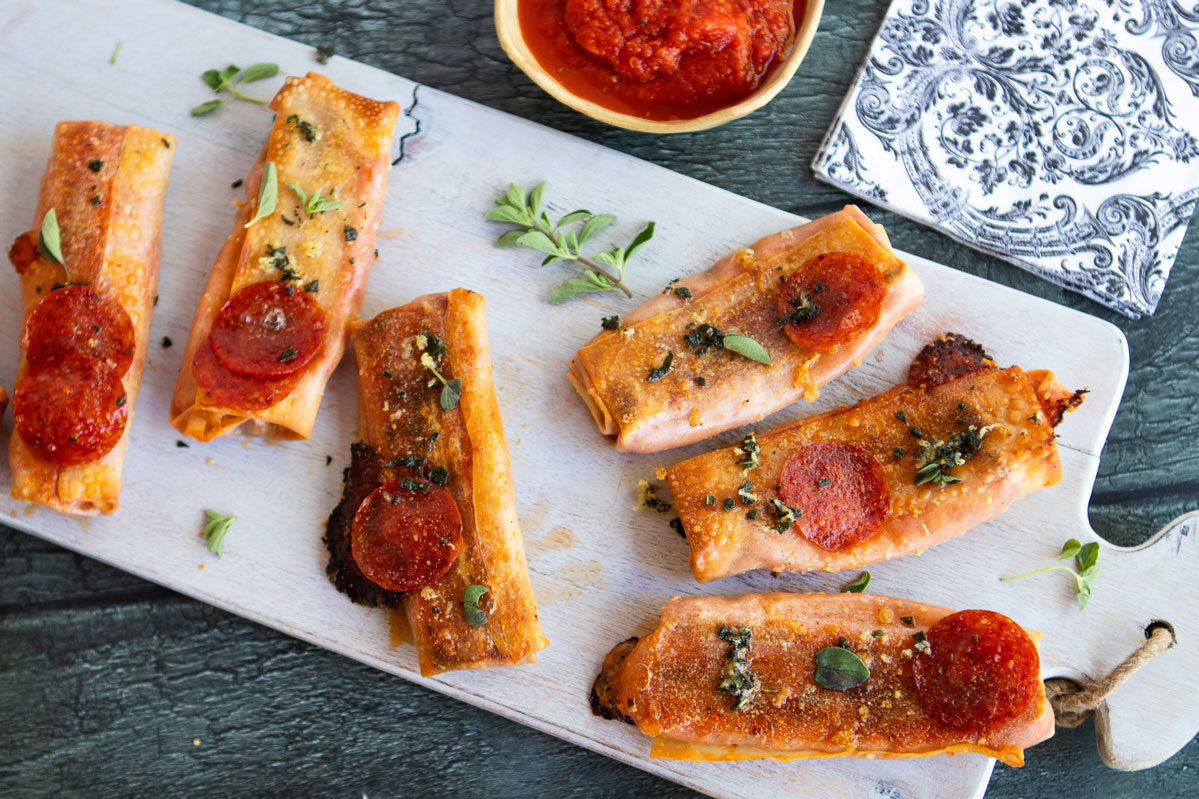 Game days call for do-ahead, fattening types of snacks, which is why I serve Garlic Butter Pizza Egg Rolls.  I'm not pretending it's low-fat or anything…it's ooey, gooey, filled with cheese, pepperoni and marinara sauce.  But…it's also baked!  Woohoo!  At least it's not fried!
Game days are known for fried wings, potato chips, bean dips so why not go one better and give the gang an elevated pizza roll?!  They will thank you for this tasty appetizer!
These are pretty simple, once you get the hang of it. Combine cheeses and spices in a bowl. Lay one egg roll wrapper on a surface and lightly brush water around all of the edges, approximately 1/2 inch wide.  Layer marinara sauce, provolone cheese slice and cheese mixture.  Add pepperoni and roll it up, sealing the edges as best as possible.
Melt some butter, brush it over the rolls and sprinkle some parmesan cheese over.  Bake for 10 minutes, flip them, add a couple more pepperoni slices to the top and bake another 8-10 minutes.  
It's okay if the cheese melts out of some of them a bit.
While the rolls are baking, melt remaining butter with sage and cook until the sage gets crispy.  Add grated garlic, brush it over the rolls and serve these bad boys with some extra marinara on the side!
Lastly, if you make Garlic Butter Pizza Egg Rolls, be sure to leave a review down below at the bottom of this page (stars are also appreciated)! Above all, I love to hear from you and always do my best to respond to each and every review. And of course, if you do make this recipe, don't forget to tag me on 
Instagram
! Looking through the photos of recipes you all have made is one of my favorite things to do!
Garlic Butter Pizza Egg Rolls
Makes: 12 rolls
Prep Time: 30 minutes
Bake Time: 20 minutes
Total Time: 50 minutes
Ingredients
3/4 cup grated parmesan cheese

2 tsp dried basil

1 tsp dried oregano

1 tsp dried parsley

1 pinch chili flakes

2 cloves garlic, grated

1 cup shredded mozzarella cheese

1 – 1 & 1/2 cups marinara sauce

12 slices provolone cheese

12-16 square egg roll wrappers

1/2 cup thinly sliced pepperoni

5 tbsp salted butter

2 tbsp chopped fresh sage
Instructions
Preheat the oven to 425° F. Lightly grease 2 baking sheets.
In a bowl, combine 1/2 cup grated parmesan, the dried basil, oregano, parsley, chili flakes, and 1 clove of garlic. Mix in the mozzarella.
To assemble, brush water around the edges of the wrapper, then layer with 1 tablespoon of marinara sauce, 1 slice provolone, and about 1 tablespoon of the mozzarella mix. Add 1 pepperoni slice. Do not overstuff these with ingredients. Roll up and place on the baking sheet.
Melt 3 tablespoons of butter, then brush each roll with the butter. Sprinkle evenly with the remaining 1/4 cup parmesan cheese. Bake for 10-12 minutes, then flip, add 1-2 pepperoni slices to top, and cook another 8-10 minutes, or until the rolls are crisp. The cheese may melt out a bit, but that's ok.
Meanwhile, melt 3 tablespoons butter together with the sage, let the sage get crisp, then remove from the heat and add 1 clove of grated garlic. Top each roll with the garlic butter. Serve with marinara sauce on the side.
Recipe by Half Baked Harvest
Garlic Butter Pizza Egg Rolls