Barbecue Bacon Pizza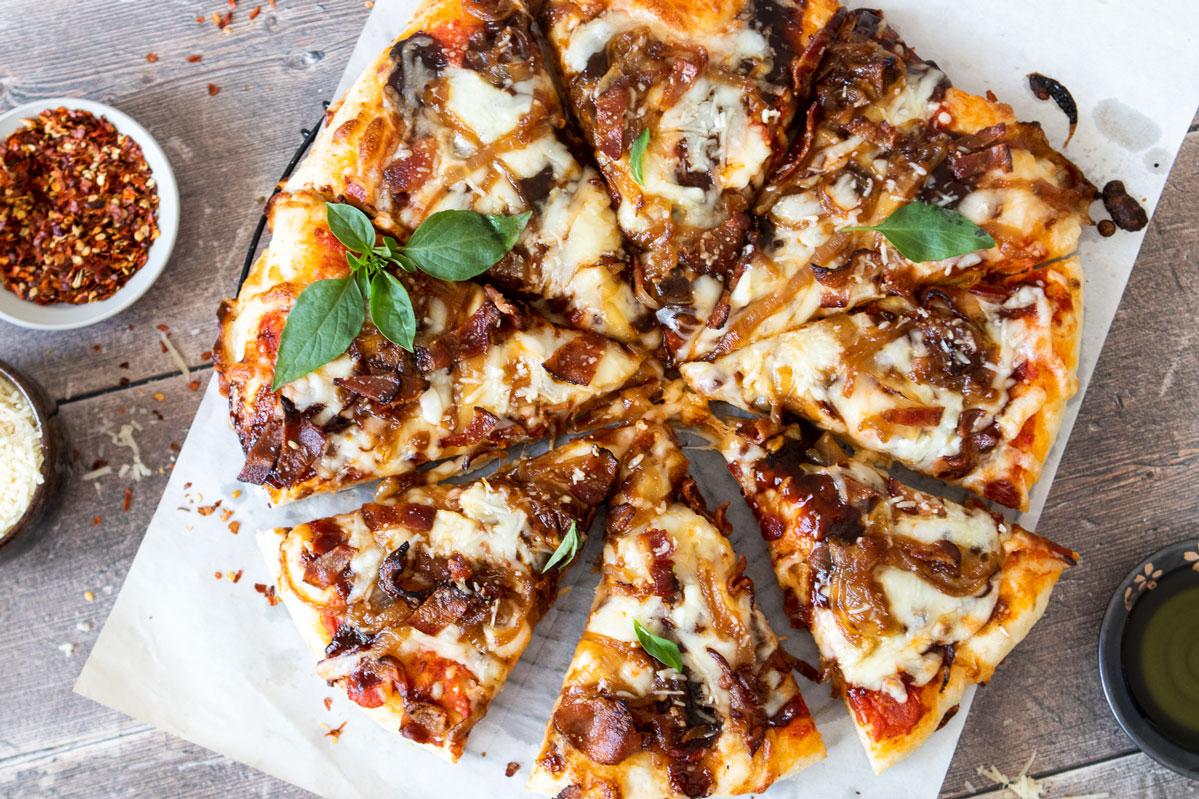 Homemade Barbecue Bacon Pizza is so easy to make, quick and so tasty!  The flavors can't be beat when you top the crust with tomato sauce and barbecue sauce, add some shredded mozzarella, caramelized onions and thick-cut cooked bacon pieces.
And, the best part is that it all comes together in less than one hour.  In fact, if you make the caramelized onions ahead of time, you could have a hot-piping pizza out of the oven in about 30 minutes.  It's hard to beat that!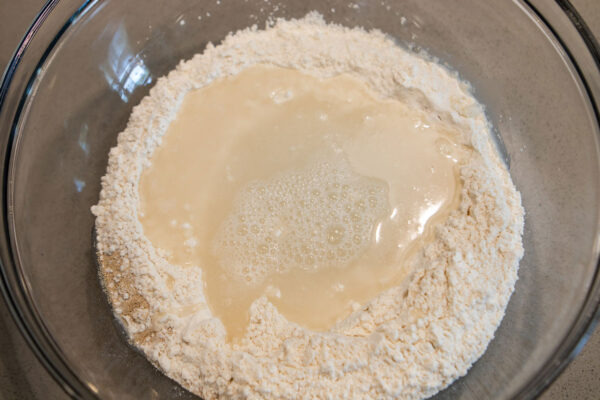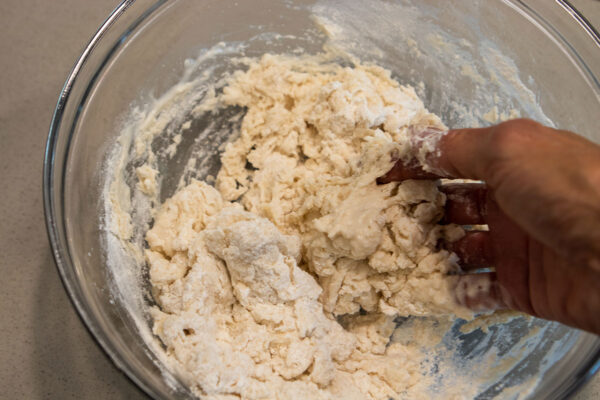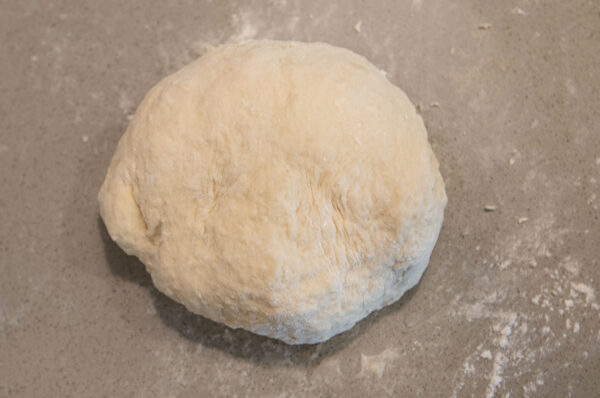 I'm sure you're saying that there's no way that a pizza dough that uses yeast and has to rise can be done that quickly but if you use instant yeast, you can certainly do it in a very short time.
You start by combining the bread flour, sugar, salt and instant yeast in a bowl.  Make a well in the center and pour in one cup of warm water.
Use your hands to mix the water into the dry ingredients until it comes together.  It will be a wet batter.
Turn the dough out onto a floured surface and begin to knead the dough until it becomes nice and smooth.  Feel free to add more flour (up to 1/4-cup, if necessary) to make the dough less sticky.  I added the full 1/4-cup to my dough that's pictured above.  Form it into a bowl, set it in an oiled bowl and cover it loosely with a dish towel.  It will sit for about 10 minutes.  That's all the time it needs!
Roll out the dough on a piece of parchment paper until you have a 12-inch circle.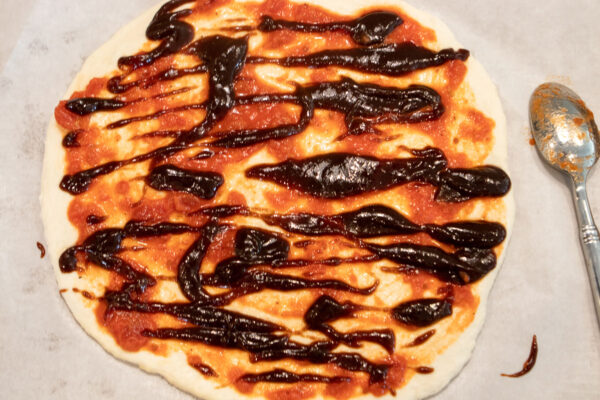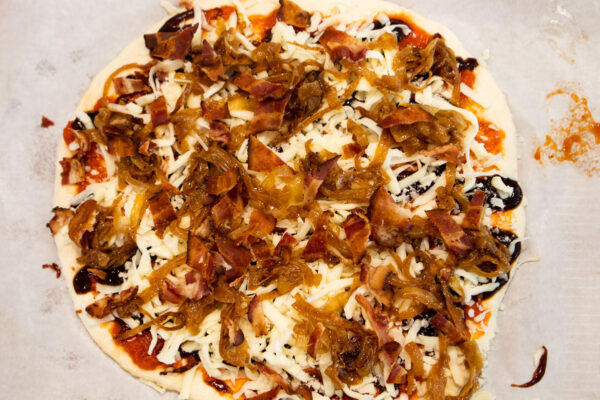 Now, spread both tomato sauce and barbecue sauce over the stretched crust.  Add the mozzarella cheese, caramelized onions, cooked bacon and Parmesan cheese.
Pop the whole thing into a very hot oven and bake for 10 minutes.
This pizza is very versatile.  You can use the crust and make multiple types of pizzas:
Pesto & Shrimp
Arugula, Prosciutto & Fig Jam
Classic Pepperoni & Cheese
Fennel Sausage & Mushrooms
The possibilities are endless as to what you can combine so use your imagination.  If nothing comes to you, you have a wonder Barbecue Bacon Pizza recipe just waiting here for you!
Lastly, if you make Barbecue Bacon Pizza, be sure to leave a comment and/or give this recipe a rating! Above all, I love to hear from you and always do my best to respond to each and every comment. And of course, if you do make this recipe, don't forget to tag me on 
Instagram
! Looking through the photos of recipes you all have made is one of my favorite things to do!
Makes: 8 pieces
Prep Time: 15 minutes
Bake Time: 8 minutes
Total Time: 1 hour
Ingredients
Pizza:
2 – 2

1/4 cups bread flour

1 tbsp granulated sugar

1 tsp salt

1 packet (2 1/4 tsp) of instant yeast

1 cup warm water
Toppings:
1/4 cup favorite tomato sauce

1/4 cup favorite barbecue sauce

8 ounces shredded mozzarella cheese

5 slices cooked thick cut bacon, cut into ¼ inch pieces

Parmesan cheese, for sprinkling
Instructions
Make Caramelized Onions.
Pizza Dough:
In a large bowl mix together 2 cups of bread flour, sugar, salt, and instant yeast. Make a well in the center of the dry ingredients and add the warm water. Using your hands, mix everything together until it forms a dough. The dough will be sticky.
Turn the dough out onto a floured surface and knead the dough for 5 minutes or until the texture of the dough starts to smooth out. If the dough feels too sticky, add remaining 1/4 cup of flour a tablespoon at a time until the dough is dry enough to work with. Form the dough into a ball and place into a greased bowl. Cover loosely with a dish cloth and put in a warm place to rise for just ten minutes.
Preheat oven to 500°F.
After ten minutes, turn the dough out onto a clean work surface. It's best to do this on a piece of parchment paper for easy clean up and transport. Stretch out dough into a 12-inch round and place on pizza stone or baking sheet. Top with tomato sauce, barbecue sauce, mozzarella cheese, 1/2 cup caramelized onions, bacon and Parmesan cheese. Bake for 10 minutes. Allow to cool slightly before slicing and eating.
Recipe adapted from Broma Bakery