Sharp Cheddar Cheese Crackers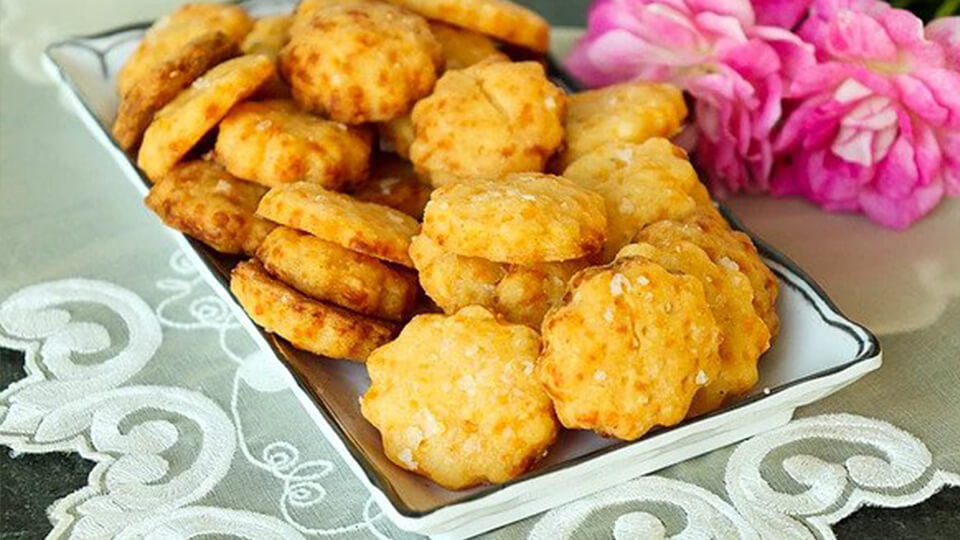 Welcome to a new year and a new decade!  2020!  I love the sound of this and the promise of what's to come!  We live in interesting and exciting times and it is with this in mind, that I hope you will continue to enjoy the recipes and stories that I will bring to you this year.  Hopefully my recipes will inspire you to want to cook and bake more often, push yourself a little further in the kitchen, and enjoy yourself just a little more when you entertain. 
Speaking of entertaining, while the holidays may be over, there is always a need for a yummy little cracker, even if it's just to go with a glass of wine while you relax after a harried work week!
These crackers are so addicting that you'll certainly want to double up on the recipe.  Even though the recipe makes 80 crackers, you will be shocked how quickly they disappear!  Don't say I didn't warn you!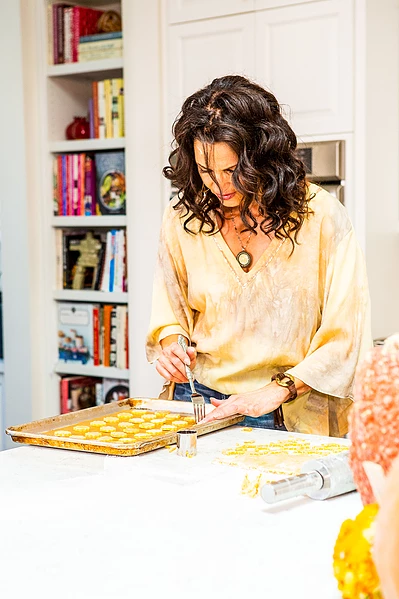 I get comments that when I say "easy", it's based on the fact that I'm a food blogger and avid cook, but it's not necessarily easy for someone who doesn't cook much.  But this recipe truly is easy.  There are very few ingredients, the dough is very forgiving (it's like rolling out sugar cookies, not pie dough) and the bake time is quick.  One recommendation however, is don't skip the hour of fridge time.  This is important to make the rolling and cutting out of the crackers simpler.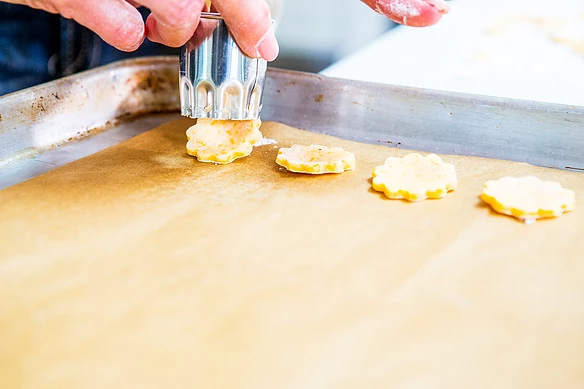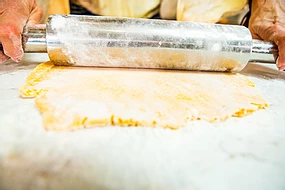 Don't forget to sprinkle these yummy bites with flaky salt.  I love using Maldon salt (link here).  The salt adds such a deliciously addicting quality to these crackers!
​Happy New Year and Happy Eating!!! xoxox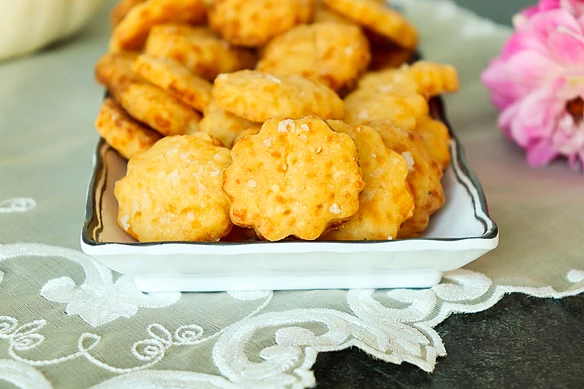 Lastly, if you make Sharp Cheddar Cheese Crackers, be sure to leave a comment and/or give this recipe a rating! Above all, I love to hear from you and always do my best to respond to each and every comment. And of course, if you do make this recipe, don't forget to tag me on 
Instagram
! Looking through the photos of recipes you all have made is one of my favorite things to do!
Sharp Cheddar Cheese Crackers
Makes: 80 crackers
Prep Time: 15 minutes
Bake Time: 15 minutes
Total Time: 30 minutes plus chill time 1 hour
Ingredients
8 ounces sharp Cheddar Cheese, finely shredded

1 cup all-purpose flour

1 stick unsalted butter, room temperature

1 tsp salt

1/4

tsp ground black pepper

1 tbsp flaky sea salt for topping (I prefer

Maldon

)
Instructions
Sift together flour, salt, and black pepper. Set aside.
In a stand mixer, beat together butter and cheese. With mixer on low, beat in flour mixture and continue to beat until dough forms into a ball. Dump dough onto a lightly floured surface and knead a few times to form into a uniform dough ball. Wrap in plastic wrap and place in fridge for about an hour.
Preheat oven to 375°F. Line baking sheet with parchment paper. On a lightly floured surface, roll dough out until it is very thin…about a 1/8-inch thickness. Using a small cookie cutter or the top of a spice jar, cut out cracker rounds and place them on a prepared baking sheet. They can be placed close to each other because they won't spread much. Using a fork, prick holes into the top of the crackers and then sprinkle lightly with flaky sea salt.
Place in preheated oven for 12 to 15 minutes until golden brown. Remove from oven and let cool completely. Store in an airtight container for up to 3 days, but are best the day they are baked.
Download PDF
Sharp Cheddar Cheese Crackers