Gnocchi with Herbed Ricotta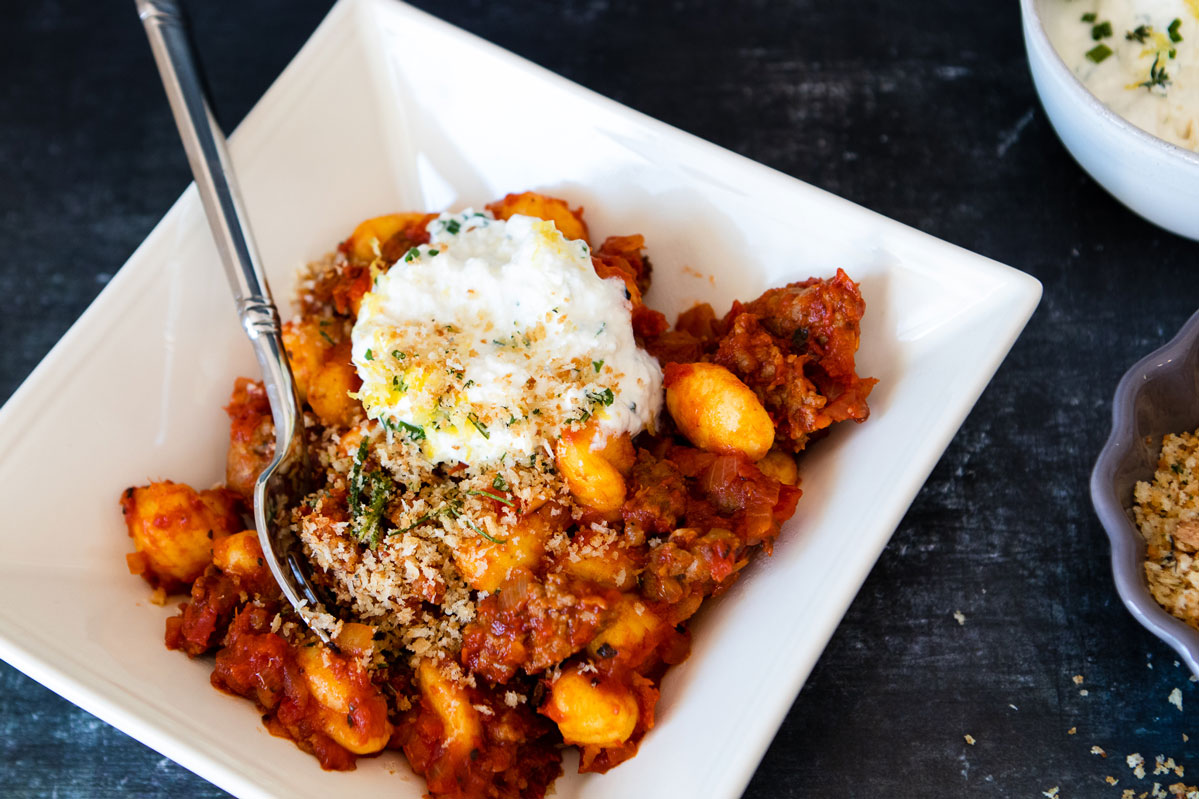 It's time for some Gnocchi with Herbed Ricotta and Golden Crispies!  This recipe combines pillowy gnocchi with a simple-to-make sausage tomato sauce, creamy herbed ricotta, fresh herbs and delicious Golden Crispies breadcrumbs.  If that doesn't sound just about perfect, I don't know what does!
This dish has a few steps (red sauce, herbed ricotta and golden crispies) but you can make them all ahead of time and simply combine with the cooked gnocchi when you're ready to serve it.
The first thing I like to do is make the red sauce.  Brown up some sausage in a hot skillet.  You can use pork or chicken sausage or a plant-based substitute, if that's your preference.  Remove the sausage from the pan and set aside.
Add garlic and onion to some olive oil and sauté it until it becomes fragrant.  Add the tomatoes and oregano and then add the sausage back in.  Simmer the sauce for about 30-45 minutes.
While the sauce is simmering, mix together all of the ingredients for the herbed ricotta and adjust the seasonings to your own taste.
The Golden Crispies Breadcrumbs can also be make ahead.  Follow this recipe.
All that's left now is to cook the gnocchi according to the package directions.  Drain the gnocchi and add them to the pan with the tomato sauce. Simmer the sauce so that all of the gnocchi get coated.
Serve the gnocchi with a dollop of the herbed ricotta and a hearty sprinkling of the Golden Crispies Breadcrumbs.
You'll feel like you just won the lottery!
Lastly, if you make Gnocchi with Herbed Ricotta, be sure to leave a comment and/or give this recipe a rating! Above all, I love to hear from you and always do my best to respond to each and every comment. And of course, if you do make this recipe, don't forget to tag me on 
Instagram
! Looking through the photos of recipes you all have made is one of my favorite things to do!
Gnocchi with Herbed Ricotta
Makes: 6 servings
Prep Time: 15minutes
Cook Time: 45 minutes
Total Time: 1 hour
Ingredients
Red Sauce:
1 pound ground Italian sausage or meatless alternative

1–2 tbsp extra-virgin olive oil

1 medium yellow onion, minced

2 large cloves garlic, minced

One 28-ounce can crushed tomatoes

1 tsp dried oregano

Salt and red pepper flakes to taste
Herbed Ricotta:
6–8 ounces of ricotta cheese

1 small clove garlic, grated

Zest and juice of 1 lemon

Kosher salt to taste

Minced herbs to taste (chives, parsley, and/or thyme)
Two 16-ounce packages pre-cooked gnocchi
Instructions
Red Sauce:
Heat a large skillet over high heat. Add the sausage; break apart until well-browned and fully cooked. Remove sausage from the pan. If you want you can drain off excess grease from the pan (I often keep it for extra flavor).
Turn the heat down, so you don't burn the garlic. Add the olive oil, onion, and garlic; sauté for a few minutes over medium low heat until fragrant. Add the tomatoes and oregano. Add sausage back in and simmer over low heat (think of it as a "lazy" simmer) for 30-45 minutes. Taste and season with salt and red pepper flakes.
Herbed Ricotta:
While the sauce is simmering, mix the ricotta ingredients in a small dish. Taste and adjust as you like.
Assembly:
Cook gnocchi according to package directions . Add cooked gnocchi to the pan with the sauce. Bring to a low simmer to get the gnocchi and sauce bubbling and well-coated.
Serve hot gnocchi topped with a dollop of herbed ricotta and a generous sprinkling of Golden Crispies Breadcrumbs.
Recipe from Pinch of Yum
Gnocchi with Herbed Ricotta