Hot Honey Butter Smashed Potatoes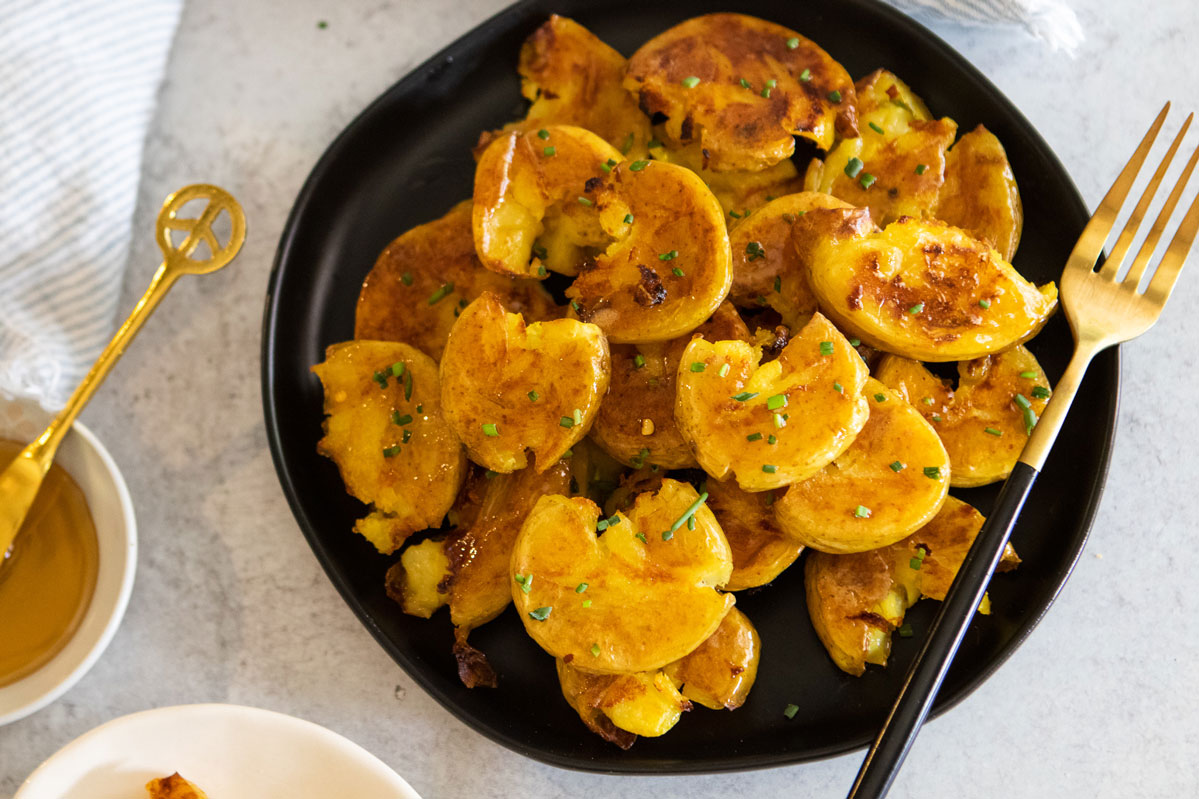 If you love smashed potatoes, you're going to love Hot Honey Butter Smashed Potatoes.  Nashville hot chicken sandwiches are all the rage, but have you tried this preparation over smashed potatoes?  If not, this is your opportunity.  
These potatoes are so excellent with their soft creamy interiors and crispy exterior brushed with a honey hot sauce and sprinkled with chives.  My friend, Heather, who adores my Lemony Crispy Smashed Potatoes (well, actually, her husband Dave loves these even more), will enjoy the option of this new type of smashed potato. So this one's for you, Trixie!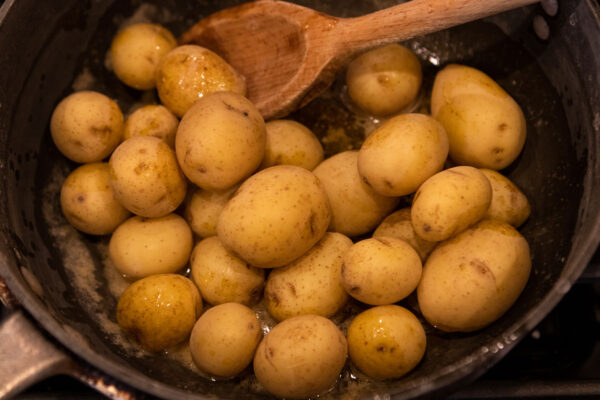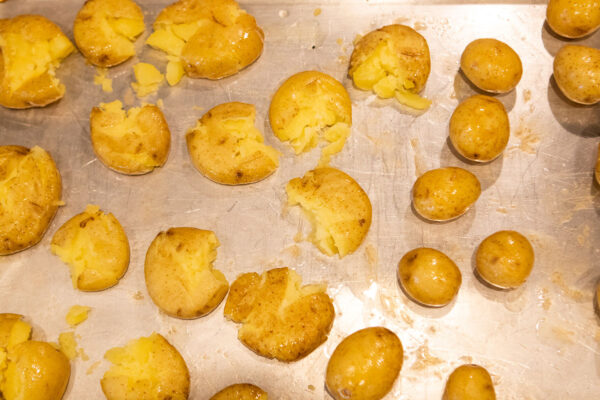 Begin by boiling the baby Yukon Gold potatoes.  You can use other baby potatoes, but I love the sweet flavor of the Yukons along with the creaminess of them.
Once the potatoes are tender, drain them and set them aside.  
Melt together butter, honey, hot sauce and red pepper flakes.  Toss the potatoes in the butter mixture.  Remove the potatoes, using tongs (you want to save the excess butter for brushing on the potatoes later), and place on a baking sheet.
Now, use the bottom of a mug or glass and press down on each potato until it splits open and is about 3/4-inch thick.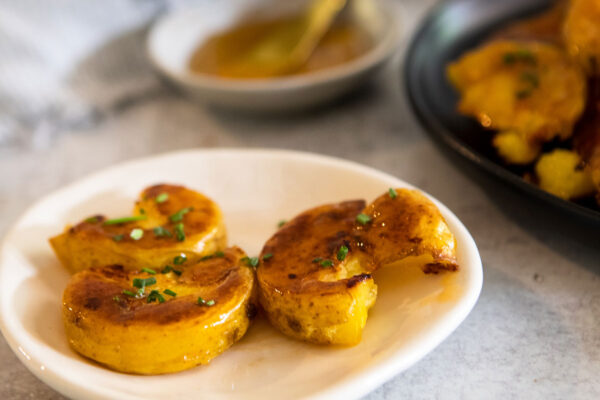 Roast the potatoes in a hot oven (450°F) for about 20 minutes or until the bottoms are golden-brown.  Flip them over and continue roasting for another 10-15 minutes more.  Both sides should be browned and crispy.
Brush on the remaining hot honey butter and sprinkle chopped chives over the top.
I love that these can be partially made ahead of time.  You can boil the potatoes up to two days in advance before roasting them!
I am sure that these are going to become Dave and Heather's new favorite side dish!
Lastly, if you make Hot Honey Butter Smashed Potatoes, be sure to leave a comment and/or give this recipe a rating! Above all, I love to hear from you and always do my best to respond to each and every comment. And of course, if you do make this recipe, don't forget to tag me on 
Instagram
! Looking through the photos of recipes you all have made is one of my favorite things to do!
Hot Honey Butter Smashed Potatoes
Makes: 4 servings
Prep Time: 15 minutes
Bake Time: 1 hour
Total Time: 1 hour 15 minutes
Ingredients
1 & 1/2 pounds baby Yukon gold potatoes (10 to 14)

2 tbsp plus 1 tsp kosher salt, divided

1 tbsp finely chopped fresh chives (optional)

6 tbsp (3/4 stick) unsalted butter

2 tbsp honey

1 tbsp hot sauce, such as Frank's Red Hot

Pinch of red pepper flakes
Instructions
Scrub potatoes clean and place in a large saucepan. Add enough cold water to cover potatoes by about 2 inches. Stir in 2 tablespoons of the kosher salt and bring to a boil over high heat. Meanwhile, finely chop chives, if desired, and reserve for garnishing.
When the water is boiling, reduce the heat to maintain a simmer. Cook until the potatoes are very tender and can be easily pierced with a sharp knife with no resistance, 18 to 25 minutes. Meanwhile, arrange a rack in the lower third of the oven and heat the oven to 450°F.
When the potatoes are ready, drain and set aside. Melt 6 tablespoons unsalted butter in the now-empty pot and over low heat. Stir in 2 tablespoons honey, 1 tablespoon hot sauce, a pinch of red pepper flakes, and the remaining 1 teaspoon kosher salt.
Remove from the heat, add the potatoes, and toss to coat. Using tongs, transfer the potatoes to a rimmed baking sheet and space them evenly apart. Reserve the remaining melted butter mixture. Using the bottom of a lightly greased mug or measuring cup, press down on each potato until it splits open and is flattened to 3/4-inch thick.
Roast until the bottoms are golden-brown, about 20 minutes. Carefully flip the potatoes with a flat spatula. Rotate the baking sheet and roast until the second side is browned and crispy, 10 to 15 minutes more. Brush the potatoes with remaining melted butter mixture and top with the chives if using.
Chef's Notes:
Make ahead: The potatoes can be boiled and refrigerated for up to 2 days before roasting.
Storage: Leftovers can be refrigerated in an airtight container up to 4 days.
Potato options: 
Almost any size can be used, see below for specific cooking instructions (if using what was specified, just follow the recipe times):
Micro potatoes (about 36): Boil 7 to 10 minutes

Baby red potatoes (12 to 16): Boil 12 to 17 minutes

Red potatoes (about 6): Boil 25 to 30 minutes

Yukon gold potatoes (about 4): Boil 30 to 35 minutes
Recipe from The Kitchn
Hot Honey Butter Smashed Potatoes